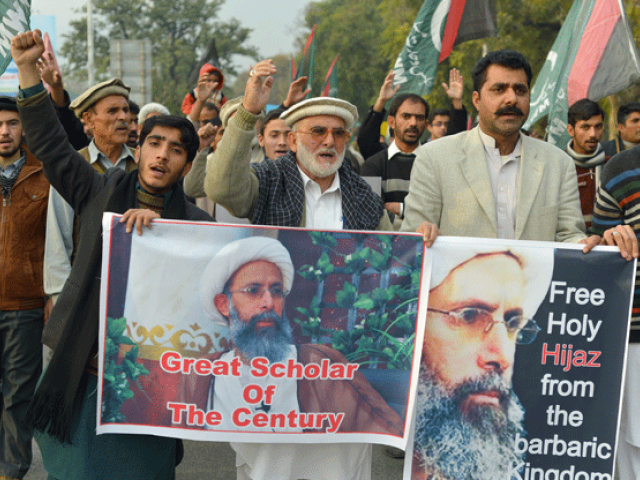 ---
ISLAMABAD:



Fear of sectarian polarisation and proxy war between Saudi Arabia and Iran in Pakistan compelled Islamabad to mount a diplomatic push to mediate between the two key Muslim countries, officials said on Sunday.




Prime Minister Nawaz Sharif will leave for Saudi Arabia and Iran today (Monday) to try and defuse tensions between the two regional countries.  Leading a high-powered delegation – including his foreign policy adviser Sartaj Aziz and army chief General Raheel Sharif, the premier will begin his crucial trip from Riyadh and then travel to Tehran on Tuesday.

PM Nawaz, army chief head to Saudi, Iran to mend rift




Tensions between Riyadh and Tehran have been running high since the January 2 execution of leading Shia cleric Nimr al Nimr and the subsequent attacks on Saudi Embassy and consulate in Iran. Saudi Arabia and some of its allies have cut off ties with Iran, triggering a diplomatic crisis in the region.

"We may not have been party to their [Saudi-Iran] issues but its fallout can be catastrophic for us," a senior Pakistani official told The Express Tribune in a background briefing as to why Islamabad was seeking to deescalate tensions between Riyadh and Tehran.

The official revealed that in one of the recent high-level meetings, the civil and military leadership was informed that Pakistan could become a battleground for a proxy war between Saudi Arabia and Iran if their relations continued to deteriorate.

Pakistan offers to defuse Saudi-Iran tensions

What worries the government is that the Saudi-Iran tension could exploit the sectarian fault-lines in the country. Pakistan has witnessed protests both in favour and against Saudi Arabia and Iran since their relations took a significant turn for the worst at the start of 2016.

"In this situation, we have no choice but to seek de-escalation in tension," said another official. "That is why Prime Minister Nawaz Sharif is going to both the countries."

"The purpose of this initiative is to convey to both the countries that this tension is neither in your interest nor in ours," said a third official.

Meanwhile, Foreign Office spokesperson Qazi Khalilullah said Pakistan was deeply concerned at the recent escalation of tensions between Saudi Arabia and Iran.

"The prime minister has called for resolution of differences through peaceful means, in the larger interest of Muslim unity, particularly during these challenging times," Khalilullah said in a statement ahead of the crucial visit.

Saudi-Iran row: Pakistan will put its own interests first, says Sartaj Aziz

He said Pakistan has consistently advocated the policy of promoting brotherhood among member states of the Organisation of Islamic Cooperation (OIC).

"Pakistan enjoys cordial relations with both countries, characterised by strong bonds of affinity, mutual respect and solidarity, and draws strength from shared historical, cultural and Islamic values," he said.

It is rare that the army chief will also be travelling to Iran along with the PM. A security source said the army chief was accompanying the prime minister because it was his initiative to strike a 'regional balance'.  "We don't want to take sides: that's why we have launched this initiative," the source added.

Published in The Express Tribune, January 18th, 2016.
COMMENTS (3)
Comments are moderated and generally will be posted if they are on-topic and not abusive.
For more information, please see our Comments FAQ