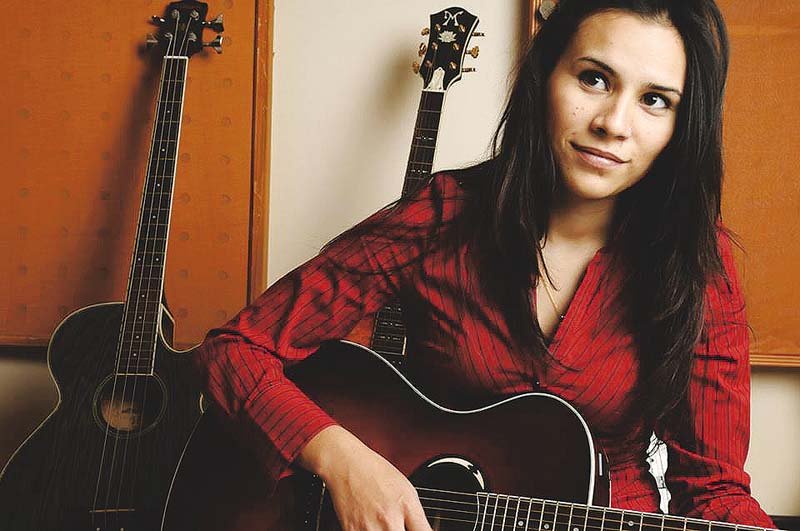 ---
KARACHI:



Despite a number of talented local artists well on their way to fame and glory, Zoe Viccaji seems to have taken over the reins in the music industry, delivering one power-packed project after the other. Not only is she touring the country to cater to her local fans, the singer-songwriter is gradually becoming a key contributor to the musical landscape of Pakistan.




Even after all that, she has her own wish list, which has yet to be fulfilled and working with Sajjad Ali on a song tops that list. "Without a thought, it has to be Sajjad Ali, I would love to work with him in the future" she told The Express Tribune. "Even though I really don't know which song it would be, working with him has been my dream since childhood!" Although Zoe still has a long way to go within the music industry, her experiences have afforded a keen eye for the craft. She feels dynamics within the music industry have changed drastically over the past few years. "There has been a major shift in our form of media and political climate since the golden years, where one would hear the music of Vital Signs, Strings, Junoon, Alamgir, Nazia Hasan and more," she said.

Shehzad Roy teams up with Zoe Viccaji for new song




But music is not all that Zoe is about. This jack of all trades holds a strong passion for acting as well and mentioned that she would love to sign a TV series or film project, if she likes the script. Comparing the TV industry from her initial days to now, Zoe claimed that previously, everything was focused on the distribution front. Now, however, the phenomenon is a completely different ball game, with the myriad of social media platforms present. "I'd like to believe that we are in a transitionary phase right now, but inevitably on the rise," she said. "Things get extremely frustrating every now and then but there is a positive buzz in the air, and more and more avenues are opening up for the music community."

The 32-year-old shed some light on what fans can expect from her in the near future. Currently, Zoe is busy shooting a cross-regional song titled Ashiqi Angier, in collaboration with Chitrali artist Irfan Taj, produced and recorded by Mubashir Admani. Although she did not divulge when the track will see the light of day, Zoe spoke about her first audio track, Jaanay Do, from the new disco-funk EP that she released towards the end of 2015. She and her team are still working on the music video of the second track, Aazaad. In fact, Zoe has also been roped in for an international venture that she couldn't reveal just yet.

The confluence of comics and music

Thinking back to where Zoe kick started her career from, she recalled her first Urdu number, Mera Bichra Yaar. Dubbing her first-ever release as a "game-changing" experience, Zoe mentioned how Levi's had approached her to record any local song of her interest. She instantly got to work at her mini home studio and sent it off. The team was so impressed by what Zoe had done with Mera Bichra Yaar that they submitted it to Strings, the original composers of the track. Eventually, one thing led to another and Zoe was asked to re-compose the same track alongside Strings. She was also featured in the music video for the track, directed by Adnan Malik.

Published in The Express Tribune, January 18th, 2016.

Like Life & Style on Facebook, follow @ETLifeandStyle on Twitter for the latest in fashion, gossip and entertainment.