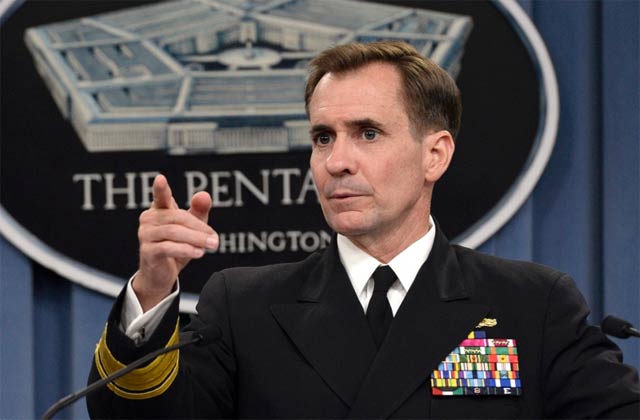 ---
WASHINGTON: US State Department spokesperson John Kirby on Thursday said it was for the government of Pakistan to determine how long it will take to investigate the attack on Pathankot air base, following information provided by India.

"It's not for us to ascribe a timeline to somebody else's investigation. Obviously, in all investigations, you want it to be thorough and you want it to be complete. And clearly, we all like them to be done as quick as possible and transparently discussed when it's complete," Kirby told a reporter at a regular briefing.

Pathankot air base attack: Pakistan working on Indian 'leads'

Pointing out how Islamabad had condemned the attack, the spokesperson said, "Let's let them do that and let's see where the investigation goes. We obviously would like to see it investigated too, as completely and as thoroughly as possible, so that we can better understand what happened."

Six militants stormed the IAF base in Pathankot on Saturday, soon after which Pakistan said it is working on the 'leads' provided by the Indian government about attack in a significant move that may help keep the fragile thaw in frosty relations between the two neighbours intact.

Referring to Pakistan and its ongoing war against terrorism, Kirby said, "This is a country that knows well the threat of terrorism. We've talked about this. Soldiers have been killed. Innocent Pakistani civilians have been killed by terrorists and continue to be."

Pathankot attack: US 'expects' Pakistan to act against India attackers

"Terrorism is a "regional challenge" that requires real regional solutions, and we want Pakistan to be a part of those solutions," he added.

When asked if there was a deadline set for Pakistan to complete the investigation, the spokesperson reiterated that it was for the government of Pakistan to decide how long the investigation would take.

"It's more important to us, as it is in our own investigative issues here in the United States, that it be a good, solid, thoughtful, and comprehensive investigation, not that it be done by a certain timeline,"

"We're very cognisant of that when we conduct investigations. We'd rather get it right than get it fast, and we'll certainly defer to Pakistani authorities to determine their own timelines and their own deadlines and the standards to which they want to hold themselves with respect to this investigation."

Modi urges Pakistan to take 'immediate action' after base attack

When asked if the United States was in contact with the Pakistani official after the Pathankot attack, Kirby replied in the affirmative, however stated that US is in touch with Pakistani authorities everyday, at all different levels.

Speaking about the Mumbai attacks and how the investigation process further increased tension between Pakistan and India, the spokesperson said that despite being aware that the relationship with Pakistan is complicated, "US continues to encourage bilateral multilateral efforts in the region to get at this particular threat."

"As for the Mumbai attackers, we've said and we'll – I'll say it again today: We obviously want to see all the perpetrators brought to justice," he said, adding that it may take a long time.

Pathankot base assault: India warns of calling off talks

"It took an awful long time to bring Osama bin Ladin to justice, but we did. So it can be hard," Kirby admitted.

When asked what sort of information India shared with Pakistan and if the neighbour has started taking actions against the perpetrators, the state department spokesperson said he had "no knowledge or information specifically about what India might have provided the Pakistanis," though confirming that there was 'some information sharing'.

"Sharing of information would be helpful and productive, but I can't speak to the results just two days after," Kirby told the reporters.

Speaking about Pakistan's stance on the recent attack, Kirby said Pakistan would not "discriminate between terrorist groups when they conduct counter-terrorism operations. "They've been very open about that, and we look forward to seeing the results of their investigation."

"The United States will continue to not only encourage a sense of aggressiveness in counter-terrorism operations by Pakistan and by other regional powers, but we have and will continue to express our willingness to support those operations as required or as deemed fit by those nations," he reaffirmed the country's support towards Pakistan.