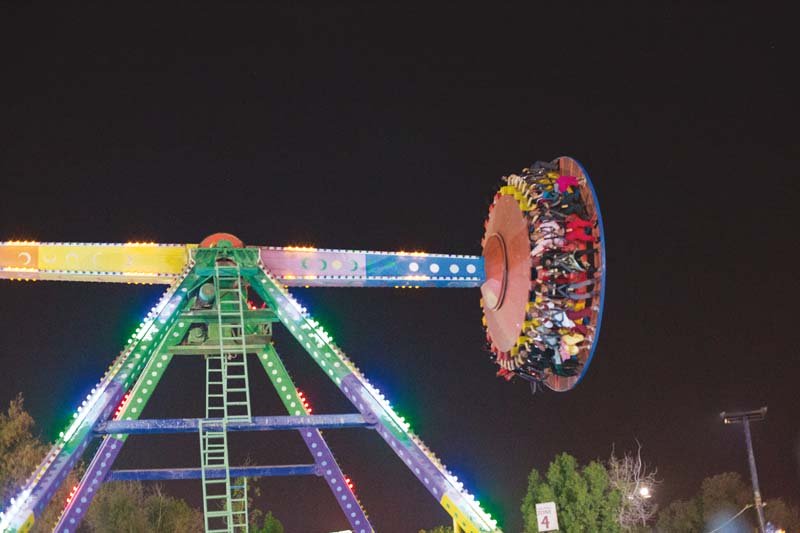 ---
For years, apart from a lucky few who have travelled to California and Hong Kong for their dream vacation with life-size Disney characters, many in Pakistan have grown up listening to stories of thrill rides at Universal Studios, Six Flags and Alton Towers. Though Pakistan has several amusement parks of its own, the country has never seen a full-scale theme park to the likes of Magic Kingdom — something the Punjab government is planning to bring to the entertainment-starved public. As Pakistan gets ready for this one-of-a-kind recreational space in the heart of Punjab, we take a look at what it takes to keep amusement parks open and running smoothly.

Investing in amusement

With all the negative publicity Pakistan garners internationally, it is not surprising that foreign investors are reluctant to do business here. However, the situation has improved in the last few years. Sharing details of how the Punjab government roped in the Chinese company Golden Bean for the theme park project, Commissioner Lahore Abdullah Sumbal says, Punjab Board of Investment and Trade (PBIT) organised a seminar to draw foreign investors on the instruction of Chief Minister Shahbaz Sharif during which international companies presented their business ideas. "A theme park is something the provincial government had been considering for a long time but was struggling to execute it in the public sector. We were seeking private investment and felt Golden Bean's proposal was worth looking into," Sumbal states.




The government had several meetings with investors and did background checks to verify their claims. "They have built a theme park and an aquatic park in China and it's a success story. We established they are credible and moved forward to signing an agreement," explains Sumbal. The government has not invested any money in the project, including the purchase of 654 acres of land in Lahore and Sheikhupura districts, he reveals.

To be precise, the park will be situated between Kala Shah Kaku interchange of the Lahore-Islamabad motorway and Saggian Bridge, Lahore. However, making such a massive investment in its South Asian neighbour, the Chinese company had its concerns. "The investors were worried about power outages, security and revenue and we assured them our full cooperation," the commissioner says. The provincial government has assured that they will either supply uninterrupted electricity to the theme park or help them with their own power generation. For security, they will assign Punjab Police's Special Protection Unit — a dedicated agency guarding foreign workers in Punjab — to them and let them have multiple options for revenue generation. The government intends to facilitate the private company throughout the process of building the theme park. "We gave them three to four options for land and they chose one keeping in mind their business model. We will help them acquire that land as it has the capacity to draw visitors from Punjab and beyond," he says.

Calling the theme park a guiding project for the company, Mingnan Jin, chairperson of board for Golden Bean, says, this investment in Pakistan will steer the business' future cooperation in the country. "Pakistan and China have maintained friendly relations and successfully cooperated in various fields. With Chairman Xi Jinping referring to Pakistan as a 24-hour strategic partner, every responsible Chinese has an obligation towards the friendship," he says, stating that agreement to build the China Pakistan Economic Corridor was enough to give confidence to Chinese investors to do business in Pakistan.

The company decided to begin their investments in Pakistan with the construction of a theme park after several visits and market surveys which showed a growing demand for recreational activities. "Right now, the facilities in Punjab fail to meet the market demand and large-scale cultural and amusement places are missing in the country," says Jin. While the commercial return of investing in a Disney-type theme park is long-term and slow, more value is placed on the aspect of public welfare. "At this point we have oneness of mind and purpose with Pakistan in terms of bringing economic and social stability to the people and therefore hope the government can support us with preferential policy in every aspect," he says. 

A word of advice: stay on track

Part of the recreation business for over two decades, Nadeem Riaz of Dolmen Group weighs in on how this venture can succeed in Pakistan. Riaz, who introduced Karachi to Sindbad's Wonderland in 1991, thinks design, quality of attractions, maintenance and long-term management plans play an important role in how recreation projects perform. "In Pakistan, we start many mega projects but we don't manage them very well," he says.




A big fan of cleanliness at theme parks, Riaz vividly recalls his trip to Tokyo Disneyland where he felt the place was untouched by humans because it was spotless. "The ashtrays were cleaned on the spot in such a manner they appeared as if they were never used before. Garbage was not just picked up from the floor but the area was also disinfected to kill germs," he recalls.Based on experience, Riaz says, though the country has a big population, the price has to be affordable — not very cheap nor too expensive. "Also, it has to be a profitable business otherwise you cannot run it for many years. This government has interest in recreation but maybe the next government won't, so it has to be a money-making venture, not at breakeven," he believes. To add to the discussion, his daughter Sidra Nadeem, a certified attractions manager for outdoor parks who now looks after Sindbad's affairs, says the success of an amusement park lies in the balance between investment and what is charged to customers. "People ask why we cannot build a Disney World in Pakistan. We can. But the question is will people pay $150 for entrance?" she asks.

His daughter Sidra agrees hygiene and maintenance take top priority when it comes to the recreation industry. Speaking about general maintenance, she points out rides in Pakistan need more service than the ones abroad. "Our crowd doesn't have respect for public spaces and is also critical if they are not well-maintained," she laments. On the bright side, the cost of upkeep is less in Pakistan because of cheap labour, she adds. "We can hire a staff of 100 for what parks abroad will be hiring a staff of 10. Plus we have the spare parts and maintenance facilities available locally, including technicians who can find local solutions to maintain rides," she elaborates.

Sharing her business experience with China, Sidra says the games they purchase for Sindbad indoor parks require a lot of maintenance. "But, I know of US companies outsourcing their manufacturing to China because it's cheaper and manage quality control themselves," she says. However, Sidra firmly stresses quality control is possible in China. "It is no rocket science that only the US or European countries can do it. It all depends on who you are purchasing from and how quality-conscious you yourself are."

With safety being one of the major concerns of amusement park goers, Sidra says park managers are supposed to maintain opening and closing checklists everyday to confirm all rides are in good condition. "I recently took a course on amusement parks and we were discussing how the idea of danger is attached to them. The numbers showed there were far more injuries and deaths by playing sports and car accidents than by rides, even in Pakistan," she shares. Riaz adds rides should be maintained regularly as recommended by the suppliers. "It is just like maintaining a car or an aircraft, the airline doesn't wait for the plane to crash before they fix the problem," he stresses.




In terms of catering to different age groups, Sidra says the theme park must have something for everyone. "If there is something only a five-year-old will do, the family will want to leave soon," she warns. Zoning is also important as it defines space in terms of age and height limitations, she highlights. "Many times, younger kids want to go to a section but there's a limit and that motivates them to visit again."With times rapidly changing, innovation also takes centre stage in the recreation business. "Kids these days get bored easily. I have been to Disney three times and the third time, I felt I wasted my money because I knew everything," says Sidra. The main criteria for bringing changes are cost, profitability and space. Taking the example of Universal Studios, Sidra says they have something new coming in every year because they know visitors seek new attractions. "I was recently at a show where the park's creative director shared details about their Transformers ride. They made it in one year instead of three and the investment was almost as big as making a new shopping mall," she shares. But eventually, it all boils down to how much money customers are willing to spend, she adds.

With Lahore, Sialkot and Faisalabad airports close by, and the capital only an hour's drive away, Sumbal believes the theme park will be a successful venture in terms of visitors. "If we make a world-class theme park, it will draw crowds," he says firmly. The father-daughter duo behind Sindbad also agrees the catchment area will be all of Punjab or even the entire country. "New visitors are the lifeline of a theme park and since Pakistan doesn't have the trend of hosting foreigners, locals will be the target," explains Riaz. Improving relations with neighbouring countries will also be beneficial. "Abroad, most tourists visit from regional countries; they shop and live there, but unfortunately, we don't have stable relations with our neighbours." 

What's in store: a joyride

Despite improvement in living standards due to the recent economic progress in Pakistan, Jin says there are gaps in investment in the entertainment and recreation industry, leaving a huge market underserved. To, therefore, give locals an experience of a lifetime, Golden Bean is taking all the necessary measures. "From site construction, subject establishment and operation management, we strive to adjust measures to local conditions so residents can enjoy the top Disney-style service without going aboard," says Jin.

According to the Lahore commissioner, the theme park will include roller coasters and other indoor and outdoor rides, an aquarium, water slides and sports, food courts, shopping areas, a hotel, resorts and allied facilities including parking, security, first aid and community centres. "Visitors should expect world-class entertainment and nothing short of that. We intend to compete with amusement parks in the region," Sumbal claims.

The project will be completed in 18 months from the start of civil work, which Sumbal expects to begin in the next two to three months. Since this will be Pakistan's first full-scale theme park, there are concerns if it will work in the long run. But Sidra says there's always a first time. "Theme parks are working all over the world so there's no reason why they shouldn't work over here; if there's something good, people will spend on it but it will take time to convince them that it is worth their money and time," she believes.

Sidra fears people are not ready to spend a big sum —  Rs1,000 to Rs2,000 at entrance — on amusement parks at the moment. "Right now, people are not in that frame of mind but we have to see how it goes in the future; maybe because customers don't have the right product, they are not paying much and maybe they will when they get something outstanding," she hopes. Explaining the spending habits of most Pakistanis, Sidra says people are fine with buying food but don't want to spend on entertainment. "Maybe it is a concept of tangible and intangible; we don't see what we get from rides, it is just a feeling, but if we buy food, we can see it," she says. 

Payment, please

Recreational spaces require money to run and Karachi Metropolitan Corporation's (KMC) Senior Director for Culture, Sports and Recreation, Raza Abbas Rizvi, says since government funds are elusive, public places end up being substandard. However, generating funds is equally challenging for private companies. Lahore Commissioner Sumbal says even Golden Bean expressed concerns about earning profits. "While the government and the private company understand Pakistan is an entertainment-starved country, we both agreed the theme park cannot be expensive. That's why the company will be building a five-star hotel, malls for both high-end and less-expensive shopping and food courts to broaden their revenue base," he says.

Worldover theme parks earn money through entrance fee and ride tickets, food and beverages, merchandise, marketing sponsorships and sometimes parking. "Essentially, there should be a balance between these options; if you feel customers are not willing to pay a lot at the entrance then charge for food and merchandise and all that together will contribute to your revenue generation," says Sidra. "If nothing, get advertising sponsorship from big companies and multi-nationals."

Riaz agrees, "Take the example of movie theatres; they make more profit from their popcorn business than from the tickets because everyone buys something to munch on and the prices are four times more expensive than what is available outside," he explains, adding that is the reason why theatre owners are very keen on having the food and beverage section under their domain. "People visiting the theme park will spend the day there and will definitely eat something. It will be very expensive but not a compulsion and they will buy it willingly." 

The bigger picture

With governments struggling to offer good quality recreational spaces to the public, KMC's Rizvi says authorities must not become a victim of their limitations and be creative. He shares how public zoos abroad have animal adoption programmes through which private companies agree to take care of animals for a certain number of years in return for marketing opportunities.

This is one of the many ways governments collaborate with private investors. Aladin Amusement Park, the biggest such facility in Pakistan, comes under Rizvi's department and pays Rs28 million in land rent to the government. "This is a huge amount. If we were running it, we would have hardly collected 8 million," he quips, stressing the importance of public-private partnership.

The Aladin Amusement Park is independent in how it runs the facility but Rizvi has a monitoring team stationed at the park to ensure smooth operation. "We annually check the machinery to make sure it is 100% secure and if our team encounters a violation of any kind, they notify us and we take immediate action." Aladin may not be the best amusement park but Rizvi thinks they are serving the general public. "If we take the Karachi Zoo, Safari Park and Aladin out of the city, there will be nothing left for the public. And we should support these spaces," he says. AA Joy Land — the company which runs Aladin — refused to be interviewed for the story.

Money makes the world go round and the reason why Pakistan has low-stardard recreation options is that there's not enough and timely funding, says Riaz. "But if we start charging more to generate revenue, where will the poor of Pakistan go?" he asks.

Rizvi's words cannot be truer. A trip to one of Karachi's amusement parks on a weekend is testament to the large number of people from low-income neighbourhoods who head to the park for entertainment. Donning their best dresses, they hire Suzuki pickups and arrive at the venue for a fun night out with family and friends. Children dash between the rides and ticket booths while parents relax on the poorly trimmed grass, enjoying homemade tea or a kebab-roll from the nearby food kiosk.

In order to retain such recreational options for low-income communities, Riaz says he has a plan. "We don't have the right to snatch these recreational options from them," Rizvi says. "What we can do is have both cheap and expensive recreational facilities and use profits from the expensive facilities to make less-expensive spaces better." Therefore, in order to facilitate the public, some projects will have to be given to private investors. "That is how it is done everywhere in the world; experts manage these spaces and the government takes a share from the revenue to enhance public spaces," he says.

Pursuit of profits is an important goal for any enterprise, but Jin says that is not the company's only target. The theme park will improve people's well-being and livelihood and enrich recreational life, he says. "With an investment of nearly $300 million, it will be a distinct project and a proof of what Pakistan-China cooperation can achieve," Jin adds.

Timeline

1583

Bakken — world's oldest operating amusement park — opened its doors to the public in Klampenborg, Denmark.

1600

Russian ice-slides — dubbed 'grandparents' of all roller coasters — were constructed from ice-covered wood.

1700

First wheeled roller-coaster cars were built. 

1800

Rides with cars locked to their tracks were built.

1846

Lake Compounce in Connecticut — oldest theme park still operating in the US — was opened. 

1893

First Ferris wheel was built for the 400th anniversary of Columbus landing in America.

1897

Viennese Giant Wheel — world's oldest operating Ferris wheel — was constructed in Vienna, Austria.

1902

Leap-The-Dips — world's oldest operating roller coaster — was built in Lakemont Park, Pennsylvania.

Fun facts 

 223.5 million people visited top 25 amusement/theme parks worldwide in 2014.

 122.5 million people visited top 20 amusement/theme parks in the Asia-Pacific region in 2014.

Magic Kingdom, Walt Disney World, USA, is the most visited theme park in the world with 19.33 million in attendance in 2014.

On average, a guest stays at a theme park for 2.7 hours.

SOURCE: GLOBAL ATTRACTIONS ATTENDANCE REPORT/INTERNATIONAL ASSOCIATION OF AMUSEMENT PARKS AND ATTRACTIONS

Ferya Ilyas is a senior subeditor at The Express Tribune. She tweets @ ferya_ilyas

Published in The Express Tribune, Sunday Magazine, January 10th, 2016.