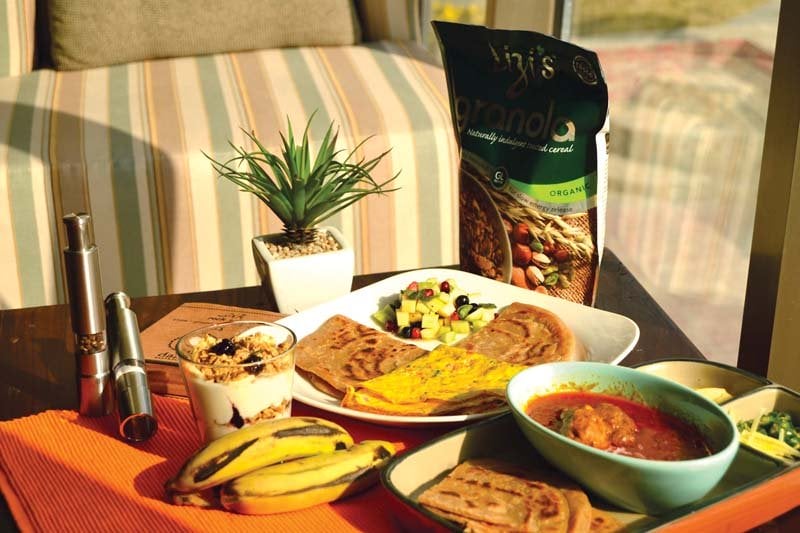 ---
ISLAMABAD:



The federal capital seems to have finally caught onto the fad of eating right, with many experts suggesting organically grown and produced ingredients as a necessity to good health. However, finding organic food — cultivated without using any artificial ingredients, chemical fertilizers or pesticides—was quite a challenge in the beginning. Thanks to the growing trend of organic food, it is now relatively widely available in Islamabad! Go Organic, a new café located in Idrees Market; F-10/2 is the latest offering to serve healthy and organic food in Islamabad.




Go Organic is no ordinary restaurant or just another addition to the capital's food scene; it is much more! With a gym on the second floor and a regular organic market every Saturday, Go Organic is all set to bring a change in Islamabad's market offering a haven for healthy eaters.

Could your healthy diet make me fat?

Jasmine Arandia, one of the brains behind Go Organic told The Express Tribune that all ingredients used are organic including the cooking oil, corn flour, sauces and spices. "Even the fries are air fried to ensure they are healthy. Since all our ingredients are organic, the menu is quite the challenge so we keep changing the menu and repeating items every now and then to ensure variety and innovation in the offerings and that everything is fresh," she said.

Jasmine also told that most of the ingredients come from organic local farms but there are certain items that aren't available locally, which are imported from Dubai. "Go Organic's biggest challenge has been acquiring completely organic ingredients but we have overcome that by now," she said.

She also mentioned that the gym at Go Organic would be offering Jasmine's signature Zumba classes along with various other dance classes. This ensures Go Organic is bound to create a healthy vibe in F-10 if not the entire Islamabad.

Why diets don't work: healthy foods vary by individual

The menu at Go Organic includes burgers and sandwiches, which are all made with almonds and oats, therefore completely flourless and organic. The menu also includes several soups, salads, shashlik, fish, steaks with organic rice that keep changing as the weeks go on. The platters at Go Organic offer enough variety for everyone's liking including the Labanese platter, which is the closest to a desi offering serving hummus, shawarma and shish tawouk. Similarly, the Mexican platter includes nachos with salsa, homemade tacos and quesadillas to offer a taste of the Mexican cuisine.

Organic is an organic food restaurant and the ingredients are expensive, it is reasonably priced with items starting at Rs. 400 and even the priciest items within the bracket of Rs. 1,000.

Naureen Habib, the mastermind behind the food offered at Go Organic told The Express Tribune that all the recipes used are her own. "I started making organic food items a few years ago when a relative of mine enlightened me about its benefits. All the recipes I use are my original recipes that I developed over years of experimentation and these are completely flour-less with almonds, oats and other healthy ingredients", she said.

Published in The Express Tribune, January 4th, 2016.

 
COMMENTS
Comments are moderated and generally will be posted if they are on-topic and not abusive.
For more information, please see our Comments FAQ