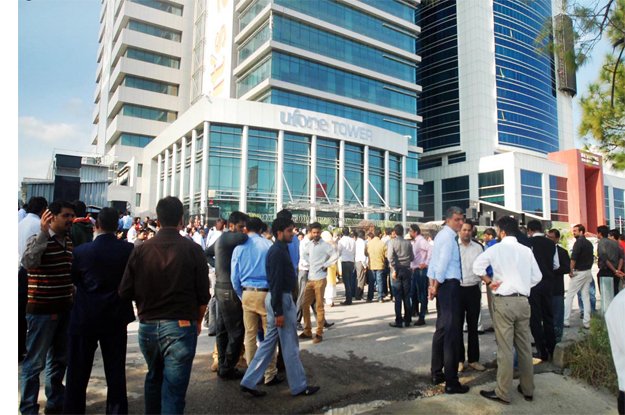 ---
PESHAWAR/ ISLAMABAD: A strong tremor jolted the country's northern parts Saturday afternoon, spreading panic among residents.

The earthquake, measuring 5.9 on the Richter scale, hit Islamabad, Rawalpindi, Peshawar, Kohat, Charsadda and the Malakand and Hazara divisions around 1:37pm, according to the seismic wing of the Pakistan Meteorological Department (PMD). The epicentre was in the Hindu Kush region. There were no aftershocks.

Buildings were evacuated soon after the temblor and panicked residents were seen out on the streets. No loss of life or damage to property was reported in Khyber-Pakhtunkhwa, Islamabad and Rawalpindi, though rescuers were put on alert.

Shocks were also felt in other parts of K-P and Punjab, and Kashmir. Locals confirmed mild tremors were felt in Haripur, Abbottabad, Mansehra, Battagram, Torghar as well as upper and lower Kohistan.

Commenting on the increasing frequency of quakes in the region, geologists said whenever a major earthquake occurs in any region, it destabilises the area. It takes time for the seismic activity in the region to settle down and frequent shocks are routine for a while, according to them.

"These [recent tremors] are probably because of destabilisation after major earthquakes and due to active seismic system under the Hindu Kush region," former PMD director general and World Meteorological Organisation Special Advisor for Asia Dr Qamaruz Zaman Chaudhry said.

"A massive amount of energy is released during a major earthquake and this causes aftershocks," another geologist of the PMD Seismic Centre of PMD told The Express Tribune. "Aftershocks measuring between five and six on the Richter scale have been frequently observed in the Hindu Kush region," he added.

Published in The Express Tribune, January 3rd, 2016.