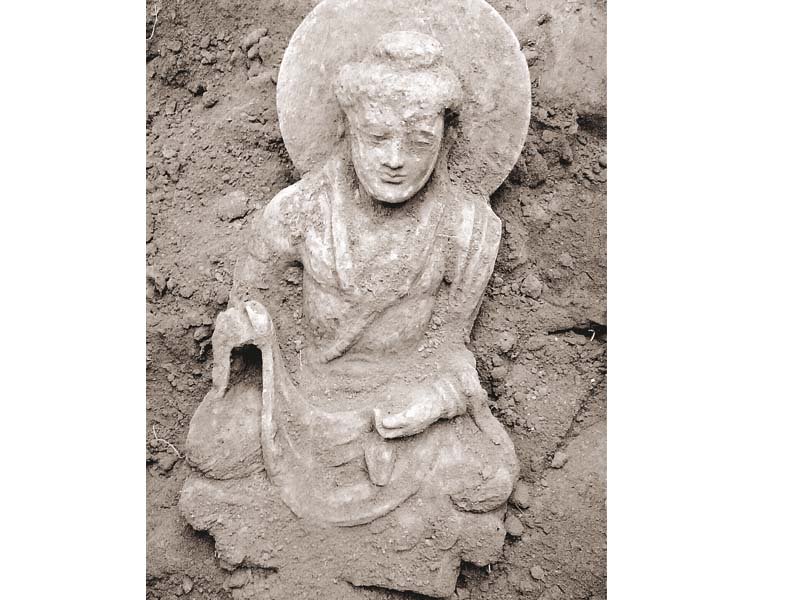 ---
Pushkalavati, meaning Lotus City in Sanskrit, was the earliest capital of the glorious Gandhara civilisation. Located in and near modern-day Charsadda in the Peshawar valley, Khyber-Pakhtunkhwa (K-P), the site is replete with relics buried beneath high mounds, attracting a number of illegal diggers tempted to make quick money. Unaware of the historical significance and importance of these relics, diggers employ unconventional digging methods, destroying precious information in the process that could lead experts to further explore one of the earliest civilisations.

Destruction of the past

Shayaz Khan is one of the many local diggers who try their luck at unearthing some of these priceless relics. Despite owning a small general store in the city, he has turned to digging as a full-time job. "These stone-made statues have made many people millionaires and I want to become one too," he says, while holding a broken Buddha statue. Illegal excavations have been carried out since the past several years and mounds have been levelled with little to no intervention from authorities. The trade got bigger as local diggers began to lease lands from farmers to carry out their work without raising suspicions of the ongoing illegal activity. "We purchase land from farmers and after the digging process is complete, the land is returned to the owner while the dealers keep the recovered relics," Khan says.




Locals reveal hundreds of statues have been excavated and transported to unknown places this way. Although the Bala Hisar (Persian word for 'elevated' or a 'high fort') site is protected to some extent, the mound in Marchakay area in Charsadda has completely been plundered."A few months ago, we found big statues adorned with jewellery and other ornaments that were sold for millions," says a local digger. The discoveries are always full of surprises, ranging from rare artefacts to popularly-known works from the Gandhara period (from 530 BC to 1021 AD), which include stucco sculptures, lamps, pottery, toys, coins, architectural elements, iron nails, shapes of birds and flowers and bowls. The items are made from different materials such as stone, bronze, brass and gold, which is the ultimate jackpot, diggers say.




Although Khan, along with other diggers, refused to be photographed, they were more than willing to let their recovered artefacts be documented with pictures. According to Khan, it would take an entire lifetime to dig these sites and what they have recovered is worthy of being shown. The process of recovering these items is not something to be proud of, he admits, but desperate times call for drastic measures, he adds.

Many locals have turned to looting due to economic hardship. Another digger, who wished to remain anonymous, says, "We know we have caused damage to our history. There were walls and other primitive constructions that came in our way during the excavations, which had to be pulled down. We have destroyed temples, sanitation systems, pipes, bathrooms and even a phansi ghat (gallows). History is important to the people here, but we are very poor and must sell these things." Unlike archaeologists, who excavate in sequence or layer by layer to determine the time period these items belong to in order to trace the history of the region, local diggers have limited access to specialised tools and rely primarily on shovels, spades, mattocks and other digging instruments on-hand for the task. 

Looted in Charsadda and sold in China

Locals involved in excavations are only one part of the illegal network; they make a small portion of profit, whereas dealers from Peshawar get a bigger share of the pie. They supervise the excavation since they have vested interests and guide locals on how to protect and preserve big statues until the goods reach their hands. And the quickest way to clean artefacts without causing any damage is by using lemon juice diluted with water, Khan reveals.

After the artefacts are cleaned and securely packaged, dealers smuggle them through different wet and dry routes and sell them to foreign buyers. The Ander Shehr bazaar in Peshawar is famous for openly dealing in the sale of such relics under the disguise of established companies dealing in antiques.




With the halt of tourism in Peshawar due to security concerns, artefacts need to be directly sent to foreign buyers. It the increase in demand for such relics in the international market that has made Peshawar the hub for such traders.Nasim Javed, the owner of Zaitun art gallery in Peshawar, who deals in the export of different antiques around the world says, "The biggest market for illegally excavated relics is now shifting to China. It is our civilisation that is being smuggled to other countries." Javed accuses licensed customs agents of have a leading role in collaboration with FIA officers and other customs officials to clear these artefacts for export.

Easy loot

Until K-P authorities implement the Antiquity Act of 1975 (amended in 1976) — a number of rules framed for the protection and preservation of antiquities —  to the take control of the land, diggers will continue to treat these sites as public property. Government officials accept historical sites have been tampered with and laws should be made to stop this illegal activity. "Besides the Marchakay mound, there are 400 other archaeological sites in the district of Charsadda. It is the cradle of civilisation," says K-P Director of Archaeology and Museums Dr Abdul Samad. "A majority of them are disturbed by looters and professional diggers."

According to Khan digging even takes place in broad daylight but this is refuted by the deputy commissioner in Charsadda, Tahir Abbasi. "We have imposed section 144 and digging is not allowed. We have written to the Directorate of Archaeology to take steps to ensure the safety of archaeological sites in the districts but no attention has been paid," he says. "Orders have been given to police departments to protect these sites, but now, there is a duty to implement the orders."




The police could play a key role in the fight against this trade but according to local excavators, they have very little influence in the area. The abundance of relics has proven to be more of a bane than a boon for authorities. Dr Abdul Samad says, "We have nearly 6,000 sites of archaeological importance spread across Khyber-Pakhtunkhwa, which makes it difficult for us to protect all the sites." With the help of on-site guards, Dr Samad has been able to protect the mound at Bala Hisar, but Marchakay has been left vulnerable to pillage.

Illegal excavation projects spearheaded by untrained locals are rampant in other districts as well. A recent archaeological survey in Buner district revealed that the region has 500 sites, a majority of which are already damaged beyond repair. There is no accurate data, however, to ascertain how many antiques have been smuggled out of K-P so far. "This is going on everywhere, but K-P and Balochistan are the worst affected provinces due to instability," says the director. "Even high-ranking government officials are involved in this work. Some 80% of the antiques are from Afghanistan, brought in from various routes to Peshawar. From there, they are taken to Islamabad, making a majority of this trade to be linked through dry ports."

Most smuggled antiques are fake, cautions Dr Samad. Javed agrees, adding, "Usually, less than 25% - 30% of historical items being smuggled are genuine." Dr Samad pins hope on the proposed Antiquities Act 2015 that is now in the K-P cabinet. Under this Act, authorities can directly arrest smugglers, fine them for up to Rs4 million, and/or sentence them to 10 years imprisonment. For this purpose, an antiquities trade control authority is to be formed. 

Recovered artefacts

An official from customs, who chose to remain anonymous, confirms that a major chunk of the trade takes place via dry ports. As a result, customs intelligence officials have been keeping a close watch on exports. According to the official, after the artefacts are seized and taken into custody, they are handed over to officials of the archaeology department. The official provided a list of the most recent items that were handed over to the Directorate of Archaeology under section 35 of the Antiquity Act of 1975, which included several statues of Buddha, a royal plate decorated with figures of Sasanian kings with horses, silver jewellery and 19 coins from different eras, among other things. The official adds they also recovered a large volume of badly-damaged stone Buddha statues as a result of the reckless digging methods used by locals.

Despite mounting efforts to stop this flourishing illegal business, many agree that a lot more is still needed to preserve our past. As thirst grows for bigger profit margins, smaller statues become worthless for diggers who continue their search for bigger ones that can attract high bidders, says Sher Muhammad, a local digger in his 50s. "Gandhara will never stop revealing its ancient wonders and mysteries. These very earthen mounds have made people millionaires. Though the mounds are being levelled at an increasing rate, there is more treasure to find," he adds.

Hidayat Khan is a Peshawar-based reporter for The Express Tribune. He tweets @hidayat_khan26

Published in The Express Tribune, Sunday Magazine, January 3rd, 2016.
COMMENTS (1)
Comments are moderated and generally will be posted if they are on-topic and not abusive.
For more information, please see our Comments FAQ