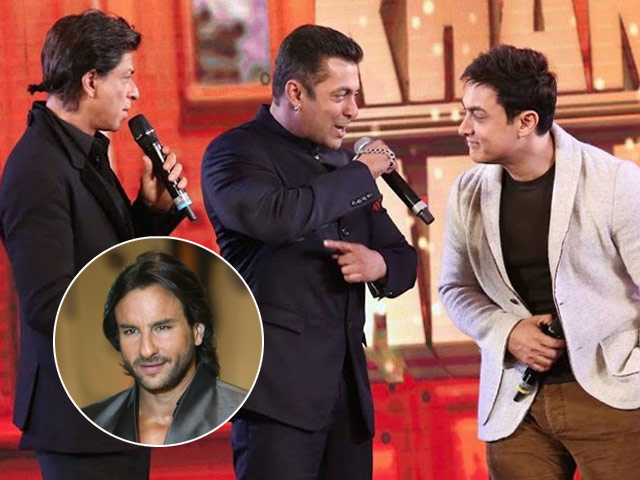 ---
Oh bummer, not the trio we were hoping to see together on the silver screen...

In an interview with Bollywood.com, Salman confessed that Saif should take his place if there ever is a Ghostbusters (1984) remake in the pipeline. "Aamir, Shah Rukh and Saif can do it. Or perhaps some other Khan can also be taken, maybe Kader bhai or Razak Khan," he said.

Shah Rukh, Salman and Aamir to come together for a film?

Could it be because the Bollywood megastar actually thinks the three Khans won't get along?

Earlier, in an interview with The Hindustan Times, SRK had revealed that Salman jokingly put an end to working alongside Aamir and Shah Rukh. He said, "Guys, we three won't do a film together. We will only end up fighting. One will keep using his brains, another will finish the work quickly, and one will not reach the sets on time."

Looks like we're not the only ones who are disappointed. But Salman explained that it was because of many technical reasons rather than just the three of them not 'being able to work together'.

"On a serious note, it's quite a difficult proposition," he said. "Who will produce it, and who will finance it? More importantly, who will write the script? How will the roles be justified?"

SRK finally breaks silence on rumoured film with Salman and Aamir

"Any two among the three of us might be able to do it (a film together), but that too not at the moment. I think the three of us might do a film together at a stage when none of us has any work. Maybe, will make a film like Shaukeen (1962) or China Town (1996). Buddhey log saath mein but main nahin (old people working together but not me)," he joked.

While we might not be seeing our favourite Khans on-screen together anytime soon, but we will be seeing Salman Khan work his magic in upcoming film Sultan slated to release on Eid 2016.