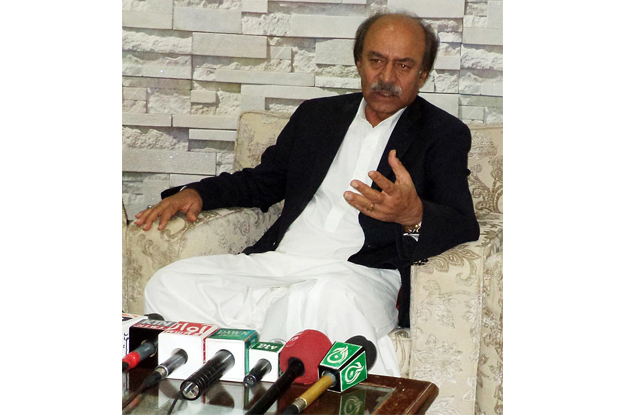 ---
SUKKUR:



Sindh Minister Nisar Ahmed Khuhro on Monday warned the federal government that the Pakistan Peoples Party has other options if Prime Minister Nawaz Sharif fails to defuse tensions over the extension in the policing powers of the paramilitary Rangers in Sindh.




Addressing a news conference in Larkana on Monday, he alleged that by issuing a notification to grant the Rangers special powers, after bypassing the resolution of the Sindh Assembly, Chaudhry Nisar wanted to settle old scores with the prime minister. Khuhro reasoned that the PM had asked him (Nisar) to vacate his seat to accommodate his brother, Shahbaz Sharif, as the chief minister of Punjab, which is why Chaudhry Nisar wanted to create a rift between Nawaz Sharif and the Sindh government.

PM aims to defuse Centre-Sindh feud over Rangers powers

On a separate note, Khuhro categorically denied rumours about the creation of any forward bloc within the PPP, adding that Liaqat Jatoi was alone dreaming about it. Terming the PPP a pro-peace party, he said that his party wanted to bring an end to terrorism and terrorists. He claimed that the credit for supporting Operation Zarb-e-Azb also went to his party. Khuhro was of the view, however, that the National Action Plan should not be turned into the Pakistan Muslim League - Nawaz action plan and demanded the formation of a parliamentary monitoring committee.

According to Khuhro, after the 18th Constitutional Amendment and under Article 147 of the Constitution, it was necessary to get the matter about the Rangers' powers ratified from the provincial assembly. He added that according to the Constitution, the provincial assembly had the right to grant conditional or unconditional powers to the armed or civil forces. According to Article 11-AA, he said that the Rangers had to produce concrete proof and seek prior permission from the provincial government before taking anyone into custody for 90 days.

Rangers powers: Not yet decided to move SC against extension, says Naek

He advised Prime Minister Nawaz Sharif to look around him, because it was Chaudhry Nisar alone who was not sent behind bars during Pervez Musharraf's tenure. In response to a question about the CEC meeting, Khuhro said that Asif Ali Zardari was unanimously elected the new president of Pakistan Peoples Party Parliamentarians, adding that not a single member had opposed the resolution.

Published in The Express Tribune, December 29th, 2015.
COMMENTS (2)
Comments are moderated and generally will be posted if they are on-topic and not abusive.
For more information, please see our Comments FAQ