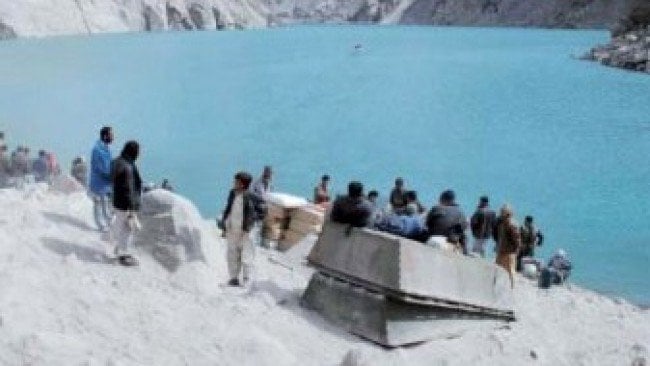 ---
GILGIT: The water-level is rapidly rising in an artificial lake formed by a massive landslide in the Attabad area of Hunza Valley but there is little chances of the dam bursting, witnesses said on Friday.

"Engineers are working round-the-clock to create a spillway to decrease pressure on the dam but a lot more needs to be done," Muhammad Sadiq, a Gilgit-based trader, told The Express Tribune. Residents of villages situated near the lake have started panicking after rumours spread in the area that the lake may burst banks at any time. Sadiq, who import goods from China via the Soost border, rejected reports that seepage from the lake has increased at certain points.

"I've just returned from the area but didn't notice any such thing at the site," he added. "Debris blocking the river flow is more than half a kilometre in width," he said, adding that there was no question of water seeping through so think a mud wall. Sadiq said the water inflow has increased in the lake that has expanded up to 13 kilometres. He added that only residents of upstream villages have been affected. "I spent most of my time on the bank of the lake where boats are ferrying goods and passengers between Hunza and Gojal," said Sadiq, who returned to Gilgit on Friday after spending 20 days in Attabad.

A massive landslide on January 4 had blocked the Hunza River, forming an artificial lake, submerging some upstream villages and threatening more. Tons of soil also blocked the Karakoram Highway, the vital trade link with China. As many as 25,000 people in the Upper Hunza Valley were also left stranded. Karim, a resident of Hunza Valley, says people in Attabad are dependent on boats for interaction with the outside world because the authorities have restricted the helicopter service to save additional expenses.
COMMENTS (12)
Comments are moderated and generally will be posted if they are on-topic and not abusive.
For more information, please see our Comments FAQ