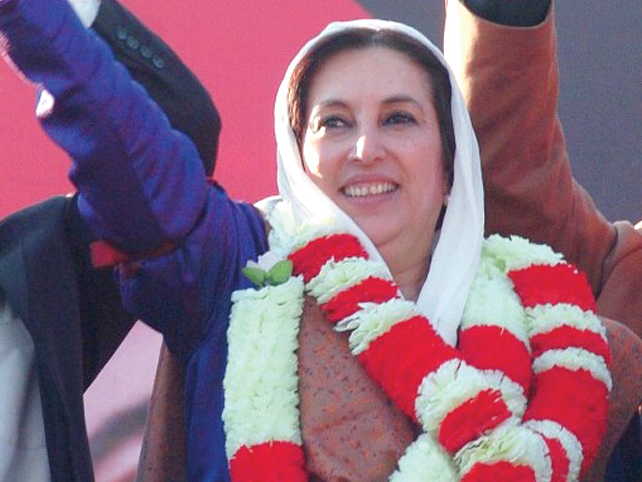 ---
ISLAMABAD: Former head of the Military Intelligence (MI), Lt-Gen Nadeem Ijaz has again denied that he had ordered the Rawalpindi police to hose down the murder site of former prime minister Benazir Bhutto hours after she was assassinated outside Liaqat Bagh in 2007.

Ijaz, still serving in the army, appeared on Friday before a fact-finding committee that has been tasked to find out who was behind the hosing down of the road hours after the killing of Benazir in a gun-and-bomb attack. It was the second time in three days that the committee quizzed the former MI chief who happens to be a close relative of former military ruler Pervez Musharraf. Prime Minister Yousaf Raza Gilani had formed the committee in pursuance of a decision by the ruling Pakistan Peoples Party to constitute criminal cases against all those individuals and institutions mentioned in the UN commission inquiry report.

On Wednesday, the committee had questioned Ijaz for the first time and reports said that he had denied the allegation, a stance he repeated on Friday. It is believed that with the second interview with Ijaz the committee is done with its interactive sessions and would now compile a report which is scheduled to be submitted to the prime minister on Tuesday. In the meanwhile, then police chief for Rawalpindi Saud Aziz was also called again by the committee for a second interview.

On Thursday, Saud had told investigators conducting a parallel investigation into Benazir's assassination that he had ordered the hosing down of the murder scene on his own. Last month the UN report quoted sources as saying that police had received orders from the then MI chief to wash away the road littered with what could have been vital forensic evidence for subsequent investigation. According to some reports, the committee has also called some officials from the office of the then District Coordination Officer (DCO) for questioning.
COMMENTS
Comments are moderated and generally will be posted if they are on-topic and not abusive.
For more information, please see our Comments FAQ