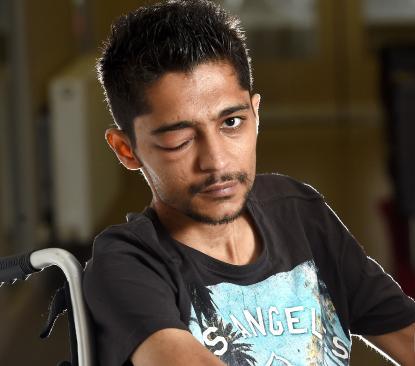 ---
The Australian High Commission in Islamabad has denied visit visas to a dying Pakistani student's family, saying it was not satisfied the mother and brother will return to the home country.

Twenty-four year old Hassan Asif who is currently in the care of a Melbourne City Mission youth homelessness refuge has only weeks to live.

The Mission has urged Australia's immigration minister Peter Dutton to review the decision. "Melbourne City Mission believes it is unconscionable that this young man — who has family — be allowed to die without a loved one by his side."




Asif went to Australia on a student visa in 2104, before being diagnosed with advanced skin cancer in April this year. The cancer progressed into terminal stage last month.

Visa row: US authorities intent on repatriating comatose Pakistani student

Asif himself has appealed to the Department of Immigration and Border Protection to allow his mother and brother to travel to Australia to be by his side.




"Simply, I would be honest and say that these are my last days and I'm dying, and I just want my family to be here with me," Asif said in an interview with Daily Mail Australia. "My mum is very sad - she cries a lot and just wants to be here with me during this time."

"I don't have many friends here because before I was diagnosed, most of my time was spent working or studying," Asif added.

Comatose Pakistani student's family raise funds for treatment in US

Asif's lawyer, however, is in the process of filing the family's visa applications again with fresh supporting documents, hoping for an urgent Immigration Department change of heart.

His oncologist at Melbourne's Peter MacCallum Cancer Centre wrote a letter of support in October to facilitate Asif's family's visa application, saying the treatment had ceased and he would soon enter the "terminal phase".




"They are my family, I want them to be with me in those last days," Asif told Herald Sun. "I'm OK with dying. It's just the pain and everything, it's getting so hard. Everything is getting worse, my right eye is shut totally now."

Melbourne City Mission, the organisation Asif is in the care of, has put up a page titled 'Hassan's Dying Wish', with phone numbers and links to appeal to Australia's immigration minister Peter Dutton to "re-open Hassan's case and review the decision".

This story first appeared on Herald Sun and Sydney Morning Herald