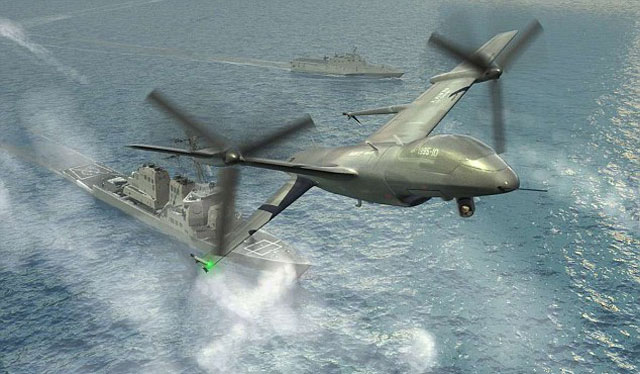 ---
If you still aren't convinced drones are the future of warfare, think again. The design for a flying-wing tail sitter drone that can land anywhere has been revealed by the Northrop Grumman Corporation in the United States.

The drone, which the company says does not require a runway to land, has the ability to land anywhere on its tail.




The design is part of Northrop's proposal for the Defence Advanced Research Projects Agency's (DARPA) Tern programme.

US drone strike kills six Islamic State militants near Pak-Afghan border

According to FlightGlobal, DARPA plans to ink a contract in January to build and fly a full-scale prototype from a barge or decommissioned navy ship, says Chris Hernandez, senior vice-president of research, technology and advanced design for Northrop.

Northrop's tail sitter design includes a set of large counter-rotating propellers covering almost two-thirds of a roughly 9.14m (30ft)-diameter wingspan and it carries weapons and sensors as stores underneath the wing, reveals Hernandez.




While Northrop is not releasing pictures or drawings of its Tern concept, it displayed a model of the aircraft for journalists on a tour in Los Angeles.

Daniel Patt of DARPA who heads the programme, said, "Effective 21st-century warfare requires the ability to conduct airborne intelligence, surveillance and reconnaissance (ISR) and strike mobile targets anywhere, around the clock. Current technologies, however, have their limitations."




Northrop's unmanned Tern design harkens back to the manned Lockheed XFV-1 concept of the early 1950s, which also featured a tail-sitter configuration. But Northrop adds to the tail-sitter approach by combining the engine with a pure flying wing design, a hallmark of several of the company's bomber and surveillance aircraft since the mid-1930s.

Apple removes drone strike news app, deems it 'not useful or entertaining enough'

DARPA wants an unmanned vehicle that can operate from DDG-class ships or smaller, with the ability to carry a 272kg (600lb) payload up to 900nm (1,670km) with a further capability to land vertically on a rolling deck in Sea State 5 conditions.

Earlier, Northrop Grumman disclosed an image of a new stealth 'superjet' capable of firing laser weapons.

This article originally appeared on Mail Online