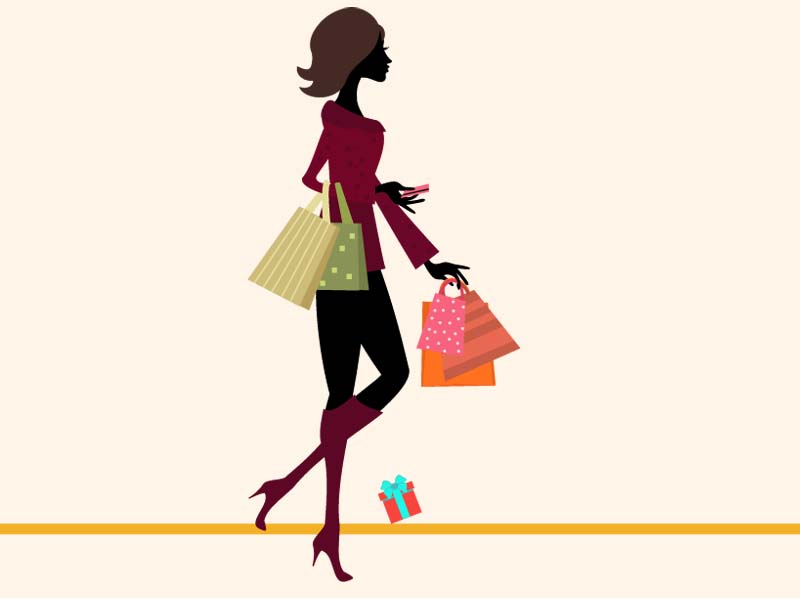 ---
With the winter sale season going on, many of us have been buying way more than our allotted expenses. If you are a shopaholic or a bargain hunter, you will understand what we mean. Retail stores profit tremendously on our impulsive purchases but we often get stripped of our savings.

But with these ultimate shopping tips, you can become a smarter shopper. MsT has got the best advice from popular bloggers to help you learn how to do your homework before hitting the shops, build a strategy to get what you want and even save money while at it!

1. Know what's already in your closet




According to surveys, most people wear as little as 20% of the clothes in their closets. As a result, there is probably plenty there you may be overlooking. In fact, we could most likely create much more storage space if we de-cluttered our wardrobes every now and then. According to blogger Natasha Kundi, of Natasha's London blog, extra things clutter the house and take up space we can use for something more useful. "Ask yourself one question, ie do you really need it?" says Natasha. "Almost 99% of the time, the answer will be a 'no.'" So you should begin by disposing off what you no longer need and so shop with a focus on what you do. You can even earn extra money by selling the extra stuff online!

2. Shop when no one else is shopping




This may be a little troublesome but shopping in the wee hours of the day when stores have just opened is great to get your hands on fresh inventory as it arrives. During sales, the chance of getting your hands on the most discounted items is much higher in the mornings as well. Make sure you keep yourself abreast with your favourite shops regularly so that you know when they open and will be hosting sales next.

3. Browse the websites of your favourite stores, inside and out




Knowing when the sales will be means tracking your favourite stores' websites and social media pages closely. Most companies typically share coupon codes and special news on these platforms first which can help you snag the items you want before they sell out. "Sometimes, online shopping can be fruitful in terms of saving money and time," explains Haseeb Sultan, the blogger and editor of young adult magazine Existmag. "Make sure to bookmark the top pages and sign up for newsletters to be aware of what's going on in the corporate world," he adds. You should also double-check your lists to ensure you are getting the best deals and while you are at it, bag in a discount coupon code.  If you can combine coupons with semi-annual or seasonal sales, then you enjoy the privilege of paying lesser on already discounted items. Be on the lookout for the words 'with any purchase' on your coupons. Haseeb's secret mantra is to do a quick browsing session online before heading out. "It will save you the hassle of going from shop to shop. This way you'll know where to go. In fact, most stores advertise their new collections and sales online a couple of days before they hit the stores so you have ample time to be mentally prepared," adds Haseeb.

4. Try them before you buy them




All too often, the clothes we have fallen in love with at first sight turn out to be a disaster when worn. The only way to stop this is to make that much dreaded trip to the trial room and see for yourself.  If you don't want to be running in and out, just take at least five or six items in together. This will prevent you from spending too much time inside the dressing room and make more time for other stores. At times, you might even be able to find the same outfit at a cheaper price online and buy it without gambling on its material and fitting. "I always browse online before going out to a store to shop," informs fashion blogger, Farwa Aamer. "In fact, don't forget to go through your favourite blogger's posts too as their splurge vs steal sections can offer a great insight," she adds.

5. If you're really determined, be ready to wait




You may have a wardrobe burgeoning with wonderful clothes which may still not be enough. But to be able to stock it with things that you don't later feel guilty about, you must learn to wait. Postpone your plans till a good bargain comes around, for instance —  even if that sometimes results in your items going out of stock. After all, would you rather let a few items go and get great deals on everything else than to pay full price for all of it? No, right? We thought so. Hence, it's important to be patient because shopping should make you feel happy, rather than guilty.

Nisma Chauhan is a subeditor at the magazine desk.  She [email protected]

Published in The Express Tribune, Ms T, December 20th, 2015.
COMMENTS (1)
Comments are moderated and generally will be posted if they are on-topic and not abusive.
For more information, please see our Comments FAQ