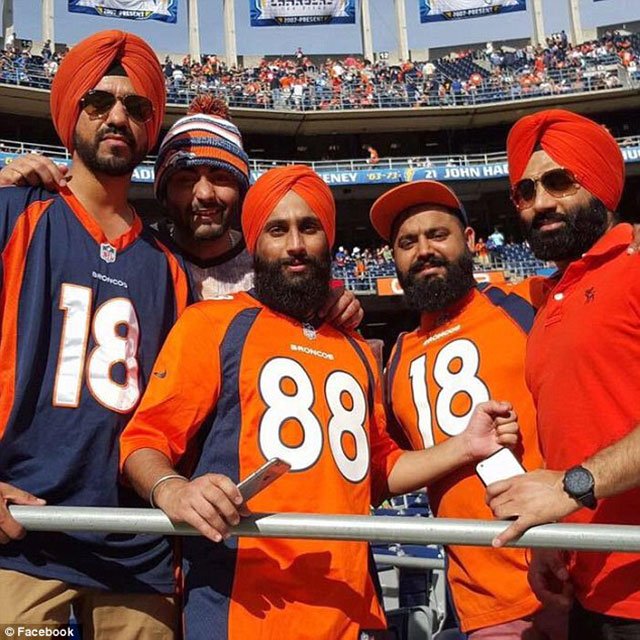 ---
Three Sikh Americans were harassed by security staff and denied entry to an NFL game in San Diego, California last week because they were wearing turbans.

The security at Qualcomm Stadium barred the men from entering the stadium till they took off their turbans despite one of the men repeatedly explaining that he and his friends could not take it off as their religion prohibited it.

Raising voices: Sikhs protest against alleged desecration of holy book in India

However, according to Daily Mail, the four friends were eventually allowed to enter the stadium with their turbans on only to face more embarrassment later.

As the men left the venue, their car was put under search by a bomb-sniffing dog as a member of the public phoned police because they saw the men 'suspiciously' putting a bag inside the trunk.

Speaking to ABC News, one of the men, Verinder Malhi, said, "Everybody is kind of confusing us with the turbans, because what you see on TV is mostly the terrorists, they wear turbans."




"But our turbans are different, our faith is different, our beliefs are different," he added. Sikhism is a religion predominately practiced in India's Punjab region and is linked to Hinduism but has no relation to Islam.

"It's bad, I mean, this is embarrassing for me,' Malhi said. "We are Americans at the end of the day. And we are not supposed to be afraid of fellow Americans."

Torn pages of Holy Quran thrown at door of US mosque

Tracing back to the event, Malhi explained they had driven seven hours from Fresno to San Diego for the game. Despite being allowed to enter the game eventually, they were told by the security guard that if they ever returned, they would not be allowed inside.

The incident comes days after Republican front-runner Donald Trump called for the banning of Muslims from entering the United States, in wake of the San Bernardino terror attacks which claimed the lives of 14 people.

Severed pig's head thrown at US mosque door

A week earlier, a Sikh temple in California was vandalised and sprayed with anti-Islam messages which police believed to be a hate crime carried out in response to the San Bernardino attacks carried out by  a radicalised Pakistani-American and his wife.

Many took to Twitter, disappointed and shocked over the incident.

https://twitter.com/Jon_Star/status/675750926897016833

https://twitter.com/DinahLord/status/676126118471012352


Football-Loving Americans Harassed For Wearing Turbans To NFL Game (Hint: Sikhs aren't even Muslim. Ugh) https://t.co/FsdBhLL68k

— Michelle Martini (@PowerfulHER) December 13, 2015


https://twitter.com/GenevieveChase/status/676192051231346688


In 2015 people still don't know the difference b/w Sikhs & Muslims? Even if they were Muslim, why the discrimination https://t.co/DDNBOyojex

— Talia Whyte (@taliawhyte) December 14, 2015
American Sikhs: invisible victims of Islamophobia. https://t.co/JYz6gdyl1q

— AMLA USA (@AMLAUSA) December 13, 2015
This article originally appeared on Mail Online.
COMMENTS (9)
Comments are moderated and generally will be posted if they are on-topic and not abusive.
For more information, please see our Comments FAQ