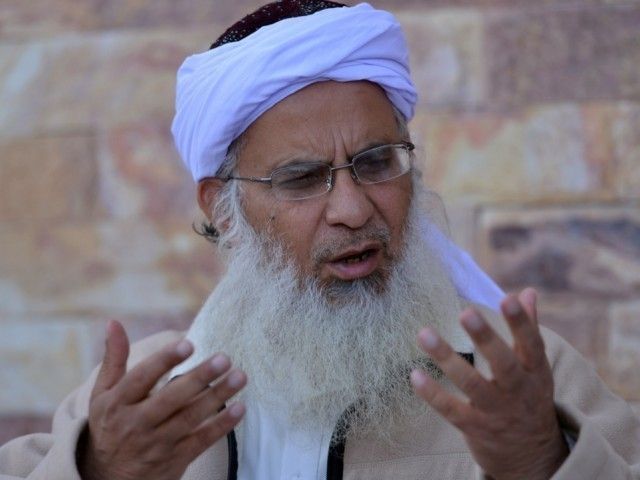 ---
ISLAMABAD: While condemning the massacre in San Bernardino, California, Lal Masjid cleric Maulana Abdul Aziz on Saturday denied any links with Tashfeen Malik, the woman identified as the female shooter.

While expressing sadness with the killings at a social services centre in California, the cleric said that "Islam does not permit attacks on innocent people." Aziz said that he had also condemned the Paris attacks but was still being presented as a terrorist or a terrorist-sympathiser in the media.

"I swear, I do not know Tashfeen Malik and have never been photographed with her," he said in a statement issued on Saturday. "I have never even been photographed with my wife and daughters. How can you imagine me being photographed with a na-mahram (woman who is not related to me)," he asked.

US has not handed proof of California shooter's link with Lal Masjid: PM House

He said women sometimes come to him asking for advice, but he usually cannot recognise them because most come wearing face veils. He added that this would be the only way he could have possibly have had any interaction with Malik.

Umme Hassan, Aziz's wife and the principal of the Jamia Hafsa seminary, also supported her husband, saying he rarely gives interview to female journalists, and whenever he did give one, Hasan or one of their daughters would sit in the room with Aziz.

"I can say with complete assurance that Malik... never took a photograph with him," she said.

Female suspect of California shooting was Pakistani: CAIR

Foreign media had reported that US officials handed information to Pakistan about links between Malik and Lal Masjid. The PM house has since denied any receiving any such information.

Malik and her American-born husband, Rizwan Farook, burst into a year-end party in San Bernardino, California on Wednesday afternoon and opened fire at Farook's co-workers, killing 14 and wounding 21.

They were later shot dead by the police after a gun battle.
COMMENTS (40)
Comments are moderated and generally will be posted if they are on-topic and not abusive.
For more information, please see our Comments FAQ