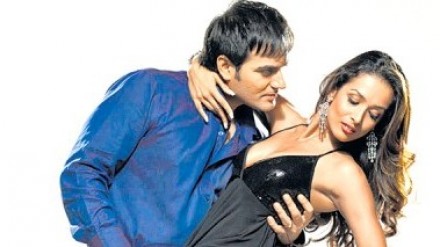 ---
While a liberal, trendy, thinking, progressive and largely imaginary India legs it to the box office to watch Kartik Calling Kartik and Ishqiya, the new wave of Indian cinema raises the question: what do old-fashioned, simple-minded, non- New India types watch?

Well, however simple-minded the subcontinental filmgoer may be, he probably ain't watching Prem Ka Game, the latest low-budget, no-brainer starring Arbaaz Khan and Tara Sharma. A broad comedy of misogyny and sexual innuendo, Prem Ka Game is the story of a neglectful, handsome, rich publisher, and his griping, shrewish wife, played by Tara Sharma, to whom he has been happily, if somnolently, married for several years.

Khan's hormones are thrown into turmoil by the appearance of his neighbour, the underdressed and scandalously over-familiar Madhuri Bhattachariya, who is pretty clear about believing ''in love and not in marriage''. She is a poor substitute for the irresistible naïf she was modeled on, Marilyn Monroe. The boys' club feel of the roguish title is further supplemented by an introduction and narrative provided by Arbaaz's elder brother Salman Khan, at his age so horribly miscast and utterly unbelievable as a charming cad, in which Salman Khan informs the viewer that marriage is the death knell to individuality, something that even ''baray se bara dude'' (ugh) submits to.

A crude remake of the Seven Year Itch, complete with Bhattachariya's dress being caught in a gust of air, Arbaaz Khan's moral struggle against the allure of Bhattachariya's cleavage last for about two-and-a-half hours.

To supplement this insipid plot, Johnny Lever leads an army of comedians through several subplots featuring the customary subcontinental fantasy of escape from dominant, castrating wives into the soft bosoms of their secretaries. Being a film of a traditional bent, however, it's inconceivable that however offensively marriage is portrayed, infidelity will actually be committed in a family comedy.

As such, Arbaaz Khan manages to restrain his hormones at the eleventh hour, decides that he adores his bland, grasping family and all is well, unless one happens to be the viewer. Populist director David Dhawan has made this film several times, and considerably better. In a world where sex sells, I remain convinced that sex will not sell this.