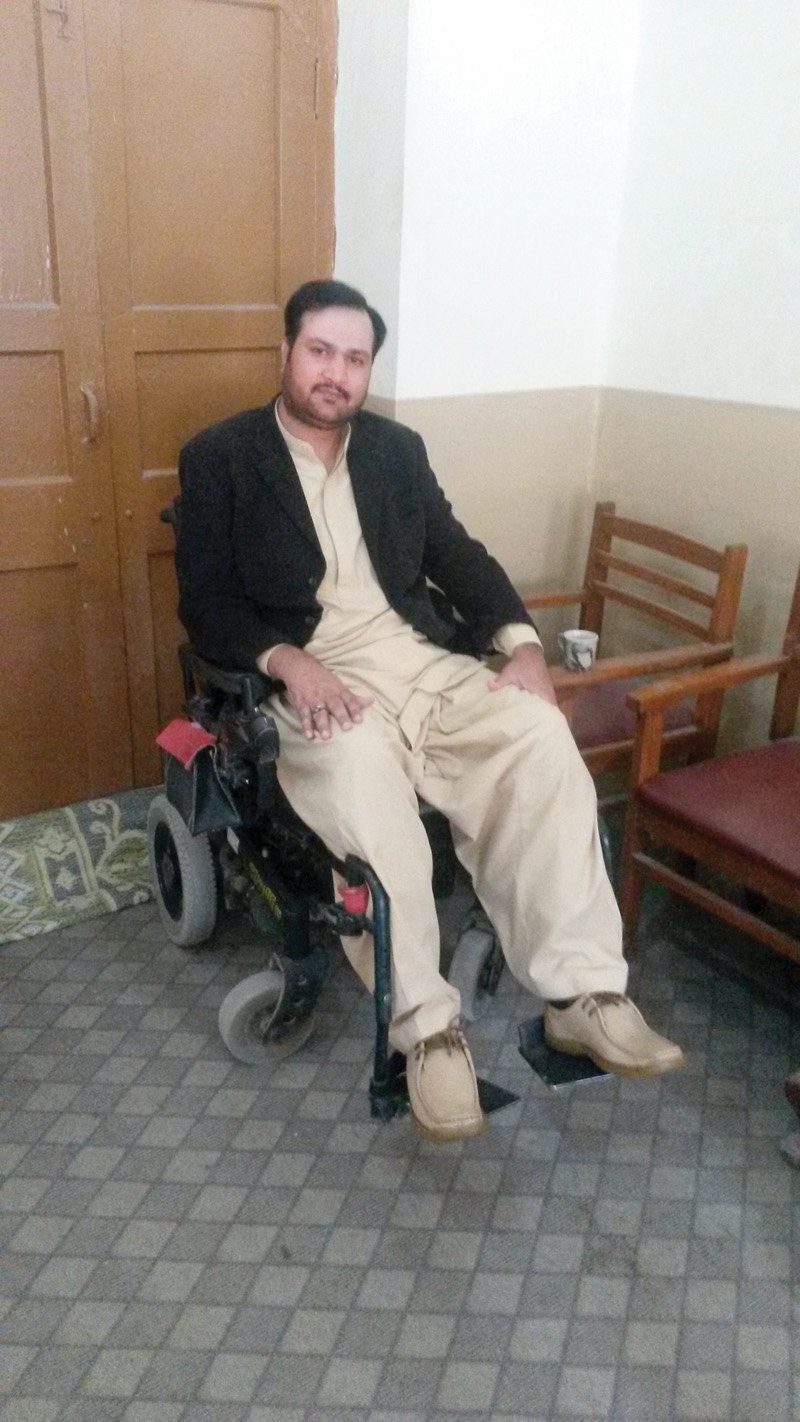 ---
QUETTA:



Faraz Mughal uses a wheelchair, but he has not surrendered to his disability. He not only braves life's everyday challenges with a smile on his face, but also plays his role for improving the prevalent conditions of society.




December 3 marks the International Day of Persons with Disabilities to promote awareness and mobilise support for critical issues relating to the inclusion of persons with disabilities in society and development.

SDP allocations: No money for persons with disabilities




Talking to The Express Tribune at the Shaheed Shafiq Ahmed Khan High School in Quetta, Mughal said he finds his strength in teaching at the school and in writing poetry and fiction. "I do not have a learning disability. My only problem is that I cannot walk."

Though he has no complaints from life, the way society treats disabled persons sometimes upsets him. He asserts that he is not out of the race. "I am very much still in when it comes to contributing to society."

Mughal, who has muscular dystrophy since 2009, has written the first Urdu novel on disabilities, titled 'Humjaan'. He could be counted among the few disabled persons who are doing more for society than those who do not have any disabilities.

Raising awareness: Campaign to support parents of disabled kids

Before his life was turned upside down, he was an assistant producer at FM 101 Quetta. He had to quit because, in the absence of a ramp at the Radio Pakistan office, it was next to impossible for him to get to work.

He spent the next two years confined to his house. It was during this time that he wrote 'Humjaan', which was published in 2012 and was not the first of his works. His earlier books were published in 2004 and 2008.

He has master's degrees in social work and education. He joined the Shafiq Ahmed Khan High School as a social studies teacher in 2011. It has been six years since he has been using a wheelchair, but he never lost hope.

Unreachable, unjust

Mughal laments that the social welfare secretary is not accessible to every disabled person, because his office is on the third floor. "Government departments should be made more accessible."

Student who lost both hands rejects disability label

Talking about the 1981 ordinance relating to disabled persons, he said only 2% quota was allocated for persons with disabilities. "And the number of disabled persons has increased manifold since then."

He laments that some people have obtained fake disability certificates to take advantage of the job quota reserved for disabled persons. "Persons with disabilities are already dependent on their families. And when people without disabilities steal their rights, nothing could be more unjust." He said disabled persons also pay their bills and taxes. "Those who steal our rights should be punished."





Chart shows gender comparison of PWDs in Balochistan. SOURCE: HELPING HAND FOR RELIEF AND DEVELOPMENT




Mughal criticised lack of inclusiveness in education for persons with disabilities. He said the social welfare department did not work for them. "There should be a separate ministry or department for disabled persons."

The disabled man who realised his crushed dream

Citing a World Health Organisation report, he said 10-15% of Pakistan's population comprised persons with disabilities.

He said a bill would soon be presented in the Balochistan Assembly to increase the quota of disabled persons. "If 50% quota can be allocated for women and youth, then why not for persons with disabilities?"

He stressed upon making some adjustments at home in particular and in society in general so that disabled persons could become more independent.

He suggested that homes, workplaces, businesses, parks, recreational centres and the rest be made more accessible to persons with disabilities so instead of being looked down upon, they could become more productive members of society.

Published in The Express Tribune, December 3rd,  2015.