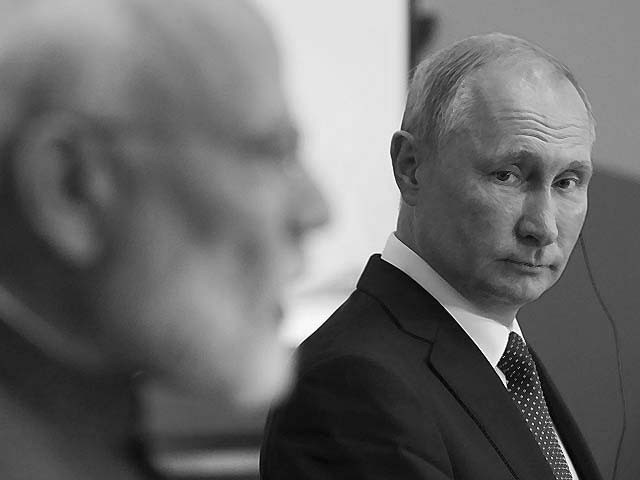 ---
How Russia successfully restored balance to its South Asian strategy
Russia is more aware and worried about India's new de facto military alliance with America
---
The historic, special, and privileged Russian-Indian Strategic Partnership (as it's officially referred to by both Moscow and New Delhi) has been a mainstay of South Asian geopolitics for decades but resulted in Moscow being a partisan player in the region. While the aforementioned relationship was reaffirmed during Russian Foreign Minister Lavrov's visit to South Asia last week, Russia also made enormous strides in advancing its fast-moving rapprochement with Pakistan. The end result is that Russia successfully restored balance to its South Asian strategy, which helps stabilise Eurasia and could unlock many exciting opportunities for all.
Up until his trip, Russia was regarded by some – and not without reason either – as taking India's side in regional disputes at the perceived expense of Pakistan. The perfect case in point was Moscow's full support for New Delhi's abrogation of Article 370 in August 2019 on the basis that it's an internal matter, which contrasts with the country's historical stance of regarding this as an international issue in accordance with existing UNSC Resolutions on the issue. This raised concern from observers such as myself, who published a piece shortly thereafter about "Russia, Pakistan, And The 'Bait Theory'".
I postulated that the recent Russian-Pakistani rapprochement might have up until that point actually been partially predicated on both side's desire to increase their negotiating leverage with their traditional Indian and American partners respectively. Russia's hyper-partisan approach to the issue of Article 370's abrogation appeared to be proof of this theory in practice. I even published an analysis at the end of the year titled "2019: The Year That Russia's South Asian 'Balancing' Act Became Unbalanced" to further elaborate on my concerns. Thankfully, these were put to rest after Foreign Minister Lavrov's visit last week.
A lot has changed in the over year and a half since Article 370's abrogation. Russia is more aware and worried about India's new de facto military alliance with America that many observers fear is directed against China despite New Delhi's denials. Moscow has also worked very closely with Islamabad to promote peace in Afghanistan via the Taliban, which has greatly increased mutual trust. Moreover, Pakistan unveiled its new multipolar grand strategy shortly before Foreign Minister Lavrov's visit during the inaugural Islamabad Security Dialogue, which coincided with the historic Chinese-Iranian Strategic Partnership deal that advances W-CPEC+.
Unlike before, Russia nowadays seems to appreciate Pakistan's status as the global pivot state, which finally dawned on its strategists in light of the aforementioned events. This is convincingly reflected in what Foreign Minister Lavrov revealed during the press conference that he held with his Pakistani counterpart in Islamabad where the Russian diplomat spoke about his country's eagerness to comprehensively expand relations with his hosts, importantly including in the military (particularly anti-terrorist) dimension. Furthermore, the Express Tribune cited an unnamed diplomatic source who claimed that Russia offered a "blank cheque" to Pakistan.
That report should be read together with my earlier analysis asking, "Why Did The Russian Ambassador To Pakistan Describe His Country As A 'Developing' One?", which emphasised that Russia isn't in the economic position to be a so-called "donor state" but is "looking for mutually advantageous investment which will give us some profit" according to the envoy himself. Although he said just two months ago that "I don't see any on the agenda which will give us mutual profit", he might have just playing his cards close to his chest as its typical for any diplomat in order to not spoil what might have been the speculative negotiations at the time over forthcoming Russian investments of the sort that RT reported his country exploring back in December 2019.
The promising future of Russian-Pakistani relations that Foreign Minister Lavrov's historic trip made possible crucially doesn't come at any perceived expense to Indian interests unlike how his country's support of New Delhi's abrogation of Article 370 arguably affected Pakistani interests. Russia's top diplomat held an excellent press conference with his Indian counterpart the day before he visited Pakistan where he reaffirmed their special and privileged strategic partnership. He also significantly said that his country is against the creation of any new alliances, be it with China or anyone else, which should hopefully allay Indian concerns about Pakistan.
Contrary to what unnamed top sources alleged in India's popular online media outlet ThePrint last week about Russia supposedly "hyphenating" its relations with India and Pakistan, Moscow is actually balancing them in accordance with its 21st-century grand strategy which aims to advance its visionary Greater Eurasian Partnership (GEP). This initiative for integrating the supercontinent through peaceful means can't succeed unless Russia has positive relations with all countries on the landmass, including non-traditional partners like Pakistan. In fact, Pakistan is actually the last piece in Russia's GEP puzzle.
Their long-overdue rapprochement fills in the gaps of Russia's South Asian strategy, which in turn enables the Eurasian Great Power to finally unleash the GEP's full potential after the other pieces in Southeast Asia, West Asia, and elsewhere in the supercontinent east of Europe had already fallen into place earlier. The coincidental timing with which Pakistan unveiled its new multipolar grand strategy and the fact that it so closely aligns with the GEP makes it possible for these two countries to complement one another's grand strategic designs for the first time in history. Ironically, Afghanistan will be the focal point of the Russian-Pakistani strategic convergence.
When last week's immensely successful outcome of Foreign Minister Lavrov's visit to South Asia is coupled with February's near-simultaneous synchronised disengagement between China and India and the Indian-Pakistani ceasefire, as well as the subsequently visible thawing of Indian-Pakistani relations (at least for now), there's no doubt that the region's geopolitical future seems brighter than it did at the beginning of the year. The Covid-19 pandemic is of course still causing a lot of disruption and regrettably also plenty of deaths too, but its inevitable end could lead to a new future for South Asia if the region's positive political trends remain on track.