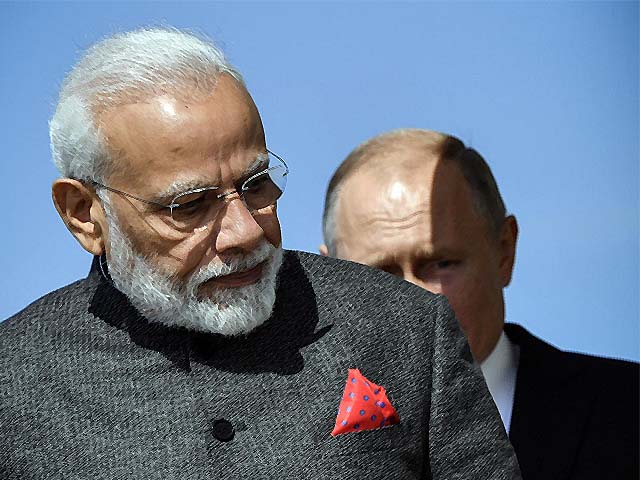 ---
Russia's unofficial response to India did everything right
But everything might not work out perfectly comes to Russia's plan to bring China and Pakistan closer to India
---
Andrey Kortunov, the Director General of the prestigious Russian International Affairs Council (RIAC), published what can be interpreted as Russia's unofficial response to India as an Op-Ed for China's Global Times. The title of his article gets straight to the point by observing that "Russia moves East, India West, straining ties". Unlike his two Indian counterparts, Observer Research Foundation expert Harsh V. Pant and former Indian Ambassador to Russia Kanwal Sibal, Mr. Kortunov is objective, mature, and respectful. Nothing that he wrote could reasonably be interpreted as offensive to the Indian side.
I analysed those two Indians' unofficial responses to Russia in my recent articles for The Express Tribune about how "India's unofficial response to Russia might exacerbate growing distrust" and asking "Why are former Indian diplomats really unhappy with Russia?" The first one even accurately concluded that "Moscow will likely do all that it can to mitigate the consequences" of India's unofficial responses exacerbating growing distrust between them, as evidenced by Mr. Kortunov's article. Both pieces should be reviewed by the reader if they're unfamiliar with them in order to better appreciate the style and substance of the Russian expert's op-ed.
He starts off by sharing some unfortunate but undeniable facts about Russian-Indian relations. These include his observations that "bilateral trade is negligible" (especially in comparison to Russian-Chinese trade), the "many complications and even setbacks" in military-technical cooperation "due to the growing Western presence in the Indian defense market and with the current Prime Minister Modi's 'Make in India' industrial strategy", and "significant areas of disagreement between the two countries on many international matters including QUAD, Afghanistan, the China-proposed Belt and Road Initiative and others."
While praising their history of productive cooperation over the decades, Mr. Kortunov warns both sides against becoming complacent. He also points out that "overall trends in global politics" are just as responsible for provoking "a thoughtful reassessment of the Russian-Indian partnership" as "red tape, bureaucratic inertia, communication failures, personal ambitions, or situational omissions" are. Once again, these are objective facts that cannot be denied, nor should they cause any offence to the Indian side since some of New Delhi's own experts have openly talked about their negative role before.
Mr. Kortunov's most important point, however, concerns his ominous prediction of their future relations. He fears that "the two friendly countries might ultimately find themselves in the opposite geopolitical and economic blocks, and the Eurasian space will split into two pieces", if "Moscow [continues] moving east, enhancing its ties with China" while "New Delhi [continues] moving west, building stronger links to the US". I've consistently warned about this scenario for the past several years yet my words went unheeded by both expert communities, perhaps because this was too "politically incorrect/sensitive" to openly discuss at the time.
Nevertheless, the taboo has finally been broken by both sides after prominent experts from each one – Mr. Pant and Ambassador Sibal from New Delhi and Mr. Kortunov from Moscow – released what can be interpreted as their countries' unofficial responses to the other after the sudden worsening of relations brought about by the publication of influential BJP ideologue Subramanian Swamy's hateful anti-Russian article last month. While the Indian side blamed Russia for this unexpected downturn in relations and even insulted it by implying that Moscow was submitting to China, Mr. Kortunov is careful not to do the same to India vis-a-vis the US.
Instead, he wrote that "The future of Eurasia at the end of the day depends largely on the future of the China-India relationship. No outside players, Russia including, can 'fix' this relationship for Beijing and New Delhi. However, outside players, Russia included, can assist in turning this relationship around by offering positive incentives for both sides to work together in trilateral or other multilateral formats." This is true, but what remains unsaid is that outside players like the US can worsen this relationship, though he likely declined to write as much because he didn't want to deign to his Indian counterparts' level by laying blame on third parties.
Mr. Kortunov also didn't want to offend India since Russian experts have a very proud tradition of being polite with others even during the tensest moments like when interacting with their American counterparts. No comparable tension exists in Russian-Indian relations, and Moscow will do its utmost to ensure that their disagreements never get to such a point either. Instead of aimlessly criticising India like the Indian experts did with Russia, he proposed the constructive solution of Russia "offer[ing] India and Beijing new opportunities for trilateral development projects in the Arctic region, in Central Asia or even in the Russian Far East."
Just as importantly, he concluded his article by advising that "decision-makers in Moscow should not regard China and India as two parallel foreign policy priorities that Russia has to choose between and/or keep separate from each other." This is partially a reaffirmation of what Russian diplomats in India said last week about how their countries' ties with China and Pakistan are independent of their ones with India. Mr. Kortunov went a step further though by advising that Moscow "should rather approach Beijing and New Delhi as partners, which will become more valuable for Russia if they find ways to work more actively with each other."
This is precisely the basis of Russia's Eurasian "balancing" act whereby Moscow independently pursues relations with the dozens of countries across the supercontinent with the grand strategic intent of eventually bringing them all closer to one another through its Greater Eurasian Partnership. Just like Russia hopes that it can leverage its strategic relations with China and India in order to bridge the differences between them, so too might it one day hope of doing the same vis-a-vis its rapid rapprochement with Pakistan and historical relations with India.
Of course, as the saying goes, "the best laid plans of mice and men often go awry", so everything might not work out perfectly in practice when it comes to Russia's ultimate plan to bring China and Pakistan closer to India through its relations with all three. In any case, Russia's unofficial response to India as manifested by Mr. Kortunov's op-ed for China's Global Times did everything right because he very clearly and calmly articulated his country's stance from a position of authority considering the high regard in which he's held at home. It can only be hoped that his Indian counterparts will learn from his example and follow suit to defuse the situation.