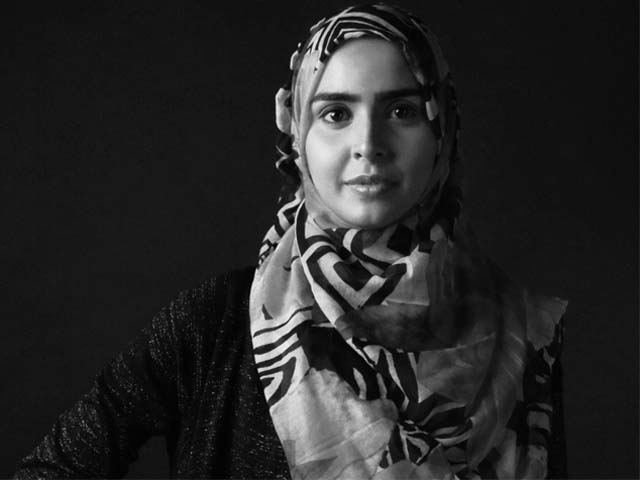 ---
Making Pakistan proud: In conversation with interdisciplinary designer Wajiha Pervez
"Women in Pakistan are in a far better place than their mothers and grandmothers were, and they know that."
---
Pakistan has an abundance of talent, and young Pakistanis continue to make their homeland proud internationally. One such Pakistani is Wajiha Pervez, a Pakistani artist, interdisciplinary designer, materials enthusiast and traveler.

Qatar Foundation (QF), a conglomerate of academic institutions including campuses of many international universities, houses the Virginia Commonwealth University School of Arts (VCUQ). The university hosts a high-profile event, Tasmeem Doha, which hosts renowned artists and speakers from all over the world. Up until now, the board of the event only consisted of either key faculty members from the parent campus in Richmond or top local faculty. However, this year, for the first time, Wajiha has been added to the board as a co-chair of the prestigious Tasmeem, the first entirely student-led edition of the event. She is the first Pakistani to have achieved this honour.

Born in Karachi, Wajiha received her BFA degree from the University College of Art and Design, Lahore, with a specialisation in textile design. Currently living in Doha, this 29-year-old achiever went on to acquire her MFA in Design from VCUarts Qatar in 2017.

In this exclusive interview, she talks to ET Blogs about her life, her journey, and her achievements.


Why did you opt for studying design at the university level?
Growing up, I was surrounded by family members and friends who were creative. I used to watch my grandmother's stitching and was struck at how a piece of cloth, a few strands of thread – and skill – could create something beautiful. My mom has always been my biggest support and cheerleader. I get my energy and drive from her.

Besides, I felt it was the right time – Pakistan's fashion and design sector was coming alive. We had our own design institutes.

Also, design suits my personality. Everything is fluid and evolving in design, which means that it's unpredictable. As a person, I'm quite comfortable with that element of unpredictability, with allowing things to evolve in their own time.

Design is not merely about clothes and accessories; there isn't a facet of life that is not touched by design. Even the most sophisticated technology needs an element of design to make it appealing and marketable; from forks and forklifts, to hospitals and homes, a designer's fingerprint is on almost everything you use.
In the subcontinent, high-achieving students often choose a science stream. How did you take a different path?
There is still a degree of uncertainty in Pakistan when it comes to studying anything that does not lead to a 'prescribed path'. And my case was no exception. It took quite a bit of persuasion and arguments with my family, to convince them of my decision.
Do you feel that attitudes in Pakistan have changed for youth and women?
As a millennial from Pakistan, I would say that things have changed a lot. The youth of Pakistan doesn't accept answers blindly; we want to know the reasons behind a decision.

As a woman from Pakistan, I feel empowered because I have been raised by women who were independent and strong; never in my family have I seen a woman not being given an equal voice as her male counterparts.

I know that there are other women who may not be as fortunate as me. But then again, I've also been inspired by women who have faced their circumstances and gone on to achieve what they set out to. So I think women in Pakistan are in a far better place than their mothers and grandmothers were, and they know that.
How has the fashion and design scene in Pakistan evolved?
An appreciation of the finer elements of fashion and design has always existed in Pakistan. But it wasn't given a voice and projected out onto a platform. We didn't give it the sort of publicity that we do now. Compared to the fashion scenes in other countries, we're still in our infancy. We are a regional contender, but we have yet to mature, or be elevated to a position where we are a global leader. I see this as an advantage – especially for people like me. It gives us more room to explore and establish our own styles.
When it comes to design, what do you focus on?        
My special interests are in material innovation. Now I make footwear and active wear mostly and consult companies on patents for sustainable materials and technologies. I also like to explore globally-endangered textiles through contemporary materials and techniques, so that traditional textiles continue to live on. I want to continue my research in the circular economy, sustainable fashion and ethically-produced textiles. I'm also keen to put together more conferences, events and festivals like Tasmeem.
Having co-chaired an international art and design event as a Pakistani, what does it mean to you?
Today, the experience seems surreal. I met so many incredibly talented people. Incidentally, the theme of this year's Tasmeem was Hekayat (stories) and that was apt. The participants were a combination of rising and famous designers and artists, but they were also people who had struggled to reach where they are now; to get things done, to get their voices heard. It was inspiring to learn about what it took for each person to reach where they are now. For me, that was the biggest take-away of my experience – that I helped bring these inspiring designers to Qatar, and, in turn, inspire those in Qatar.
As a Pakistani, and as a woman, what has your experience in Qatar been like?
As a woman, what has struck me as amazing was the female leadership in Qatar and the QF. Nowhere else have I seen such remarkable female leaders as I have in QF's Education City. I have always looked up to amazing women back in Pakistan, but in Qatar, the level of female-led leadership is something else; every big institution or organisation has a female in one of the topmost positions.

In Qatar, another factor that stands out is the multiculturalism. I'm blessed to have chosen a country that respects and values people from Pakistan. And not just to me, this country gives a voice and place to people from other countries also who call Qatar their home.
What would you tell your peer group – especially women – in Pakistan?
I would say the very first thing is to define yourself to yourself; you cannot move a step forward unless you know what your heart wants. Secondly, make sure you don't take up anything that you don't feel really strongly about. Then, step out. Because once you know the reason, the motivation and direction finds its way and then nothing can stop you.

God doesn't give you a challenge if He feels that you don't have what it takes to overcome it. You need to hold firmly on to that belief, because there will be times when that will be the only thing that stops you from giving up and going back.
Any immediate future plans that you'd like to share with us?
After Tasmeem 2019, for the first time since the biennale was staged, we are taking it out onto an international platform. The Tasmeem space will be set up as part of the upcoming London Design Festival in London Design Week. I'm in the process of putting together the exhibits and merchandise for that. After that, we plan to present a talk about it in Amman in Jordan. As for my personal circular fashion research, I am devoting more time to it now and we will see where it takes me.
(

All photos: VCUarts Qatar

)