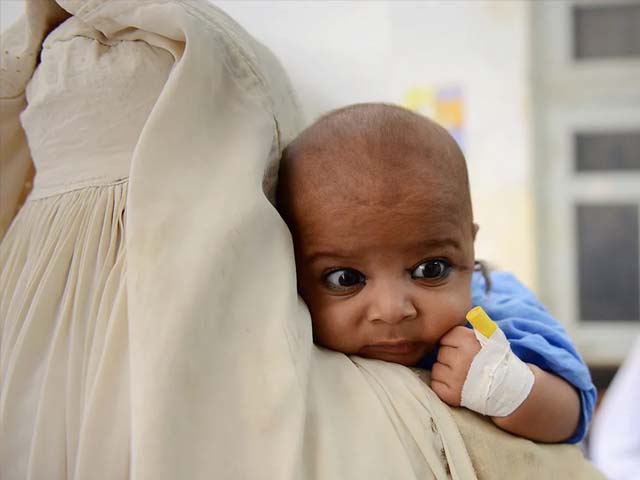 ---
Pakistan must ensure that women are included in the family planning process
The private and public sector must ensure that couples have access to contraceptives and family planning guidance
---
Her backache is better, and she is feeling relieved for more than one reason. An hour ago, Azra got an Intrauterine Contraceptive Device (IUCD) which she calls a challa (ring) inserted, with her own free will; the IUCD will potentially give her a break of five years from conceiving a child. This 30-plus years old mother of three, who does not know even her own exact age, knows well now that to remain healthy to look after her three children, and to possibly give birth to healthy children in the future, her body needs a break.

Azra had come to the Naudero Rural Health Centre (RHC), District Larkana, Sindh, complaining of bleeding for the last eight days. The medical staff, after an ultrasound, told her she had been pregnant since nine weeks and her pregnancy could no longer be sustained. This was her second miscarriage. As her dilation and curettage was performed, she also got the IUCD inserted. She says,

"My husband did not want me to use a permanent method of contraception as we may want to have children after a gap of some years,"

Muhammad Panjal, her husband, and Azra herself, mutually decided to go for a long-term contraceptive.

Naghma, working for Pathfinder as a technical supervisor for the district of Larkana for Family Planning (FP) related initiatives says,

"One of our focuses presently is to encourage women to go for long-term contraceptives, like we did for Azra."

The initiative also counsels the patients during the antenatal visits; this gives them enough time inform them about the various choices of contraceptives, their benefits, as well as side-effects if any. The decision, then, remains with the patient. Dr Erum Siyal from RHC explains why post-partum family planning (PPFP) is a key focus for FP in areas like Naudero,

"Once they leave the hospital after delivery, they rarely come back. Reasons are many. Lack of mobility, lack of resources to pay for transport to reach the hospital, lack of awareness – these are all deterrents."

The focus on PPFP is very important because the Contraceptive Prevalence Rate (CPR) is insufficient for effective family planning, which means people are not using enough FP methods. The only silver lining is that women are coming to health facilities to have their babies in increasing numbers.

Grass root level initiatives like Naya Qadam, implemented by Pathfinder International, have an increased focus on access to post pregnancy family planning. Naya Qadam is a consortium of six organisations – Pathfinder, Aahung, Greenstar Social Marketing (GSM), National Committee on Maternal and Neonatal Health (NCMNH), IPAS and Shirkat Gah – working in six districts of Punjab and Sindh provinces.

The objective is to increase access to high quality PPFP with a focus on young women from ages 15 to 24. Naya Qadam aims to lessen the widening gap between service availability and unmet needs by upgrading lady health workers (LHW), community midwives, and lady health visitors' capacity to offer services through redesigning antenatal care.

Women like Azra go back to their villages after getting contraception, and become informal activists of FP, convincing their female friends and relatives to do the same. Salma John, age 57, from Jamshed Town, Garden East Karachi, has been working as a LHW since 2003 and says,

"Contraception should be carried out within 24 to 48 hours after delivery or DNC, and within ten minutes after the placenta is expelled. That is the best time to do it otherwise most women do not come back for follow up."

John shares that condoms and pills still remain the most popular methods of contraception. Examples of modern methods include the pill, intrauterine devices, implants, injectables and condoms. Each LHW, in John's area, covers a population of 1000, which means she has to visit 100 to 150 houses. John says,

"Attitudes vary greatly across ethnicities and demographics matter a lot. Social attitudes and changing mindsets remain some of the biggest challenges. Now women are becoming aware enough to themselves giving permission to get contraceptives. However male involvement is still deep-rooted, as are the pressures of in-laws. One of the biggest tasks of LHWs is counseling the families."

Experts predict that by 2030, Pakistan's population will swell up 245 million, making it the fourth most populous nation in the world. According to the latest Pakistan Demographic and Health Survey only 34 percent of currently married women are using a contraceptive method either to space or to limit births.

Zahida Parveen, an LHW for District Okara, Punjab, is hopeful, saying that,

"Over 20 years as an LHW, I have visited thousands of houses, often visiting 15 houses a day. And I have seen how the awareness about family planning has grown exponentially. Initially people were so skeptical of LHWs visiting and counseling them, especially about FP, that they would not even touch the Paracetamol we sometimes gave them for pain or fever. The mother-in-laws in particular felt we are part of some sinister scheme to stop their daughters-in-law from having children."

Tabinda Sarosh, a women's rights and reproductive health advocate, and currently the Country Director of Pathfinder International says

"Women are raised in the community to accept patriarchy and gender inequality, letting go off their rights to choose for themselves. This further empowers men and other household figures, like mothers-in-law, to decide about potential size of families."

In many families, the desire to have sons results in an increase in family size, and men make most decisions on health, economics and rights of family members, yet do not take responsibility for contraception, she explains. Sarosh feels that the most important solution to the problem lies in reconstructing existing social and gender norms, by working from policy to communities, through multi-level and multi-sectoral interventions.

Provincial governments are showing an upward swing, and the thrust on FP seems to show improvement. Punjab Minister for Health Dr Yasmin Rashid is focusing especially on two areas as priority – maternal health and child health, and aims to make family planning a means for improving maternal health by ensuring that women take a gap of at least three years between children. At least, 1195 basic health units are working around the clock in Punjab, in addition to the RHCs, DHQ hospitals, and tehsil-level hospitals.

Both the Sindh government and Punjab government provide contraceptives free of cost. In Punjab, the government even gives women the facility of free pick up to reach the hospital for deliver free of cost to encourage them to deliver at proper health facilities.

The government of Sindh is now focusing on urban migratory population and slums, for which a Karachi Urban Plan is being made. Part of the efforts is to counsel migratory communities in their own language and 1758 doctors are being trained. Tertiary hospitals are also being looped in for FP efforts, while training is also being conducted to insert devices that release levonorgestrel for birth control.

While modern methods are being introduced and both public and private sectors are working on increasing awareness about FP as well as working on supply of contraceptives, there is little that can be done to bring women back to the hospital once they leave. Thus, post pregnancy family planning remains the key.