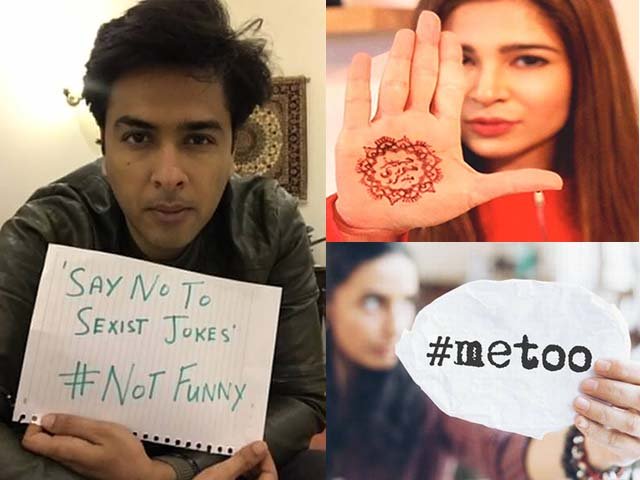 ---
#MeToo, #JahezKhoriBandKaro, #NotFunny: Lifting the curtain of sexism in Pakistan
We did not consider any of it to be harassment, and even if it was, it was to be brushed under the carpet.
---
Hashtags make a difference, and for campaigns regarding the rights of women, the last one year has seen some important hashtags that made us sit up straight. The most recent one is #NotFunny, an awareness campaign launched on National Women's Day by the Uks Research Centre, pointing out aptly that enough is enough – that jokes that demean women, perpetuate stereotypes about women and degrade women, are just not funny.
Yes Absolutely #NotFunny#shehzadRoy 🖒 pic.twitter.com/JU68kqaxQa

— Cat on the Couch 🇵🇸 (@jiyyah_shaah) February 25, 2019


For those who consider themselves more 'evolved' or 'aware', the litmus test can be something as seemingly small as the jokes men keep forwarding on chat groups – 'guy jokes' that talk of women as objects of desire and reek of in-built sexism and misogyny. This would importantly also include women rejecting the idea that such jokes are 'normal'.

Another hashtag emerged towards the tail end of 2018 – #JahezKhoriBandKaro, shedding light on the issue of jahez/dowry, a menace that may have reduced slightly or may have changed forms and names, but still very much exists in society.  

https://www.instagram.com/p/BrpsrYtjUJO/?utm_source=ig_embed&utm_campaign=embed_locale_test

https://www.instagram.com/p/BrpfqZ_FmD9/?utm_source=ig_embed&utm_campaign=embed_locale_test

The most popular hashtag globally has been #MeToo, of course. It took women like me almost a year to understand what a big deal the #MeToo movement is. Women like myself comprise of relatively educated, aware, self-proclaimed and empowered women and even journalists who have been writing on gender issues, ensuring that the voices of women are heard.

As the #MeToo movement started trending globally, journalists in Pakistan also took to Twitter to share their thoughts on the movement:


Sexual harassment is not understood. Both men & women need to be educated about what constitutes harassment based on gender.

— Reham Khan (@RehamKhan1) June 9, 2015


Ever since this hashtag started trending on Twitter in 2017, thanks to the American actress Alyssa Milano, many of us began to rethink and question our understanding of so many concepts. Some of us, for instance, began to wonder what exactly constitutes as sexual harassment, if we experienced it, should we say it out loud, and if yes, then why?

As female journalists, many of us have come across instances, not necessarily as subjects but even as bystanders, where we may have felt uncomfortable by a gesture, a sentence or a physical nuance of a man. We were encouraged, even less than a decade ago, to not "overthink" because "that's just how men are".

For women who chose to work in professional spheres, the situation was far worse – a compliment that was not welcome, a handshake that bordered on being forced, an insistence for company over coffee, a stare across the room in a meeting or an unsolicited text message or phone call, were all a part of our daily work routine.

Back then, we did not consider any of these things to be harassment, and even if this thought did occur to us, these were just other things to be brushed under the carpet.

But this carpet has now been lifted.

For far too long women have been bearing with this, speaking out only if something crossed the 'upper limits' of their threshold, and then living with the consequences in both their work and private lives.

While laws and hashtags are important, they are not enough, and can only take us so far. Sensitising both men and women is perhaps the first step, and this process has to start early. Young girls must be taught to say 'no', and young boys must be taught to accept 'no' instead of considering it their right as part of  

'male entitlement '. Parents, schools, and even society will have to play a role in teaching these things.



Jokes about women being money-hungry bimbos, dependent drama queens, or simply even sexual objects, will have to be especially discouraged.

#MeToo has become a space for women to air their grievances, and for catharsis of unpleasant experiences they have remained silent about. A woman may choose not to use the hashtag #MeToo, and has the right to not disclose anything.

However, this movement allowed those who want to say it out loud/speak out against their harassers, to go ahead and say it/do it and this in itself is progress. Acknowledgment and validation of the fact that sexual harassment or sexist jokes and misogyny exist is definitely a step in the right direction.

A narrative is steadily building around it, and the most unexpected of people now at least know what this means. In spite of the debate and controversy that the movement has generated-added, the conversation has at least begun, and the debate has at least started to gain momentum.

Consent has been central to our understanding of women, yet it has not been delved into enough. The idea of consent needs to be dissected and understood, and in this context, 'touch' is very important.

Should men be careful before extending their hand for a handshake? Does close proximity make the other person uncomfortable? Do male doctors or medical technicians need to ask the female patient before they touch her for medical reasons?

Is casual flirtation okay? Can we get away with telling our colleague "I was just giving you a compliment" or "I was just kidding", when we have in fact made her visibly uncomfortable?

Are there boundaries and limits that can co-exist alongside the ideal of a comfortable workplace environment for both sexes? Questions are being raised. Answers may not have been established yet but the conversation has begun.

That being said, many people still don't agree with the stance of these movements. On social media, insensitive attitudes can be seen in comments and tweets from both males and females. Often these tweets reek of a lack of understanding of the issue.

Those who are generally more conservative in terms of thinking look at it as 'an issue being made out of nothing' and raise the insensitive question of: "why did she complain now after all these years?"

What needs to be understood is that the idea behind saying it out loud is not just to punish men. It is in fact a means of providing catharsis and healing, and setting precedents for women faced with similar situations.

Much remains to be done, especially in terms of social attitudes. Seemingly small reactions from society discourage women to voice that they have felt harassed at some point in their lives.

I remember a colleague talking to me once about how she had been harassed, and what was shocking for me was that she was almost apologetic while saying,

"I don't know why he would harass me, I am not even good looking".

Others are too afraid to talk about it or do not want to talk about it because of the common responses: "It is never one-sided", "she must have done something to provoke him" or "she seems like modern woman". Sadly, the onus is placed mostly on the woman to ensure that the man keeps himself in check.

Awareness does make a difference, and we may be inching towards better times, but we still have a long way to go.

Happy Women's Day!