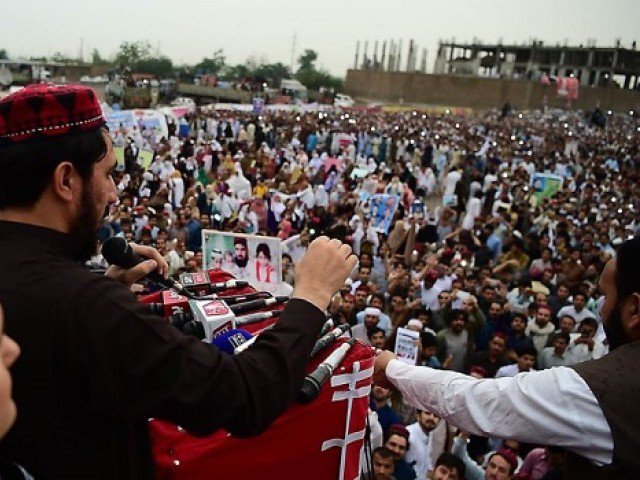 ---
Stop deifying or demonising PTM, just lend them a listening ear
Free speech is PTM's constitutional right; they can criticise but there must be a line between voicing and attacking.
---
The military's media wing stated in a recent statement that soldiers manning a North Waziristan checkpoint attacked by Pashtun Tahafuz Movement (PTM) workers led by MNA Mohsin Dawar "exercised maximum restraint". Despite being attacked, the soldiers didn't harm the PTM workers. 

This is a good sign and reflects the maturity of the armed forces, but they should always exercise restraint like this.

There are many conspiracy theories out there about how and why members of the PTM allegedly attacked the Kharqamar check post, or whether they attacked it at all. In addition, there are voices in the Pakistani media questioning where the PTM gets its funding from and which powers are sponsoring it. On the other hand, liberals reject this notion completely and quip that the security establishment is quick to always put the blame on foreign powers whenever a local movement emerges and starts demanding its constitutional rights.

It's easy to read into history and compare PTM to other ethnic movements in Pakistan's past and come to the wrong conclusion, which is that if Pashtuns are marginalised, Pakistan's solidarity would be in danger.

Firstly, it is important to state that the Pashtuns are not as marginalised as the Bengalis were, making the Bangladesh comparison invalid. They are not looked down upon or disdained in the same manner as Bengalis were.

Secondly, geography is the biggest determinant of a country's continued existence. It was very difficult for East and West Pakistan to exist as one entity when they were separated by thousand miles of Indian territory. However, Khyber Pakhtunkhwa (K-P) is the very hinterland of Punjab, with even the outermost areas of the province not more than a four-hour drive from the capital.

Moreover, Pashtuns have always had notable representation in the highest echelons of Pakistani government. Pakistan's first military dictator, field marshal Ayub Khan, was a proud Pashtun. During the tenure of another Pashtun, former president Ishaq Khan, the chief of army staff General Abdul Waheed Kakar and speaker national assembly Gohar Ayub were both Pashtun as well. This led to a member of government commenting that it seems as if the government is wholly run by Pashtuns! Even today, the current prime minister is ethnically Pashtun.

I know all this doesn't count for anything if most Pashtuns are systematically discriminated, but PTM members who openly use foul language against the Pakistani military perhaps do not realise that Pashtuns are the second largest ethnic group in the army.

More importantly, while Mujeebur Rehman's Awami League was avowed in its stance of having some sort of separation from Pakistan, PTM is not a fundamentally anti-Pakistani movement born out of a desire to separate. Rather, on the surface, it is a peaceful movement by disgruntled Pashtuns who are tired of being profiled as terrorists.

The Pashtuns have genuine grievances, acknowledged by a Pashtun prime minister. Several families living in the tribal areas has lost a family member or more. Those who were displaced during the war on terror came back to find their homes destroyed. Moreover, they had to be cautious and avoid moving unnecessarily in the area which was rigged with landmines by terrorists.

Pashtuns living in erstwhile Federally Administered Tribal Areas (FATA) were not marginalised on purpose, but the state's indiscriminate action against the Taliban also resulted in innocent tribal people being picked up and detained. Thus, there is legitimacy to their demands of returning missing people. And what angers the self-respecting locals the most is that during their day-to-day commute, they are searched extensively at security check posts, irking the locals.

To highlight their sorrows, PTM should be allowed to exercise their right of free speech and hold protests, because a democracy like Pakistan enshrines these basic rights as part of its contract with the people. Free speech is a constitutional right of PTM, they can criticise institutions but there must be a line drawn between voicing your grievances and attacking security check posts and harming military personnel.

While Bilawal Bhutto Zardari might express doubts as to why a sitting member of the parliament would attack an army check post, commentators allege that since the whole movement is sponsored by India's Research and Analysis Wing (RAW) and Afghanistan's intelligence agency, National Directorate of Security (NDS), it might be a ploy by them to incite the Pakistan forces into firing back in retaliation, cause civilian casualties and bring PTM and violence against Pashtuns to the forefront. This is yet another step in the hybrid war against Pakistan. 

Dawar, who is accused of organising the attack, has been arrested and is on remand. Meanwhile Voice of America's (VOA) Pashto radio service, Deewa, was the first news organisation to carry news of the check post attack. It is quite unfathomable how word travelled to the VOA before it did to any other local news agency, given the fact that there was a complete blackout of internet and telephone services in the region. There's a possibility that right before the attack, Dawar may have given them a heads up.


Lawmaker & civil rights activist @mjdawar talking to @voadeewa denied Pakistan military accusations of firing on a check-post,saying "No, we didn't not fire, the army first had aerial firing & then straight on the protesters injuring some 30 people...." #StateAttackedPTM (1/4) pic.twitter.com/Ed3cTAFPa2

— VOA DEEWA (@voadeewa) May 26, 2019


However, even if we give Deewa the benefit of the doubt and assume they found out about it like everyone else, either VOA found out about the attack through a trusted intermediary of Dawar's or VOA was on top of Dawar's head and he wanted to break news of the attack at the earliest to a publicly-funded foreign media service. This just makes it seem as if Dawar is waging a war against the Pakistani Army at someone else's bidding.

The aforementioned might sound like a very far-fetched theory and I might be called a stooge of the Pakistani Army to even espouse such a view, but it's no secret that all over the world potential secessionist movements are fuelled by intelligence agencies of rival countries. Thus, it should not be construed as out of the ordinary to posit that Dawar, Ali Wazir and Manzoor Pashteen might have links with Indian or Afghan agencies. However, this does not mean the government uses force against them or deny them their right to speech.

International media reports that the PTM's protests are something Pakistan wants to hide from the rest of the world. On this year's Kashmir Day for instance, while the Kashmir rally was given mass media coverage and they were allowed to occupy ground in front of Islamabad's National Press Club, PTM's activists who wanted to demonstrate on the same spot were duly rounded up and taken to the police station. None of this was covered by any of the local news channels.

At the end of April, the military spokesperson presented a charge-sheet against some PTM leaders while calling them 'foreign agents' who should not deserve airtime. In this age of smartphones and social media, it is very hard to impose a complete media blackout, and when word eventually gets out that the state tried to curtail information outflow, it gives a bad impression and makes it appear as if the state has a nefarious agenda.

While PTM leaders are not given enough airtime or coverage in Pakistani newspapers, they are spreading word about their movement in foreign newspapers. Pashteen's article on the New York Times received a lot of publicity, but there are also allegations that someone else perhaps wrote the article for him – another sign of the movement playing into foreign hands. Dawar also wrote an article for the Washington Post wherein he very callously wrote that PTM is "a reaction of the failures of the state".

Dawar, however, got it completely wrong. The very reason the PTM exists is that the Army effectively wiped out the Taliban from the region, thus giving liberal and secular elements political space. There would be very little chance of Dawar being elected from Waziristan if the Taliban were still in power. Their slogan might be catchy, but the PTM should show a degree of appreciation for the Army bringing a semblance of peace to the region. Prosperity will follow but it will take some time, and a spirit of cooperation between the local people and the state will only help.

After conducting its threat assessment, the military has concluded that it cannot handover Waziristan completely to the civilian administration. It's understandable that after wiping the area free of the Taliban, there is a very pervasive fear about the area turning into a hub for terrorists again.

Moreover, officers who have served in the area say that PTM has risen from the ranks of Taliban sympathisers. That might be the case, but Waziristan should not be turned into a region where the people start losing hope . The more the establishment shows restraint – no matter what the provocation is – the better it is, because doing so might wilfully incite a peaceful movement to morph into a violent one.
Facebook Conversations
COMMENTS
Comments are moderated and generally will be posted if they are on-topic and not abusive.
For more information, please see our Comments FAQ