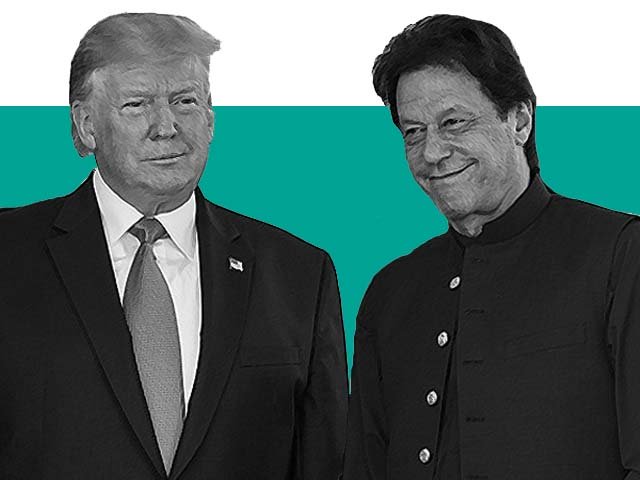 ---
Trump's impeachment acquittal is in Pakistan's best interest
Trump is the Republican's best shot at beating the Democrats – which is also in Pakistan's best interest
---
While many in America lament the increasing likelihood of President Donald Trump being acquitted of all the charges which have been levied against him over the course of the impeachment trial, one could argue that Trump staying in office would actually benefit Pakistan. For years, America had kept Pakistan on a leash, and relations between the Pakistan government and the United States had soured during the Obama administration as a result of what has popularly been referred to as the 'Obama Doctrine.' Repeated American drone strikes during Obama's years in office and an inability on part of our leaders to effectively communicate our national goals to the US president meant that the two nations often found themselves at a crossroads. While Pakistan's relationship with Trump got off to a rocky start after the infamous "Do more" and the Trump-Imran Khan Twitter feud, the tide has been changing.  

The impeachment of Trump, which Democrats in America were hoping would come to fruition, would have meant that not only would he have to step down as president but that he would also be disqualified from competing in the upcoming presidential elections. Without the current face of the Republican party able to lead the charge, the policies which Trump has championed so far would quickly fall by the wayside. Hence, Pakistan would have found itself having to rebuild its diplomatic relations with the US administration from scratch once again. The simple truth of the matter is that Trump, for better or for worse, is the Republican's best shot at beating the Democrats – which, it would seem, is also in Pakistan's best interest.

Currently, the primary bargaining chip which Pakistan has when sitting down at the negotiation table with the US is its ability to play a pivotal role in resolving the Afghanistan situation. The insistence on part of American diplomat Alice Wells to iron out a US-Taliban peace deal and the desire to keep Pakistan in the loop with regards to this indicates that the Trump administration is ready to start pulling troops out of Afghanistan. Trump has repeatedly called for a troop withdrawal and has been keen on a quick exit from Afghanistan, which is precisely why the cooperation of Pakistan in this regard is paramount. Hence, Trump staying in office allows Islamabad to have a certain leverage over the US when it comes to the Afghanistan conundrum.

In stark contrast, one of the Democratic parity's front-runners for the upcoming presidential election, Joe Biden, is of the opinion that America needs to double down on its Afghanistan campaign and use Pakistan as a base from which to launch counter-terrorism operations in Afghanistan. Hence, the election of someone like Biden would only further embroil Pakistan in the Afghanistan quagmire while Trump staying in office affords Pakistan a cleaner way out of the mess while simultaneously allowing Pakistan to use its position on the international chessboard to its advantage. United States' special envoy Zalmay Khalilzad, whom Trump has picked to resolve the Afghanistan situation, is confident that a peace deal will see the light of day. Therefore, if Pakistan plays its cards right, this could end up working out in Pakistan's favour.

Furthermore, Trump staying in office is beneficial for Pakistan since traditionally US-Pakistan relations have improved under Republican presidents. Our alliance gained momentum during Dwight Eisenhower's tenure, when he inducted Pakistan in a multitude of international alliances such as SEATO and CENTO, and Pakistan was called "America's most allied ally in Asia". During Republican Ronald Reagan's presidency, Pakistan and America shared a common interest: pushing back against the Soviets. Consequently, while Obama visited India twice, he did not make even one trip to Pakistan; unlike George W Bush, who came to Pakistan in 2005. Additionally, Imran's meetings with Trump have signalled a willingness on part of both the leaders to try and resolve regional issues. Evidently, in return for its efforts in facilitating an Afghan peace deal, Pakistan wants America to play a greater role in resolving the Kashmir issue. Repeated shuffles in Washington would only increase the foreign policy burden for Imran and his team, which is why a continuation of the Trump administration would suit Islamabad.

While the articles of impeachment passed the House of Representatives due to the Democrats' majority, Republicans in the Senate have refused to allow any more witnesses to be interviewed, hence halting the proceedings and essentially ensuring Trump's acquittal. If Trump had been impeached, the Republican party would not have been able to field a strong enough contender for the elections due to take place later this year. Ultimately, perhaps Pakistan should be thankful for that.