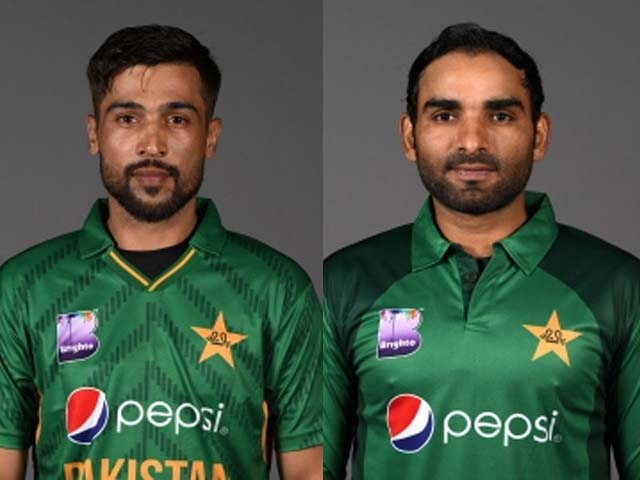 ---
Why selecting Mohammad Amir and Asif Ali for the World Cup is the right move
England have made us realise what's missing in our World Cup squad: Amir's economical bowling and Asif's power...
---
Given that there are millions of supporters of the Pakistan cricket team, there are bound to be millions of variations of Pakistan's World Cup squad floating around on social media. Everyone has a different personality, and so each individual will tailor the Pakistani line-up according to their liking.

The recent report that Mohammad Amir and Asif Ali are set to be included in Pakistan's World Cup squad has thrown these predictions into a flux. Although not officially confirmed by the Pakistan Cricket Board (PCB) yet, I believe that their inclusion is an absolute must and will prove to be beneficial.


Fast bowler Mohammad Amir to replace @iFaheemAshraf and Asif Ali to replace Abid Ali in @ICC World Cup 2019 Squad.

— Syed Yahya Hussaini (@SYahyaHussaini) May 16, 2019


However, before I progress, I have a confession to make. Prior to the third ODI, I didn't see Imamul Haq as being the right fit for the team given his slow strike rate. But after scoring 151 off 131 balls in his last outing, he has made his point clear and I happily discard my case against him. If he can continue to score big with a healthy strike rate, then he can walk right into the playing 11 any day with no questions asked.

However, not everyone has performed in the current series, which is why we now must take a gamble and include Asif and Amir in the World Cup team.




Pakistan has taken an absolute beating in England in the two ODIs which have been played, after the first one was washed out, but credit must be given to the PCB for arranging this series at the perfect time. There is no better practice before the World Cup than to be playing a series in the host country against the favourites of the tournament. While England may have torn our bowling to shreds, they have essentially helped us realise what we are missing in our World Cup squad: Amir's economical bowling and Asif's power hitting.

Although I refrain from making predictions, I had jotted down Junaid Khan, Shaheen Shah Afridi, Hasan Ali and Faheem Ashraf as my picks to make the cut at the end of last year as I analysed Pakistan's bowling options. Much to my astonishment, my prediction for Pakistan's bowling line-up for the World Cup was completely accurate. I am thus almost tempted to pass my résumé onto the PCB and take over Inzamamul Haq's job.

However, after seeing Pakistan acting more clueless in the field than I have ever been in my accounting classes, I think it's time to make some alterations. Amir, the leader of the pack, is missing in the beleaguered bowling line-up.




I wouldn't blame the selectors for leaving out Amir initially because he was given more opportunities than he could have ever asked for to prove that he was back in form. Since the Champions Trophy, Amir remained a shadow of his former self, and even though he has done nothing extraordinary to warrant his place now, Faheem Ashraf has ensured that we will miss Amir regardless.

Truth be told, nobody really knows what role Ashraf is playing in the team.

I always saw Ashraf as a bowling option, but some believed him to be an all-rounder. Given his performances to date, if being able to lift a bat in your hands is enough to make you a batsman, then Ashraf is an all-rounder. In that case, all bowlers are all-rounders. Who can't lift a bat after all?


- Fast bowler Mohammad Amir to replace Faheem Ashraf and Asif Ali to replace Abid Ali in ICC World Cup 2019 Squad.

- I think this is the good decision because we need power hitter like ASIF ALI in batting line and experience bowler like M AMIR in bowling.

#WorldCup2019 #CWC19 pic.twitter.com/fTUFHcEGFB

— Pakistan Cricket 🇵🇰 (@PakistanCric10) May 16, 2019
Fans of Mohammad Amir Now days... 🤩🤩🤣🤣#CWC19 pic.twitter.com/EIWJoMO1CJ

— Qaisar Ali (@ranaqaisar227) May 16, 2019


Despite Amir's lack of form, he is more economical in his bowling than Ashraf. I'd rather take a complete bowler in English conditions than someone who is a bit of a bowler, a bit of a batsman and a whole lot of nothing. Not to mention, I honestly believe Amir can bat better than Ashraf can. Can anyone recall Amir's partnership alongside his captain against Sri Lanka in the Champions Trophy?

Whoever spread the rumour that Ashraf is an all-rounder did Pakistan a great injustice. The time, energy and matches invested into Ashraf have not paid off, and now it's time to move on.

The other predication I had made with regards to the World Cup squad earlier this year was Asif's inclusion over Umar Akmal to take the number six slot in the line-up to provide some much needed power hitting. Although the PCB selectors went against my call initially, Asif's back-to-back quick fire 50s under immense pressure have helped him practically guarantee a spot in the team for the upcoming tournament.




Many believed that Asif didn't have the technique to play in a longer format despite his prowess in T20s. I wouldn't necessarily disagree, but I am still an advocate of his because, unlike most other teams, our squad faces a unique predicament. The Pakistani batting line up is nowhere near as dynamic as those of other top sides. Our middle order batsmen, such as Babar Azam, Harris Sohail and Sarfraz Ahmed, cannot hit the ball out of the park at will.

Without Asif coming in lower down the order, Pakistan's top and middle order will end up laying a solid foundation for a night of fireworks without anyone there to ignite the fire. How disappointing would that be?

I have said it before and I will say it again: Asif has the power to send the ball to the moon and back. I know such players attract people like me more than those that are risk averse, but I'd rather take my chances in life than go down wondering.

Given the desperate lack of power hitting in the middle order, and Asif's form in the ongoing series, leaving him out at this stage would be an attempted murder of the hopes of the fans that wish to see Pakistan do well in the tournament.

If we really are relying on Imad Wasim and Ashraf to get us over the line in pressure situations where boundaries would be the need of the hour, then I am ready to dig a hole in my backyard and bury my hopes of winning the World Cup. Therefore, it is uplifting to know that Asif's inclusion in the squad is imminent. 

If the PCB wants to get the most out of the series in England before the World Cup then they have to make some bold decisions. The need for Amir and Asif is evident, and it looks like the management may be plucking up the courage to include them in the World Cup squad at the very last minute. 

All photos: AFP
Facebook Conversations
COMMENTS
Comments are moderated and generally will be posted if they are on-topic and not abusive.
For more information, please see our Comments FAQ