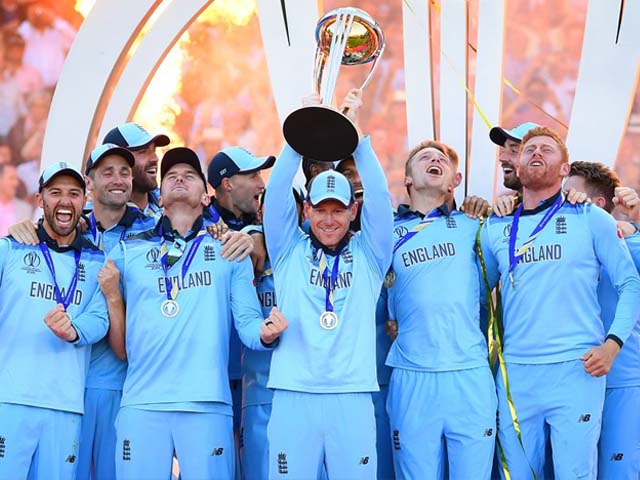 ---
England won the Cricket World Cup without winning the final
No matter which angle you look at it from, you can't think of a more bizarre rule to declare a winner in cricket.
---
Breathtaking, gripping, electrifying, thrilling and miraculous. I copied these terms right from the dictionary but no matter how I jumble them together, none of these words can do justice to the greatest World Cup final ever. All I can tell you is that England and New Zealand battled to the point that a law which had been sitting rotting in old cricketing books had to be pulled out to declare a winner and force a loser.

The irony is that the final had everything one could ask for, yet it ended in a manner which disregarded everything. After a thrilling match, the culmination only left one feeling hollow.


"England have won the World Cup by the barest of all margins. Absolute ecstasy for England, agony for New Zealand!"

The final moments of #CWC19 haven't quite sunk in yet 😅

Relive them once again ⬇️#CWC19Final | #WeAreEngland pic.twitter.com/y1zWIlEg4g

— Cricket World Cup (@cricketworldcup) July 14, 2019


England and New Zealand were battling it out like there was no tomorrow, both equally desperate to get their hands on the trophy for the first time. In chasing down New Zealand's 241 runs, the indomitable Ben Stokes led England's charge, pushing himself to the limit and stealing every run he possibly could. On the other hand, New Zealand's players were fielding like their life depended on it. But after 100 overs of play, nothing could separate the two finalists.

Surely a super over would decide the winner like it had in the past. After England scored 15 runs in their super over and asked Jofra Archer to defend the total; I was convinced England had the match in the bag. But then Jimmy Neesham happened and out of the blue, Archer, who was arguably the best bowler in the tournament, was smacked to the leg side boundary for a six!

As a neutral fan, cricket could not have gotten any more heart-wrenching than this moment. The super over was back in the balance, but little did anyone know that someone, somewhere, someday had come up with a rule that was handcrafted for this very moment.

In the end, although New Zealand made 15 runs in their super over, England were declared winners because they had scored more boundaries over the course of the match.




The boundaries rule

There are several ways a super over tie can be resolved, but I think that the most logical way would be to conduct another super over with only new players from both sides allowed to take part. I can't imagine a crowd glued to the game complaining about waiting another 15 minutes in a tense match. If everything fails, then just sharing the trophy among both teams would still be a better option.

The idea of deciding a victor based on number of boundaries hit is marginally better than flipping a coin to determine the winner. The International Cricket Council (ICC) decided that should there be a tie in super over as well, then the side with more boundaries hit throughout the game will win. Whoever made the rules about the number of boundaries knew very little about cricket and the art of scoring runs via singles and doubles.

No matter which angle you look at it from, you can't think of a more bizarre rule to declare a winner in cricket. If England hit more boundaries but ended up with the same total as New Zealand, then looking at it from the flip side means England must have played more dot balls.


Sri Lanka legend Muttiah Muralitharan thinks England and New Zealand should have shared the title at #CWC19 after the tied Super Over in the final. Agree with Murali? pic.twitter.com/NFXYbFmfHd

— ESPNcricinfo (@ESPNcricinfo) July 17, 2019


How can more dot balls not be penalised but more boundaries be rewarded? How can loss of more wickets not be penalised but hitting more boundaries be rewarded? How can the greatest game of cricket be decided by such a petty rule?

All these questions were still in the air in the air as Kane Williamson and his men were forced to surrender just for the sake of declaring a winner in a rush. As a neutral fan, my opinion against the rule is unbiased. Had Pakistan been playing my emotions would have always gotten the better of me. But not being associated with either side, I have to say that the rule must be reviewed.

Poor umpiring

While we are at it, when are we going to hold umpires accountable for poor performances on the field. Last time I saw an umpire paying the price for his poor judgement was when Inzamamul Haq recorded his protest by forfeiting a Test match against England.

After incorrectly giving Jason Roy caught behind in the semi-final, umpire Kumar Dharmasena seemed eager to make up for his mistake. So he decided to award six runs instead of five after an overthrow went to the boundary even though the batsmen had only completed one run when the fielder had thrown the ball.

An average fan may not be familiar with the specifics of the overthrow rule, but this is Dharmasena's bread and butter. The fact that he couldn't do his job properly in the World Cup final is an absolute travesty. It may seem like an error that cost only one run, but now that the game is over, that one run could have technically changed the winner. Had Stokes needed three runs off the last ball, the cup could have easily ended up in Williamson's hands.


Former umpire Simon Taufel has stated an error was made in awarding England six runs instead of five when a throw struck Ben Stokes' bat. "It's a clear mistake, England should have been awarded five runs, not six as the batsmen had not crossed for their second run" #CWC19Final

— Saj Sadiq (@Saj_PakPassion) July 15, 2019


Whether or not an overthrow off a batsman's body or bat should be allowed in the first place is another tricky subject matter. It's almost as if this World Cup final was scripted to test every rule that lies somewhere in the grey area. I believe that an overthrow off the batsman's body or bat should not be allowed since the fielder was never at fault.

Despite the controversies, by no means should credit be taken away from England because they earned every right to be in the final and celebrate their victory. The only question is: who did they beat in the final?

And my answer will still be the same: no one.

Both teams scored 241 runs. It should not matter how they were made.

(All photos: Getty)