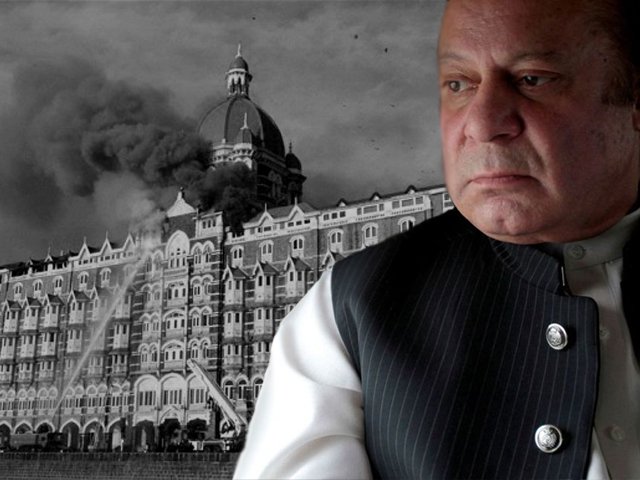 ---
The corrupt, disgraced and disqualified prime minister who cried wolf
Why did his conscience awaken while he is being investigated in laundering cases, including the $4.9 billion to India?
---
A while ago, Nawaz Sharif suggested that if things kept going the way they were, he would also, in retaliation, reveal the many secrets and insider information he was privy to. This was a veiled threat, but the implication was clear: Nawaz would not go down quietly, and if the attack on him did not abate, he would most likely disclose state secrets.

Now, Nawaz seems to have made good on his threat, for in a recent interview to controversial journalist Cyril Almeida, he acknowledged that the terrorists behind the 26/11 Mumbai attacks were non-state actors sent by Pakistan, and had been allowed to go to India to conduct the attacks. Even when given the opportunity to retract his statement, Nawaz stood by his declaration, wondering what it was he said that was wrong, and instead stated he will continue to "speak the truth".

There is no need to elaborate on Nawaz's corruption and his ill deeds of the past – the verdict of our courts paints a clear picture of the truth in that department. However, it has become clearer than ever that not only does Nawaz exist only to loot and plunder Pakistan, but he is also willing to go to extreme lengths in order to keep doing so, even if that means throwing Pakistan itself under the bus. After finally reading the writing on the wall, in the wake of the rise of the Pakistan Tehreek-e-Insaf (PTI) and the downfall of the Sharif Empire, Nawaz seems to have come to the conclusion to seriously endanger our national security as he goes down. If he's going to go down, he's going to take the whole country with him!

Perhaps Nawaz has acted out under the impression that if he brings Pakistani state institutions under international pressure, he may get relief in the various cases lodged against him and hence pave the way to win the upcoming elections. For someone who was elected prime minister three times and was entrusted with the country's leadership, to stoop to this new low only to satisfy his lust for power is beyond tragic for our nation.

A pertinent question arising out of this entire mess is: if this is information he was privy to and felt so strongly about, why did he stay silent during his tenure as prime minister? Why did his conscience suddenly awaken while he is being investigated in numerous money laundering cases, including one involving the transfer of some $4.9 billion to a state none other than India? This fact alone is enough to delegitimise Nawaz's claims and highlight his depraved intentions, not to mention the fact he has been disqualified by the courts for lying and corruption not once but twice. Hence, the assertions of a disgraced former premier hold no merit.

On the other hand, even if we take his words at face value and accept that Pakistani militants were indeed involved in the Mumbai attacks, Nawaz is nonetheless guilty of disclosing a state secret. He has broken the oath taken by him all three times he was elected as the leader of our nation. This classifies as treason, and Nawaz can legally be tried under Article 6 of Pakistan's Constitution, which can lead up to capital punishment for the crime of high treason.

It has been proven that India itself had a role to play in orchestrating the 26/11 Mumbai attacks; an inside job aimed at distorting Pakistan's image worldwide and having it declared a terrorist state. In Who killed Karkare, a book written by the former Inspector General of Maharashtra, SM Mushrif reveals that Ajmal Kasab, the main perpetrator caught after the Mumbai attacks, was arrested by the Research and Analysis Wing (RAW) in Kathmandu, Nepal, and was already in custody during the attack.

According to the author, whose senior position authenticates his claim, the extremist Hindutva group Rashtriya Swayamsevak Sangh (RSS) conducted the attacks, whereby Kasab was forced to become a part of the attacks and was presented as a Pakistani to the world. Hemant Karkare, the chief of the Mumbai Anti-Terrorist Squad, died under mysterious circumstances and his death remains unsolved. It does not take a genius to conclude he was most likely killed to bury the truth.

Moreover, Satish Varma, a senior officer part of the probe team of the Central Bureau of Investigation (CBI), has also allegedly revealed that the Mumbai attacks and the Indian Parliament attacks were both "set up" and aimed at strengthening the counter-terror legislation in India.

Several investigative endeavours by independent journalists, including Elias Davidsson's The Betrayal of India: Revisiting the 26/11 Evidence, also seem to rebut the Indian narrative and suggest the same – that the Mumbai attacks were orchestrated by the Indian government itself to blame Pakistan. At the very least, there is overwhelming evidence and crucial testimonies by the higher ups of India's law enforcement agencies to suggest that all is not as India would want the world to believe.

Coming back to Nawaz, he began criticising the judiciary; insulting and abusing the institution and the judges on his cases, before and after his disqualification. He then resorted to attacking the armed forces, hurling accusations at them at any and every chance he got. All this, just to turn the narrative away from the reality of his corruption charges and to secure seats in the upcoming elections.

Now, when all else has failed, Nawaz in what appears to be his final attempt at saving himself and his family's politics and wealth, he bowed down to India's whims and desires by legitimising Indian propaganda. What is worse, he has enabled India to prove what it had failed to do over the past 10 years, despite fighting tooth and nail.

Nawaz's collaboration with India is not new. He already faces allegations of conspiring with RAW and laundering huge sums to India, not to mention the fact that Indian establishment circles have long considered him to be an asset they can use against Pakistan.

This pathetic attack on Pakistan's national security may result in India's fanatical sense of nationalism reaching new heights, and Indian propaganda against Pakistan getting much severe, but it won't work in the long term, for all the evidence refutes claims made by Nawaz. The fact this comes from a corrupt, disgraced and disqualified former prime minister does not help either.

If adequate action was taken against Nawaz at the time of the Dawn leaks, we would not have had to see this day, and there would be no new conspiracies to hurt Pakistan's interests and annihilate Pakistan's narrative. However, there is still time, and we can prevent future treacherous acts by making an example out of Nawaz and the corrupt, power-hungry, and anti-Pakistan cult that Nawaz represents. After all, Nawaz has made it clear where his loyalties lie, and they do not lie with Pakistan.
Facebook Conversations
COMMENTS (51)
Comments are moderated and generally will be posted if they are on-topic and not abusive.
For more information, please see our Comments FAQ