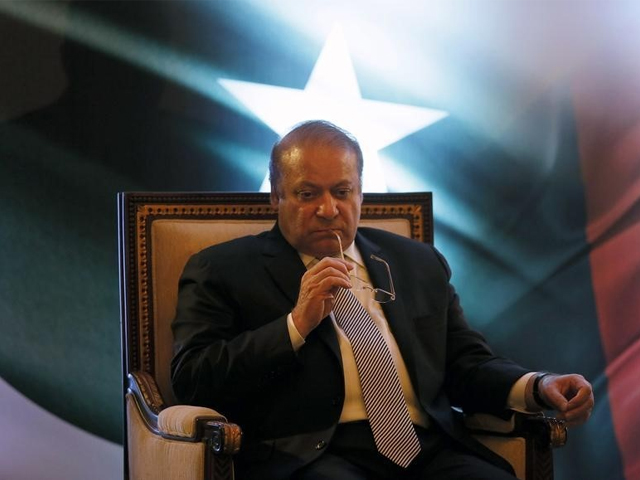 ---
#GoneNawazGone: Today could be the darkest day in Pakistan's judicial history or the day a new Pakistan was born
Insecure Nawaz will never select a stronger or more popular aspirant such as either Shahid Khaqan Abbasi or Ayaz Sadiq
---
The nail-biting suspense leading up to the verdict is now over. The unthinkable has finally happened. Nawaz Sharif, who managed to win three elections and serve as Pakistan's prime minister, has been disqualified and faces political extinction.
This is the mother of all Supreme Court (SC) verdicts and whether it will change the country's fate for better or worse will be decided in the next few days.
It could be the darkest day in Pakistan's judicial history or it may be remembered as the day a new Pakistan was born, depending on whether or not the SC disqualifies others who are equally corrupt (which includes most of our present lawmakers).
Legal experts have different opinions on the verdict:
Even if it goes for only a trial or nothing then how 5 member bench when two judges never heard part of the case. Beyond sense for most

— AGHS Legal Aid Cell, Asma Jahangir's Law Firm (@Asma_Jahangir) July 27, 2017
On the right side of history. Against juridical coup. History will mark this day as another dark day in Pakistan's history.

— Yasser Latif Hamdani (@theRealYLH) July 28, 2017
It is the continuation of 58(2)b jadeed

— Yasser Latif Hamdani (@theRealYLH) July 28, 2017
I also tell you this is no victory for @ImranKhanPTI . May he live long because he will regret one day what has happened today.

— Yasser Latif Hamdani (@theRealYLH) July 28, 2017
Nawaz Sharif disqualified by the SC on Article 62(1)(f) -- not on London properties but failure in 2013 to disclose salary from Capital FZE pic.twitter.com/3zUheebfui

— omar r quraishi (@omar_quraishi) July 28, 2017


Pakistan now has the dubious distinction of having had almost all of its prime ministers sacked before they completed their full five-year terms. Zulfikar Ali Bhutto, the first prime minister under the 1973 Constitution, served for almost four years, but since elections were due in 1977, he too did not complete five years.

Of course Nawaz and his men will claim that he has been removed by a judicial coup, that it is an international conspiracy to remove him, so on and so forth.

But Nawaz has only himself to blame for his troubles.

He could have resigned two months ago when two judges had held him to be unfit to be a member of Parliament. Resigning would have at least saved him the humiliation of being disqualified and being labelled as dishonest and corrupt.

Nawaz and his children cannot hold public offices for the next five years at least. Furthermore, Nawaz will undergo more humiliation when the National Accountability Bureau (NAB) finds him guilty of corruption and he could also be sentenced to serve time in jail.

The credit for Nawaz's downfall undoubtedly goes to Imran Khan, although it was the Panama Leaks which accelerated the process. So it would not be out of place to mention here that Umer Cheema also deserves to be praised for exposing the Panama scandal, for which he has earned international recognition. And we now know that the decisive factor in the disqualification was Nawaz's iqama (permission to work in the UAE, for which he received a regular salary but failed to declare it).

At present, after his disqualification, the country is without a prime minister. It is up to Nawaz to decide who will be the interim prime minister until Shehbaz Sharif is elected to the National Assembly and becomes eligible.

Knowing how suspicious and insecure Nawaz is, I doubt he will select a strong man to serve as an interim prime minister, although the country desperately needs such a man now.

In my opinion, the man who would be acceptable to all political parties as the next prime minister is of course Chaudhry Nisar Ali Khan, the now former interior minister. But unfortunately, he has differences with those who are very close to Nawaz, so it is doubtful that he will be the next one in line.

Shahid Khaqan Abbasi and Ayaz Sadiq are definitely suitable, but again as I said, Nawaz would not like to have someone more powerful or more popular than him to be in the driving seat.

[poll id="767"]

In fact, it is very difficult for the Pakistan Muslim League-Nawaz (PML-N) to survive now. It is very likely that some, if not most, of its parliamentarians will defect to other parties, leaving the 2018 elections to be contested mainly between Pakistan Tehreek-e-Insaaf (PTI) and Pakistan Peoples Party (PPP).

However, we must not forget that it is very difficult to find an upright and honest politician in Pakistan. Almost all our parliamentarians have wealth which is much more than their declared incomes. So it is impossible that the 2018 elections will give the country a prime minister who is sadiq (honest) and ameen (upright).

The SC should now proceed against corrupt politicians like Asif Ali Zardari and others to eliminate corruption in the country. It should do so with the same speed with which the Panama accused were tried. If that is not possible, perhaps elections could be postponed for six months to a year to ensure that only honest and God fearing people are elected to our assemblies.

The SC should try the others according to the same standard that was set for Nawaz. All known corrupt politicians and holders of public offices should explain within a few weeks how they have managed to accumulate so much wealth. Those who cannot do so should be disqualified immediately. This is the only way people will believe that Nawaz has not been disqualified due to a conspiracy.

Let's hope the SC does so without fear or favour.