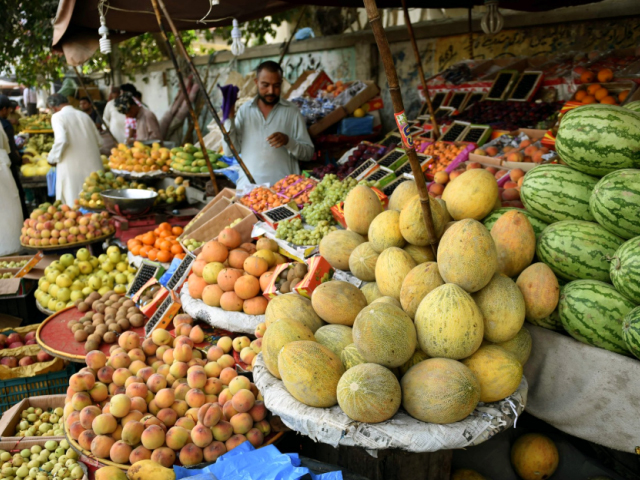 ---
A fruitless Ramazan
With bananas touching Rs150 per dozen, even eating fruit during iftar has become more of a dream for many.
---
The people of Pakistan are finding it incredibly difficult to keep up with the extremely high prices of fruit this Ramazan. Of course, it doesn't help that they are already bearing the brunt of an economy that appears to be going through its worst phase.

The festive occasion of Ramazan, which is followed by Eidul Fitr, has never been particularly kind for the poor or middle classes in Pakistan. Unlike other Islamic countries where Ramazan is a month of ensuring ease for the poorest, the opposite is witnessed in Pakistan, where prices of basic amenities such as wheat, sugar, pulses, vegetables and fruits go up right as Ramazan arrives. People storm markets in a bid to hoard these necessities before they go out of their price range, which ironically drives up the price, while the government remains unwilling to do anything about it.

However, despite the multifaceted price hikes being exclusive to the Ramazan experience in Pakistan, what has hit people close to home and shocked everyone is the frankly insane hike in the price of most fruits. Fruits are perhaps the staple food item when it comes to iftar in Ramazan. From a rich man's 20-item buffet to the poor man's practically empty table, sliced and diced fruits happen to be a common sight, with most people depending only on some kind of fruit chaat to break their fast.


Falsa 635kg
Mango 400
Apricot 525
Peach 450
Grapes 850. Apples 500..... unaffordable fruit chaat this Ramzan In naya Pakistan.. 😡

— Sharmila faruqi (@sharmilafaruqi) May 10, 2019


Then why are we depriving people of this basic amenity? Yes, all fruits are available in the markets, but who can afford them?

The government established price lists are hardly being followed anywhere in Pakistan, while the government itself does not appear keen to ensure a strict enforcement of said prices. With bananas touching Rs150 for a dozen, even eating fruit during iftar has become more of a dream for many, forcing thousands to rely upon the various dastarkhwans setup by charity organisations and generous rich individuals.


Oranges = Rs 360 per dozen
Bananas = Rs 150 per dozen
Lemons = Rs 400 per kilo
Apples = Rs 400 per kilo
Mutton = Rs 1,100 per kilo
Chicken = Rs 320 per kilo
Milk (gowalay ka) = Rs 120 per kilo

— omar r quraishi (@omar_quraishi) May 16, 2019


The Imran Khan-led Pakistan Tehreek-e-Insaf (PTI) government is currently in the process of quelling the severe economic crisis confronting the Pakistani state. Yes, this is undoubtedly a legacy of the previous government. However, it goes without saying that Imran's grandiose promises of tabdeeli and the alluring talk of a 'naya Pakistan' bereft of the typical ills have come down heavily upon the people who believed in them and voted the party into power.

Imran led his election campaign under the 'Madina ki riasat' rhetoric, promising a Pakistan that would be better than it was under any of the previous regimes. It was said that the poor would be taken care of in line with the spirit of Islam. But how do the starving poor connect with the spirit of Islam?

It seems Imran needs to be reminded of his campaign days, for the government has thus far escaped all responsibility of giving to the poor by merely kick-starting a few shelters for the homeless during the winter. A good move, but winter is now behind us.

Thus far Imran and his cabinet ministers have stayed completely silent on the matter of rising prices and taken no action whatsoever to help the masses. Yes, this does not seem like a big issue when talking of IMF deals and the falling value of the rupee, but those things do not matter to the poor; to them, the biggest crisis is that they can no longer even buy fruit for iftar.

It would be beyond tragic to see a man we all saw as a saviour turn into another apathetic politician only interested in votes. We know Imran and that's not who he is, but he needs to take action now. Perhaps the government could offer a subsidy on fruits or remove some of the taxes while also sanctioning those who continue to supply at higher rates. But any action has to be taken sooner rather than later, before Imran's reputation – which is directly on the line – takes a bigger hit.

Imran must recall his earlier promises to make the country more liveable for the poor. A task force should be formed simply to engage with the price hike issue, alongside a robust complaint system for citizens to report prices higher than normal in their areas so that swift action can be taken.

If government officials are of the opinion that the provision of subsidised low-quality food items through utility stores is the solution to our people's woes, they are living in a fool's paradise. It would serve the people right if the government could step up for a change and begin regulating fruit prices as tightly as it regulates free speech and criticism.