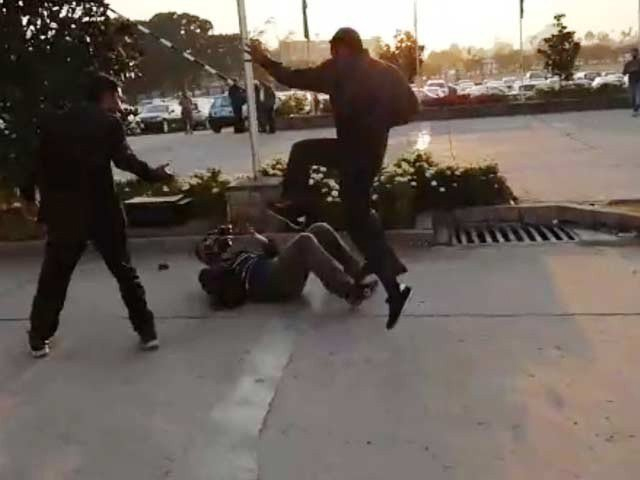 ---
Model Town, a child in Lala Musa, and now a cameraman – PML-N's 'Gullu Butt' culture continues
If there was no remorse for Model Town or the child who lost his life to the convoy, don't expect it this time...
---
The recent attack on a cameraman of a private news channel, in which he was assaulted by Nawaz Sharif's chief security officer and stricken in a fashion that could have easily proven to be fatal, was no less than an act of attempted murder.

In the wake of this assault, two things have become incredibly clear. Firstly, that Pakistan Muslim League-Nawaz (PML-N) thrives on influence generated by a brutal exercise of authority. Secondly, that Nawaz isn't just a corrupt politician – he is a purveyor of our culture of violence, no different than the likes of the infamous Altaf Hussain.

PML-N has always had a deep-rooted culture of violence actively encouraged and harboured by Nawaz, dating back to the early 90s. Who can forget the attack on the Supreme Court (SC), where a mob of PML-N workers stormed the SC and the honourable judges had to run away to save their lives? This was Nawaz's strategy to assert his dominance over decisions reached by the SC.

Then of course there are the numerous acts of violence unleashed on rival political workers throughout all tenures of the PML-N, the most heinous of which was undoubtedly the 2014 Model Town massacre. Upon the instructions of the Sharif brothers, police opened fire on unarmed protesters, fatally injuring over 100 people and killing 14, including two pregnant women; but it didn't stop there. PML-N's thug, popularly known as Gullu Butt, led the attack on protesters while policemen accompanied him. To date, there has been no apology or acknowledgement on PML-N's part over this brazen abuse of power carried upon direct orders of the party's leadership.

In more appalling news that fits the pattern, a 12-year-old child was run over and killed as a result of Nawaz's convoy in Lala Musa in August 2017. This instance too was largely swept under the rug and as expected, there was not even an iota of remorse or apology on his part.

If there was no remorse or apology for the Model Town incident or the child who lost his life, I wouldn't hold my breath in the hopes of getting it now.

Even in the wake of this recent incident, Nawaz didn't bother to check on the assaulted journalist, even though the entire episode took place in his presence. Instead, like a true 'leader' of the PML-N, he later justified this assault in an interview. This behaviour is typical of Nawaz and can be explained by the absolute thirst of power he possesses, due to which he continues to act like the godfather of a mafia despite having been out of power for a while now.


Nawaz Sharif justifying attack on cameraman
Shame on him pic.twitter.com/IlwXKpx9p8

— Ali Raza (@AliRazaTweets) December 18, 2018


Urging or appealing Nawaz and his party to change their ways would be useless, for it won't happen as long as he remains the ideological head of the PML-N. Policies of decades of political violence – sometimes in the form of slander, other times verbal assault, battery or outright razing with bullets – cannot be undone suddenly. The only logical solution is the further tightening of the noose around Nawaz and not letting his thugs get away with such acts of violence.

Nawaz represents the last of the extremely corrupt monarchs, or might I say, the murderous thugs of the old Pakistan. This includes Asif Ali Zardari and Hussain, who didn't just rule to plunder, but operated armed gangs who carried out violence at their behest. Hussain has already become food for history and it is rumoured Zardari will be arrested soon, while we shall hopefully bid good riddance to Nawaz in the near future as well. However, until then all we can do is wait and put up with the remnants of this toxic culture Nawaz has pioneered, in which crimes are abundant and justice is rare.
Facebook Conversations
COMMENTS (4)
Comments are moderated and generally will be posted if they are on-topic and not abusive.
For more information, please see our Comments FAQ