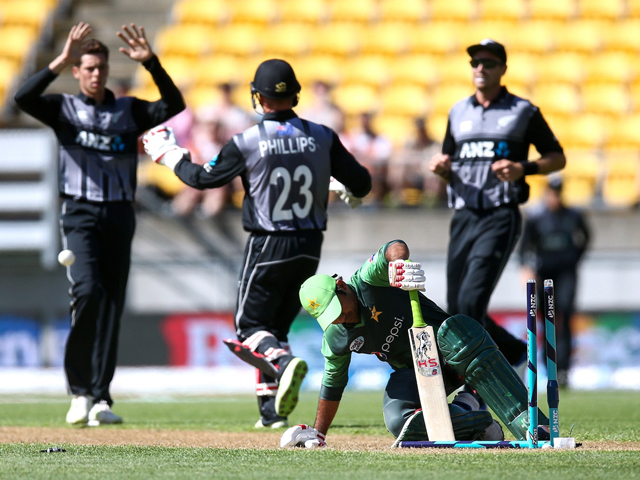 ---
Once fearless and bold, Pakistan has now become the lost child of the cricket world
Yes, the Champions Trophy was spectacular, but it doesn't hide the flaws that we have been developing over the years.
---
Batting collapse, batting collapse, batting collapse, batting collapse, batting collapse, and batting collapse – no, this isn't my failed attempt at rapping, but rather, an apt summary of Pakistan's performance against New Zealand thus far.

Pakistan have indeed upset many fans as the series progressed, but their unwillingness to learn from their mistakes makes it easy to summarise their performance in one breath. We all saw what happened; therefore, dissecting their batting troubles is like beating a dead horse at this stage – it won't help.

If Pakistan's performance in ODIs was a video tape being played at normal speed, then the first T20 was the video played in fast forward. Nothing changed, except that the Pakistani team found even faster ways to throw wickets and end the misery of the fans sooner rather than later.

I am equally hurt by Pakistan's losses and am not taking this as an opportunity to apply salt to our wounds. However, I am not here to provide a list of the usual excuses either – different conditions, bouncy pitch, weird weather, new country, long flights, and so on. New Zealand has thus far dominated us fair and square. Our batting has been horrendous and our bowling has been average in both formats. It is as simple as that.

Now, we may choose to learn from our mistakes to avoid such losses in the future, or continue to paint the wrong picture to deceive ourselves. The problem lies in the approach we now take towards the game, which at the moment is unclear and ineffective.

Pakistan was once known for its bold moves. We unleashed Shahid Afridi at a time when T20s didn't even exist; it made little sense but we did it anyways. Wasim Akram was given the new ball at an adolescent age, and we watched him create magic with it. Waqar Younis and Shoaib Akhtar were ordered to go for the kill, while Javed Miandad was trained to be a fighter each time he went out to bat.

We were different back then. We were fearless back then.

Fast-forward to 2018, and now Pakistan has become the lost child of the cricket world. We are timid, we are shy and we are afraid to try something new. We have been slapped with humiliating defeats in Australia and New Zealand within the past 12 months, but instead of learning and growing better, we have grown immune to the pain and offered excuses to get away.

Pakistan, what has happened to you?

We want to play aggressive like we once used to, but then we burden our batting line-ups with inning builders and low strike rates. We desperately look up at Fakhar Zaman to provide our batting some impetus, but we are too afraid to induct more Zamans in the line-up.

Sarfraz Ahmed is our latest star, with the Champions Trophy title under his belt. However, why he is hiding so low in the batting order is anyone's guess. He has the ability, skill and talent to open for Pakistan and lead from the front, yet he chooses to sit back and watch his team lose in the same fashion, day in and day out.

Even when Ahmed showed a moment of bravery by trying Faheem Ashraf as an opener in the fourth ODI against New Zealand, he was quick to doubt himself and sent Ashraf back down the order after one failure. Imagine if Imran Khan had lost trust in Akram's ability and had done the same after one poor spell!

The Champions Trophy was a fairy tale, something conjured right out of Disney world. It was spectacular and will always be cherished by the nation. However, it doesn't hide the flaws that we have been developing over the years, including a defensive mindset and a lack of ability to make bold decisions.

Ahmed cannot change the fate of the team by yelling excessively behind the stumps. He can only change the fate of the team by learning from their earlier mistakes and making the hard, yet necessary decisions. He can even use England as a case study. England completely transformed their team when Eoin Morgan took over, because they realised their old approach was outdated and a new approach was a must if they were to progress as a team.

If I could suggest anything to Ahmed, I would advise him to have a clear vision and make the tough call to drop players that start a dot ball marathon in the middle of the innings. Given that we have already hit rock bottom, with a whitewash in ODIs and a humiliation in the first T20, how can trying a new approach and new players be any worse?
Facebook Conversations
COMMENTS (16)
Comments are moderated and generally will be posted if they are on-topic and not abusive.
For more information, please see our Comments FAQ