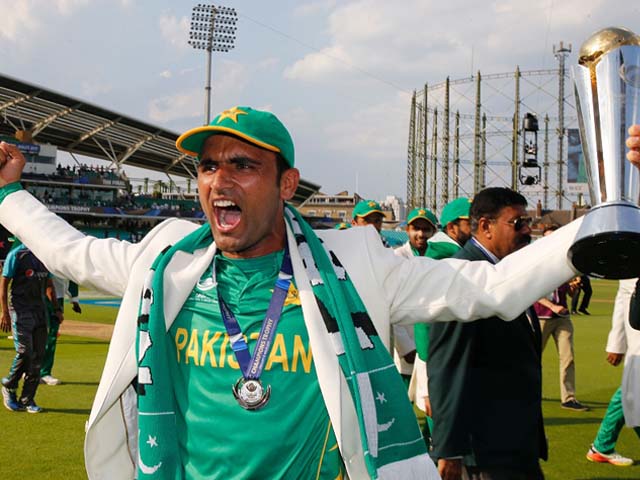 ---
What makes Fakhar Zaman a legend in the making?
They say cricket is played 80% in your mind and 20% are your skills, and this is one area where Fakhar Zaman excels.
---
We all know the story of how Fakhar Zaman left the Pakistan Navy to pursue a career in cricket. He was born to serve his country in one way or another.

The left-handed batsman's career shot to limelight during Pakistan's successful ICC Champions Trophy 2017 campaign, most notably when he hit his century in the final against India.

But how did he get there? What makes him the cricketer he is today?




They say cricket is played 80% in your mind and the remaining 20% are your skills. This is one area where I feel Zaman excels, and I believe that this is largely due to his time with the navy. There, he not only learnt how to keep himself physically fit, but he also learnt mental discipline which was evident during his innings in the Champions Trophy final.




For a Pakistani cricketer, playing against your arch-rivals in a final where the world is watching is the ultimate match. And thus, it breeds the ultimate player.

Prior to Zaman's innings I tweeted:




That's because time and again, Zaman has performed on the big stage in domestic cricket. I've followed his domestic performances thoroughly and in several tournament finals, he has scored centuries.

In 2016, Zaman scored 115 runs in the final of the Pakistan Cup. Just a few months later, he struck yet another century, this time in the final of the Quaid-e-Azam trophy, showing how big of a match player he is.




I started following Zaman closely after I watched him opening the batting in a T20 match. It was around 2013 when left-arm pacer Mohammed Irfan was at his peak. Zaman pulled him comfortably, and sometimes you get signs of a class batsman from just one stroke.

Following consistent performances in domestic cricket, Zaman was called up to join the Pakistan 'A' team in a five-match ODI tournament against England in the UAE. He finished the series with three 50s, however, it was his performance in the decider which made selectors take note. With the series hanging in the balance at 2-2, Zaman bagged the Man of the Match award in the final game, taking five wickets and scoring a rapid 62, just another instance where the promising opener stepped up in a crunch situation.


He maintained his place for the following Pakistan 'A' team tour, a tri-series to be played in England, and immediately impressed everyone by scoring 74 in his first innings, showing that he can play in all kinds of conditions.




Despite performing admirably during the 'A' tours, Zaman continued to miss out on the selection for the national team, largely due to the emergence of Sharjeel Khan. Zaman, however, continued to pile on the runs in the 'A' team cricket, most notably scoring 180 in an ODI against Zimbabwe.





Zaman's next step to reaching the national team was his performances during the Pakistan Super League (PSL). It was a chance for him to show what he is made of, and how he would fare against top quality opposition. Although his figures weren't amazing, he showed he has the game to take the attack to the opponents.
Whilst his performance during the PSL was instrumental in him gaining a call up to the Pakistan team, it was largely due to the suspension of fellow left-handed opener Sharjeel Khan that paved way for him to debut. Khan's absence meant there was a position open in the Pakistan team for an aggressive opener at the top of the order, and Zaman fit the bill perfectly.
Just a few weeks after the PSL, Zaman was named in the Pakistan T20 squad for the very first time.
His debut, however, did not go according to plan, as he only managed to score five runs against the West Indies attack. I felt that he was poorly managed, having been made to bat in the middle order. Zaman has opened all of his life, and it was unfair to expect him to perform down the order which is why it was no surprise that he failed to perform.
After a poor initial start to international cricket, I was apprehensive about his chances of making the Champions Trophy squad. Thankfully he did, although it seemed unlikely that he would play, given the fact that he missed out on both warm-up games.
Pakistan's first game of their campaign was against India, a game that he missed out on. After Ahmed Shehzad's failure in the first game, Zaman was brought in and he made his presence felt by carting the South Africans around the park. Zaman only scored 30 odd runs, but he showed the positive and aggressive intent Pakistan was so desperately looking for.
The bright and breezy cameo against South Africa was followed by consecutive 50s in must-win games against Sri Lanka and India. It was his innings in the final where he scored a breath-taking century that makes him the star he is today.
Pakistani fans have seen quite a few batsmen show initial signs of promise, but then fade away over the year. In Zaman, I believe that we have someone who can take us the whole way. Yes, he still has technical issues, for example, his back lift and stance, but I believe his work ethics and dedication to cricket will take him further and overcome these barriers with time.
His dazzling performances have already landed him a contract with a leading county team, Somerset. There are only a handful of young Pakistani batsmen who have secured a contract in the English league, proving that Zaman is special. The experience of playing four-day cricket in England will be extremely beneficial for Zaman, especially since the Pakistan team is currently looking for a Test opener.
The Azhar Ali and Zaman combination worked wonders for Pakistan during the Champions Trophy and I believe it can have a similar effect in the Test arena.