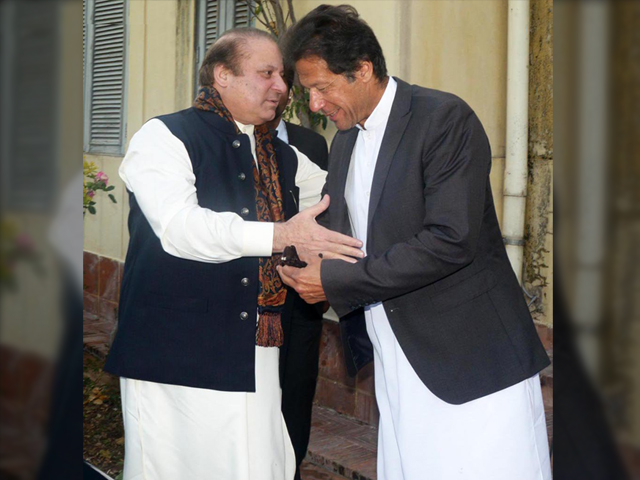 ---
Sadiq and ameen, Imran Khan is the cleanest politician in Pakistan and an evident choice for the 2018 election
Someone who's been ruling for decades and yet failed time and again, or someone who proved their worth in a few...
---
In the wake of the Supreme Court (SC) verdict, which disqualified Jahangir Tareen, Imran Khan has been accused of hypocrisy by his critics who continue to defy logic by drawing similarities between his behaviour and Nawaz Sharif's rhetoric of, "mujhe kyun nikala?" (why was I disqualified?)

After his disqualification, Nawaz started a campaign bent on maligning the judiciary and pitting the public against it, arguing that since the public had elected him, only they had a right to hold him accountable. This is, undoubtedly, a faulty argument, because if the public began meting out justice, Nawaz and his partners in crime would probably not be lucky enough to get a trial. Courts exist for a purpose, and not accepting their verdict means he wants a stay-out-of-jail free card, so he can continue to loot the country and hang it out to dry.

Even though Tareen was disqualified for misdemeanour, and not actual corruption like the godfather was, he set a new example by not only stepping down voluntarily but also refusing to challenge the decision. However, instead of giving him due credit for it, he was severely criticised and mocked with jokes, not only by his political rivals but by paid trolls, pseudo intellectuals and the biased journalists working for Nawaz. The same people would be calling him out for his hypocrisy had he started whining, "mujhe kyun nikala" after the decision.


ATM out of order #TareenOUT

— BilawalBhuttoZardari (@BBhuttoZardari) December 15, 2017
PTI without Jahangir Tareen. #انصاف_یا_تحریک_انصاف pic.twitter.com/75bydt0eiO

— AttasMalik (@malikattas) December 15, 2017


Imran and Tareen proved true to their word by bringing an actual "tabdeeli" (change) into the rigid, corrupt political landscape by respecting the court's decision, but in this country, that is still not enough. Imran was then vilified for not supporting the decision, but what else would construe as supporting the decision? Tareen resigned, while Imran accepted the decision without resisting it. He is, after all, allowed to be disappointed after losing a party member who has been with him for a very long time.

As far as Imran's use of Tareen's airplane is considered, what is wrong with that? Even the American presidential candidates have relied on party donors during their presidential campaigns and used their resources freely. Moreover, Imran's reliance on actual donors for party expenses and air travel speaks volumes regarding his integrity as a leader. He could have afforded his own jets and cars, had he followed along the lines of the corrupt Nawaz and Asif Ali Zardari. Would the public of this country prefer that he, too, rob the nation for his personal expenses?

Then there is the Panama issue. Even though there were fierce attempts from the Pakistan Muslim League-Nawaz (PML-N) to embroil Imran in a similar controversy to make it look as if he too was involved in a Panamagate-like scandal, his critics failed to blemish his reputation. What more needs to be said, when Justice Faisal Arab himself declares Imran innocent, and acknowledges that Imran cannot be perceived with the same suspicion that those involved in Panamagate were.

Moreover, there has been looming criticism on Imran's choices for candidacy, many of whom were considered to be the products of conventional politics by the pundits. But has anyone looked at the larger part of the picture? The key leadership of the Pakistan Tehreek-e-Insaf (PTI) is entirely composed of educated professionals like Asad Umer, Shah Mehmood Qureshi, Faisal Khan, Usman Dar, and Fauzia Kasuri, amidst many others. Let us not fall into the PML-N's ruse of delegitimising an entire party by blaming a few bad eggs, the likes of which exist in every political party in the world.

Even if we hold true the blatant propaganda, false accusations and a few shortcomings that Imran arguably has, he still comes on top if one considers the principle of the lesser evil. Believe it or not, he is the cleanest politician Pakistan has at the moment.

Imran and his party proved their worth in their debut rule managing Khyber Pakhtunkhwa (K-P), arguably the toughest province in the country, and transforming it for the better in a short span of time. He ended political interference in K-P's police, turning it into the best Pakistan has, as evidenced in its performance during the recent attack on the Peshawar Agricultural Training Institute (PATI). Healthcare seems to have improved, and government schools are now rivalling private ones, not to forget the billion-tree tsunami that has transformed the province's environment for the better as well.


#BillionTreeTsunami reclaiming water logged wastelands - visited 3000 ha new forest planted in Bannu at a site bigger than Changa Manga pic.twitter.com/ndoXoseYnc

— Imran Khan (@ImranKhanPTI) March 15, 2017
The reformed professional KP police force with its special rapid response unit has made a difference in dealing with acts of terrorism in a timely, holistic and coordinated manner. https://t.co/u172BhI9Ko

— Imran Khan (@ImranKhanPTI) December 1, 2017


In contrast, the despicable condition of Punjab speaks for itself. The police is involved in numerous crimes, women are giving birth on floors outside hospitals and cattle is bred in schools. Even after 30 years of being involved in governance, what do the Sharif brothers have to show for it? The metro, which was built at an abnormal cost, or the orange train, which usurped entire South Punjab's budget? Or the motorway, perhaps? The Sharif's have been obsessed with such mega projects since day one instead of focusing on hospitals and schools. Why? Because these mega projects pave way for mega corruption, having more room for kickbacks than social service projects.

The Sharif brothers have a history of claiming that they will solve the crises in our country, be it energy or water, once they get re-elected. If the chief minister, along with his brother who was the prime minister, couldn't provide a necessity as basic as water to the entire country in the all these years, what makes us believe that one more term will suffice?  What more proof of the Sharif's incompetence would one need to opt for Imran instead?

PML-N's incompetence doesn't stop here.

Its economic hitman and our finance minister, Ishaq Dar, has brought our economy to the verge of bankruptcy. We owe more to the International Monetary Fund (IMF) than we can pay and may have to opt for a bailout with harsh conditions. There are concerns that IMF will seek the abandonment of Pakistan's nuclear technology, leaving us defenceless against an aggressive, hostile neighbour. Our currency has devalued, and our commoners are forced to go to India for healthcare. All this as Nawaz's family lives abroad and his wife gets treatment in London, leaving us to suffer the consequences of his economic terrorism.

Nawaz, the three-time prime minister of Pakistan, has his businesses, properties, his children's education, medical treatments, everything based in London, and visits Pakistan to "rule". This is our democracy, and what the Sharifs have to offer. Our wealth and resources are being plundered and sent to the UK, just like they used to be 70 years ago, except it was the British then and now it is one of our own. Times may have changed, but our fate remains the same.

Now, after another SC verdict where Imran has been granted bail in all four cases registered against him in the anti-terrorism court (ATC), he has triumphed once again. This is all the more reason to vote for him in the upcoming election, because like it or not, Imran is the only politician in the country who has been officially declared "sadiq" and "ameen" (honest and truthful) by the courts. This honour rests solely with him, whether his opponents like that or not.


My name is Khan and I am not a terrorist. Moreover, the SC has pronounced me Sadiq and Ameen and I am coming after them crooks!

— Imran Khan (@ImranKhanPTI) January 2, 2018


The reactionary rant of Maryam Nawaz subsequent to the decision, referring to Imran as a "laadla" (darling), do not come as a surprise since the corrupt father-daughter duo has been constantly maligning the judiciary in attempts to escape justice. However, those taunting tweets do little damage to Imran now that the court has declared in his favour.


My name is Khan and I am a STOOGE. https://t.co/ynhVFMAxxI

— Maryam Nawaz Sharif (@MaryamNSharif) January 2, 2018


We shouldn't forget that in the end, it is Nawaz who keeps going back to the Saudis in desperate attempts of seeking some kind of help, while Imran stands clean and as a bastion of honest politics in today's day and age.

Would you vote for a convicted money launderer, a thief, knowing fully that his win would be his sixth time looting the country? Someone who proved to be a national security risk and brought us to the brink of destruction? Someone, who has been in constant rule for decades and yet has failed to deliver, or would you want to choose someone who proved their worth in a matter of years? The choice is quite clear.

Any Pakistani who wants change or wants to see the country progress will vote for PTI in the next election, as it is our last chance, and the voters will be doing this country a huge favour by not voting for Nawaz Sharif or his gang of criminals once again.

[poll id="777"]