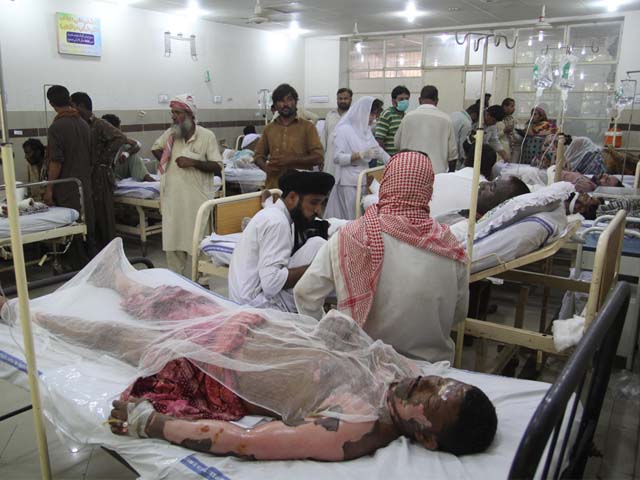 ---
Shehbaz Sharif can buy himself a helicopter, but it's too costly to provide adequate medical facilities in Punjab?
Why would the Sharif brothers, who rush to London for medical check-ups, be concerned about the welfare of the people?
---
The aftermath of the Bahawalpur tragedy is a harrowing tale of gross incompetence and disregard for human life. Before this, little emphasis has been placed on how the massive loss of life could have been avoided.

For instance, Army helicopters had to be called in for transporting the burn victims to the hospital since the rescue services didn't own one. But here's a little fact – just three months ago, a Rs2.25 billion Russian helicopter was bought by Shehbaz Sharif for personal use. The question that should be asked here is, whether it was bought with public funds that could have been utilised elsewhere.

Numerous lives could have been saved and the death toll reduced if a decent medical facility with a burn unit existed nearby. Despite the urgent need for better medical facilities, the Sharifs have diverted a large chunk of funds, originally allocated for South Punjab, to infrastructure projects in urban areas.

Thanks to this erroneous policy, the nearest Victoria hospital only had 30 beds in its ICU section and seven of their machines were out of order. The injured had to be airlifted to Multan as there was no burn unit present either.

At present, only 209 beds are available for burn patients at four major state-run hospitals in Punjab. After all this, Shehbaz had the audacity to say that the last 70 years of corruption was one of the chief causes of the Bahawalpur tragedy. He conveniently forgot that out of the last 70 years, at least 30 years can be attributed to his family's rule over Punjab.

To add further insult to the injury, Rana Sanaullah, a senior Pakistan Muslim League-Nawaz (PML-N) leader from Punjab, brazenly stated that it's not possible to make a burn centre in every hospital in Punjab. He was apparently hinting towards lack of funds as the cause of deficient burn centres.

The question is, then, how does the government have Rs300 billion for the unrequired Metro bus project, Rs70 million of public funds to build a bomb proof wall along the Jaati Umra agriculture state, and enough money to buy extremely expensive Russian helicopters for personal use, but no money for burn units?

Moreover, the cheques handed out as compensation had allegedly bounced as well. This was denied by the officials, but we can never know with this government.

What's worse is that a meagre amount of Rs10 million was imposed on Shell by the Oil and Gas Regulatory Authority (OGRA). Shell even refused to accept responsibility for the incident, shifting the blame on the victims' lack of awareness and the Motorway Police's delayed response.

A pattern of indifference can be detected where everyone seems to be shrugging off their responsibility and blaming the other party instead. Most people went as far to place the entire blame on the deceased victims, terming them as greedy. What a shame. It must be convenient to blame individuals who can't speak for themselves anymore.

A long history of the Sharif brothers' oppression in South Punjab has led to disastrous incidents. In Lodhran, Shehbaz had committed fraud by being dishonest about the kissan (farmer) package which was rejected by the farmers union since it was a mere ploy to win the local elections.

When these farmers protested, they were viciously beaten by police thugs upon the Sharifs' directives. Furthermore, a few months ago in Layyah, a South Punjab district, 30 people died due to the absence of a stomach cleaning machine.

Some would wonder whether placing the entire onus on the existing government is justified. I would say it is because currently, they are in charge and it is their duty to uphold and establish facilities for the betterment of their citizens, something which they haven't been able to do so far.

But why would the Sharif brothers, who themselves rush to London for medical check-ups, be concerned about the welfare of their citizens?

If our leaders remain apathetic, we can expect more deaths if an incident like Bahawalpur occurs again. It's all about priorities. And let's not forget that the issue is not just about the incident itself; it is about what happened afterwards in the absence of basic facilities, a delayed response and a lack of security officials at the site.

The least this government can do is learn a lesson from this ill-fated incident and rectify the aforementioned issues to pay homage to the victims of the Bahalwapur inferno.