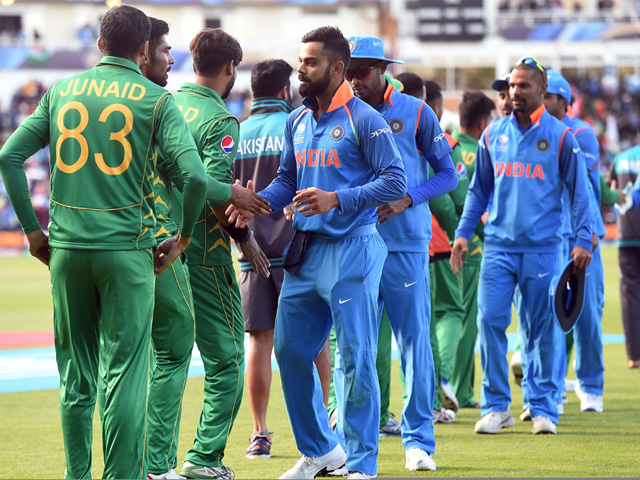 ---
When soldiers are dying on the borders, how can there be an appetite for a friendly Indo-Pak series?
One may argue that sport should not be mixed with politics, but the case of Indo-Pak cricket is anything but ordinary.
---
The world of sports is replete with famous rivalries, be it Ronaldo-Messi, Argentina-Brazil, or Carl Lewis-Ben Johnson. Even cricket has the historic rivalry between England and Australia, in the form of the much-celebrated Ashes. However, all of these pale in comparison to the one that exists between India and Pakistan on the cricket field, which has been one of the greatest international sporting rivalries over the past several decades.

Few other sporting contests have had the power to inflame the passion of millions of people to such an extent. When India and Pakistan play a cricket match, it's not just sport. The contest becomes a proxy to exhibit national pride and let loose some of the hostility that has engulfed both countries for much of their modern existence. It's almost like a sibling rivalry on steroids, with a good measure of unpleasant geopolitical history thrown in to the incendiary mix. While victories are celebrated like veritable conquests, television sets are smashed, heart attacks are caused, and effigies of the players are burnt on the losing side.

Of course, underneath the politics, there is great sporting rivalry as well. Both sides have been blessed with abundant cricketing talent, and there have been many riveting contests over the years between the players. Kapil Dev and Imran Khan were two of the greatest all-rounders of all time, and it is fortuitous that both happened to play in the same era. Furthermore, the intensity of Wasim Akram versus Sachin Tendulkar, Shoaib Akhtar versus Virender Sehwag, and Mohammad Amir steaming in to Virat Kohli, are all a sports lover's delight and belong at the pinnacle of the greatest sporting rivalries of our time.

Unfortunately, however, Kohli versus Amir is a contest that has not been able to blossom to its full potential, as the two teams have not played each other much in recent years.

The years preceding the Mumbai attacks had seen a thawing of tensions, with India touring Pakistan in 2003-04, both teams subsequently visiting the other's state, and Pakistani players being included in the first Indian Premier League (IPL) in 2008. However, since the 26/11 attacks, ties between the two countries worsened, with bilateral cricket ties being suspended. While visiting players and fans in both countries have been accorded the warmest of welcomes, and usually return with fond memories of the fabulous hospitality they experience, in the aftermath of the attacks, the political climate has simply not been conducive to a bilateral series.

There are several complex and pressing issues that remain unresolved for both states. Several conspirators of the 26/11 attacks are seen by India to walk free in Pakistan, the Kashmir issue has no resolution in sight, and to date there is almost a daily exchange of fire between both forces along the Line of Control (LoC). After the 2016 attack on the Pathankot airbase, even diplomatic dialogue has broken down between the two countries. The situation between India and Pakistan is hence certainly not normal at this point in time. There is an immense amount of distrust and the gap between the two only seems to be getting wider, with cease fire violations and cross border raids having become a norm.

While military action or economic sanctions may not be feasible options for the Indian state, cricket is one area where the Board of Control for Cricket in India (BCCI) gives the Indian government significant leverage to be seen taking a tough stance. With ties worsening yet again, Indian Foreign Minister, Sushma Swaraj, released a statement suggesting that, given the tensions on the border, cricket with Pakistan is not possible and neither is "cricket diplomacy".

One may argue that sport should be seen only as sport and not be mixed with politics, but the case of Indo-Pak cricket is anything but ordinary. As mentioned earlier, the significance of cricket in this part of the world transcends the idea of sport, and is instead seen as a symbol of national pride.

As much as cricket fans would like to see the two countries slug it out on the cricket field, cricket's unique positioning in the collective psyche of the subcontinent means that it will be viewed as much more than just a game. Given the circumstances, perhaps holding a bilateral series would be inappropriate. National sensitivities take precedence over a cricket fan's desires, and as popular sentiment on both sides suggests, when soldiers are dying on the borders, how can there be an appetite for a friendly series?

For its part, the Pakistan Cricket Board (PCB) has repeatedly sought the resumption of bilateral series, since normalisation of cricket ties with India would be lucrative. They have tried various tactics to convince the BCCI, including threatening legal action, and former PCB chairman Shaharyar Khan even suggesting that India was scared to play Pakistan after their loss at the Champions Trophy. Throughout all this, the BCCI has remained unmoved.

The prospects for rapprochement on the diplomatic or political front also seem bleak because whenever we have seen progress, a major incident takes place to promptly set the relationship back. The most recent example of this was seen after Pathankot followed a week after Modi's surprise stopover to meet Nawaz Sharif in December 2015. There is seemingly a prevalence of taking two steps forward and three steps back when it comes to the Indo-Pak relationship.

For all his efforts, Shaharyar Khan also seems to have now accepted that a bilateral series is not possible anytime soon, at least until the political climate of both countries cools down. A lot needs to be done by both countries to overcome the mutual suspicion, and at the moment, neither seems to be inclined to budge. Thus, until there is a political rapprochement, we will only get to experience the thrill of India and Pakistan playing each other in tournaments like the World Cup or the Champions Trophy.

Thankfully, both countries have thus far not backed off from playing each other in international tournaments, so fans can still relish the spectacle of Kohli and Rohit Sharma summoning the best of their technique and temperament to negotiate Amir's fast swinging deliveries, albeit less frequently than desired.