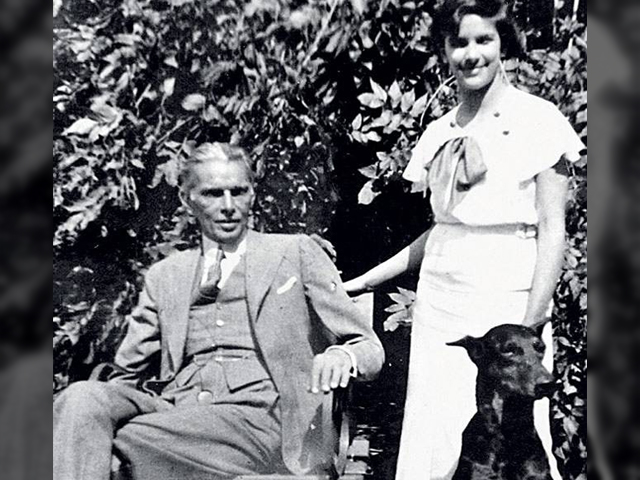 ---
Dear Dina, I could recognise you from a thousand miles, my daughter. Love, Jinnah
They were together again, after half a century – one in flesh, and the other mixed with the earth.
---
When she reached the top of the endless stairs at the mausoleum, she wondered why this much effort was needed to meet her father.

When she was younger, all she did was barge through a brown door. Of course she was small, and the handle was high, but she would jump for it and the door would almost unhinge from the sides, and she'd find her father deep in his study under a lamp on his big oak table.

"Dina," he would say, without taking his eyes off the page.

She would giggle and run to him, disrupting the little bubble of peace he had created in his room.

"How did you know it's me?" she would ask, and he would smile and let his spectacles slide down his nose, so there was no filter between him and his daughter.

"I could recognise you from a thousand miles, meri beti (my daughter)."

He would embrace her in his arms and read out loud to her the many rules of law that he was reading, while his wife lay quietly on the bed behind them.

Dina would hear her father's raspy voice in her ears, but would never listen to him. It was all law jargon, and constitution jargon, and Muslims this, and Hindus that. His voice to her was more of a melodious symphony – it would rise and then drop with the words as they did in a song, and she would slowly fall asleep in his arms as he read.

Dina had heard him in each step she climbed. She was not the little girl sleeping in the arms of her father anymore, but a woman older than her own father was when he died. She had not been back to where he lay since his funeral, over 55 years ago.

And now, as she reached the top, everything was different.

The marble tiles that she stood upon reflected the sun in her eyes, and she squinted hard to block the rays from her eyes. Her grandchildren stood patiently besides her, waiting for her to move so they could follow.

But she stayed stagnant, trying very hard to remember the last time she was here.

Oh, how the women had wailed across the grounds and the men had stood with their heads down, their eyes misty! She had cried a lot as well, standing next to her aunt, who had tried her best to suppress her emotions for the sake of not only her niece, but the nation that followed her brother.

And that memory, too, was strained with the woeful torments of time. She tried to piece together the images that she remembered.

What was she wearing?

What was the weather like?

Where was her papa?

And alas, as the memory she had subdued so deeply in her subconscious came rushing back, tears pooled in her eyes and down her cheeks. She felt the soft grasp of her grandson next to her.

"Should we go back?" he asked. She shook her head, and took a step towards the doors of the tomb.

Of course, this wasn't the first death she had witnessed so closely in her life; her mother had passed long before her father. She remembered how he had told her somberly and quietly, hugging her until he himself could not hold back his emotions. They had embraced, and though she was only 10, Dina knew what she had lost was irreplaceable.

But she was 10-years-old, and life had only just begun for her, and so she did not let the load of what had passed weigh her down.

She remembered those long nights when she would stay up with her aunt in London and talk about the many things she would love to do when she grew up. Her aunt would nod and smile and encourage little Dina to chase her many dreams.

"Everything you want is achievable," she would tell her, and Dina would light up like a Christmas tree.

"Anything?" she asked

"Anything," her aunt repeated.

So why was it so hard for her to marry someone she loved?

When Neville proposed to her, she was ecstatic and could barely contain herself. His eyes lit up when she said yes, and her heart felt like it grew a thousand times in the span of those little moments shared between them.

But her happiness came with a bitter grain of salt, as her father rejected Neville and his proposal.

"You cannot marry him," her father said. "He is not a Muslim."

There were tears in Dina's eyes as her father spoke those words.

"But why father?" Dina protested. "Why must faith be intertwined with love?"

"It is not intertwined. It is what is predominant and it is what is right. You cannot marry that Wadia boy."

"But I must father!"

"There are millions of Muslim boys in India you can choose from – why must you choose him?" he asked incredulously.

"There were millions of Muslim girls in India as well, but you chose mother," Dina replied.

She could see she had touched another nerve of her father's by bringing up his dead wife. But Ruttie Jinnah was also her mother, and her faith was not hidden to anyone.

"She had converted to Islam," her father said, plainly hiding his anger behind his words.

"I will marry him, papa." Dina said, standing up.

"As you please," her father replied. "If that will be the case, then you will not be my daughter thenceforth."

And he was a man of his words.

When she did marry Neville and approached her father at public gatherings, she was referred to as 'Mrs Wadia' by him and nothing more. Their love had gone missing somewhere, and she wondered how a father could cease to love his only daughter just like that.

But that was not the wonder that encapsulated her that morning. As she stepped in the room where her father now lay, all thought of their turbulent past somehow got lost in the ether. She and he were together again after half a century – one in flesh, and the other mixed with the earth.

The light entered from all four corners of the room, the shade of the architecture was pleasant, and the breeze finally felt cool when they weren't under the sun. She walked up to the grave, which was barred with black fences, and the marble tiles extended further beyond them. Right above the grave hung a big black chandelier, and she wondered how generous gravity would have been for her father underneath.

Under her breath, Dina prayed to a God that she only vaguely believed in. He had given her everything she wanted, yet for a moment, she let herself think of the alternative.

What if she hadn't married Neville?

What if she had moved to Pakistan with her aunt and her father?

What if there was a different love waiting for her somewhere else?

When none of the scenarios resolved themselves into any answers, she closed her eyes. Her grandson rested a wreath made of flowers next to where his great grandfather's head would be.

"May his soul rest in peace," she muttered and walked away, not staying a minute longer.

Outside, she was handed a log book of all the visitors that came to the tomb of her father. She was advised to sign her name and, if she wished, to write a small message as well.

She picked up the pen and wrote,

"This has been very sad and wonderful for me. May his dream for Pakistan come true."

As she handed the pen and journal back, she felt the wind pick up and the breeze gently blow at her scarf. She turned over to where the wind had blown from, and she could swear, for a second, she heard her father in the distance.

"I could recognise you from a thousand miles, meri beti," he said. "A thousand miles."
Facebook Conversations
COMMENTS (24)
Comments are moderated and generally will be posted if they are on-topic and not abusive.
For more information, please see our Comments FAQ