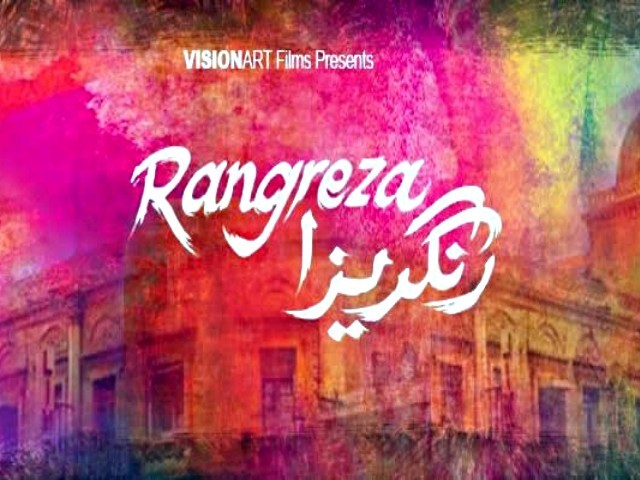 ---
Rangreza is being labelled a 'musical' – but aren't all Pakistani films technically musicals?
Although Rangreza never claimed to be Pakistan's first musical, it is a badge they're nonetheless wearing with honour.
---
The trailer for the upcoming Pakistani film Rangreza was released recently to largely positive reviews. Apart from a trite love story, it showcases a truly uninhibited Gohar Rasheed. Yo-yoing between entertaining and the edge of madness, he is reason enough to watch the film.


A part of me, however, was also disappointed. From the onset, the team behind Ragreza pushed it as a musical. The actors called it a musical, their Facebook page labels it so, even Wikipedia affirms that it is in fact a musical. And yes, there are songs in the film, but isn't that the case for most Pakistani releases?

What about this film is different, then? So different that the marketing and production team has pushed the music as their main attraction? A lot of Pakistani films claim to be 'firsts'. Since the revival of Pakistani cinema, we have had Pakistan's first road-trip movie, first superhero movie, first 'realistic horror movie' (whatever that means), and the list seemingly goes on. It is a comfortable marketing ploy – claim to be the pioneer and the quality of the project ceases to matter. To be fair, team Rangreza never claimed that their film was Pakistan's first musical, but it is a badge that they are nonetheless wearing with some honour. I am not at all saying that the film looks disappointing. On the contrary, while I have had my issues with Pakistani film trailers in the past, this one is incredibly effective and hands down one of my favourites. That being said, the 'musical' tag raises some questions, and I want to assess it through the history of film.

The term 'musical' is synonymous with Hollywood. It emerged as a film genre in the 1920s, when talking pictures (talkies) emerged as sound technology permeated film. In the quintessential Hollywood musical, singing and dancing is part of the narrative. They take inspiration from western traditions of stage musicals, often rehashing the same script for film. Since their birth coincided with that of the talkies, it isn't surprising that they became profitable mainstays. But eventually, Hollywood turned towards realistic cinema and the bawdy musicals that had once made waves were all but washed out. Musicals since then have experienced periodic deaths and revivals. The most recent revival of the musical genre in Hollywood is courtesy of Academy Award nominated La La Land.




South Asia's experience with musical cinema was extremely different. Sound came to then British India via Ardeshir Irani's Alam Ara, which was brimming with big budget songs and dance numbers. In his book, Kush Varia credits the film's success to its spectacular musical sequences. British India was a multi-cultural, multi-lingual society, but through music, Alam Ara was able to transcend linguistic barriers. Despite being an Urdu language film, it was successful in all the regions, including Southern territories where Urdu was rare.

Hence, song and dance-based musicals were never seen as a separate genre in Indian or Pakistani cinema. Taking its cue from Indian cinema, this trend has seeped into Pakistan's new wave. In Hollywood, musical cinema is an anomaly, but in Pakistan, we have the exact opposite situation. Yes, we have films that don't have musical performances woven into the narrative (a staple amongst our vibrant indie scene), but they are the exception, not the other way round.

I know you're thinking, 'why are you measuring local films using a foreign benchmark?' But that's my point exactly – it isn't fair to do that.

In their book, Sangita Gopal and Sujata Moorti argue that while Hollywood musicals and mainstream Bollywood films contain song and dance, Hollywood musicals are almost always melodramas. La La Land was a stunning film but it too was a melodrama – high on emotion and grandiosity. And while it does dabble in melodrama, Gopal and Moorti argue, Bollywood's musical cinema doesn't stop there.




I suggest the same claim applies to Pakistan. As we never really saw 'musical' as a genre in itself, we never questioned the presence of songs permeating almost every other genre.

Enter Pakistani political dramas, horror films and romantic comedies, all fusing songs into their narratives. Punjab Nahi Jaungi was, by the Hollywood definition, a musical. Verna, from what we've seen in the trailers, could also be called a musical. And the ease with which songs became part of our status quo should spell out one basic fact – our audiences are different from that of the western world. Remember how I mentioned that Hollywood musicals eventually died out? Well that was driven by audience demand – or lack thereof. In contrast, Pakistani audiences never stopped responding to song, dance and performances, which is why we continue to see them in our films.

To reiterate, I am not criticising Rangreza. It looks visually stunning, and who doesn't love multi-dimensionality in their antagonist? But as our industry grows, it also allows us a greater audience to rediscover our own film history. While we didn't have a film industry for several decades, we have always had a film heritage.

According to that heritage, is Rangreza a musical? Not really.

Rangreza releases on December 21, 2017, so I guess we'll have to head to the theatre to find out!