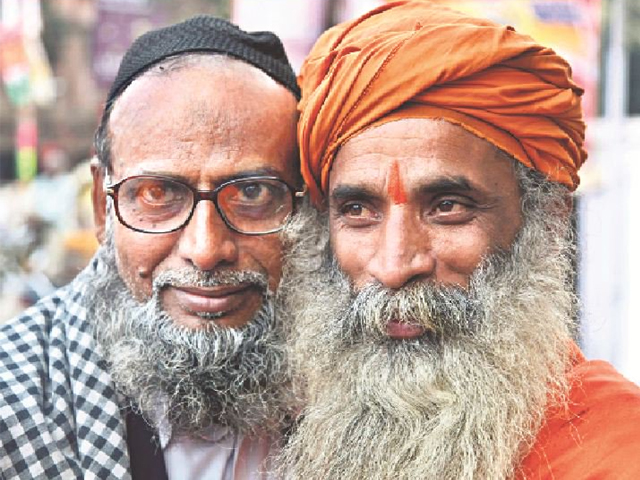 ---
Scars of Partition: A Muslim and a Hindu walk into a dhabba to have a cup of chai, and all hell breaks loose
Young Indians who don't see religion as an obstacle to connecting with Muslims, are publicly shamed and humiliated.
---
Recently, a video went viral on social media which shows a young Indian girl being physically assaulted by a female leader of India's Bharatiya Janata Party (BJP) for allegedly having tea with a Muslim boy in public.

https://www.facebook.com/JantaKaReporterHN/videos/1917820245204307/

This incident took place in Aligarh's city of Uttar Pradesh (UP), which is one of the largest states in North India. The BJP leader who assaulted the girl is known as Sangeeta Varshney and she heads the women's wing of the party.

When asked to explain her actions, she presented herself in front of the media and said that she does not regret the way she acted and would do it again if need be. In the video, she is seen to be slapping the 18-year-old, while yelling,

"Don't you have any shame, do you think you're that grown up? Can you not even understand who is a Hindu and who is a Muslim?"

Furthermore, the couple was brought to the police station for merely drinking tea together.

This video went viral shortly after the India versus Pakistan saga at the United Nations (UN). Sushma Swaraj blamed Pakistan for birthing terrorists and Maleeha Lodhi blamed Indian forces for using extreme violence against Muslims in Kashmir at this event.

In addition, diplomat Murk Aijaz addressed the United Nations Human Rights Council (UNHRC) in Geneva to declare that India is now the 'rape capital of the world'. Needless to say, relations between the two nations have heated up yet again.

While many Hindu and Muslim civilians get along quite well, Indian and Pakistani politicians have spewed venom in these very relations and aspects of life that connect the people of these two nations.

Our heritage, history, culture, food, music, festivals and many other similarities are clouded by hate, created by the governments of these two countries in order to keep things interesting in the South Asian region.

The Hindu-Muslim history has remained sour ever since the violence and atrocities that took place during Partition, but there is clear evidence that there are numerous people on both sides of the border who are rather fond of their neighbours. In fact, it is interesting to note that many South Asians (both Muslims and Hindus) in diasporic communities, away from India and Pakistan, seem to be great allies. There is a positive solidarity that is shared, and collective respect and support is shown to each other. Besides that, there is a large pool of people who condemn the conflict between the two religions and countries, preferring and hoping that peace will eventually prevail.

The religious clashes have become so deep-rooted that incidents such as the one mentioned above have gained mass momentum. In India, there are countless instances of Muslims being tortured and murdered by Hindus and in Pakistan, there are countless cases of forced conversions of Hindus. Both countries have their fair share of discriminatory behaviour, which I believe is a direct result of hyper-nationalism promoted by the nations' governments.

Because of this nationalistic rhetoric, young people who do not see religion as an obstacle to connecting with people of the opposite religion, are often publicly shamed and humiliated for maintaining amicable relations.

We should take cues from popular Hindu-Muslim couples such as Shah Rukh Khan and Gauri Chhibber, Aamir Khan and Kiran Rao, Irrfan Khan and Sutapa Sikdar, Fardeen Khan and Natasha Madhwani, Sohail Khan and Seema Sachdev, Imran Khan and Avantika Malik and the very popular, Saif Ali Khan and Kareena Kapoor.

Ultimately, adults should be given the freedom to choose their friends and partners without being scared of the dire consequences. No one should be treated the way the poor 18-year-old Hindu girl and her Muslim friend were treated, just for publicly maintaining a friendship with each other.  The reactions shown by the politician were entirely uncalled for.

Moreover, registering a case under section 294 (participating in an obscene act at a public place) of the Indian Penal Code (IPC) against Faizan, her friend, made no logical sense either, especially since there was no "obscene" act being carried out; the couple was merely sitting together and having chai.

The fact that this case was registered despite the father of the girl deciding not to press charges against anyone involved in this whole scenario, highlights and proves the toxic mentality that exists amongst state representatives.

Muslims and Hindus need to move forward by ending this promotion of conflict between each other. Why isn't there a collective effort by the citizens from both sides to join hands and work towards peace and friendship? Why are people surrendering to hate instead of welcoming love? Why does far-right consciousness take precedence over the acceptance of others?

There is no doubt and no denying that Muslims and Hindus share a very important and scarred history together, but the mentioned incident above is another example of amicable Hindu-Muslims relationship, proving that friendships do and can exist between the two.