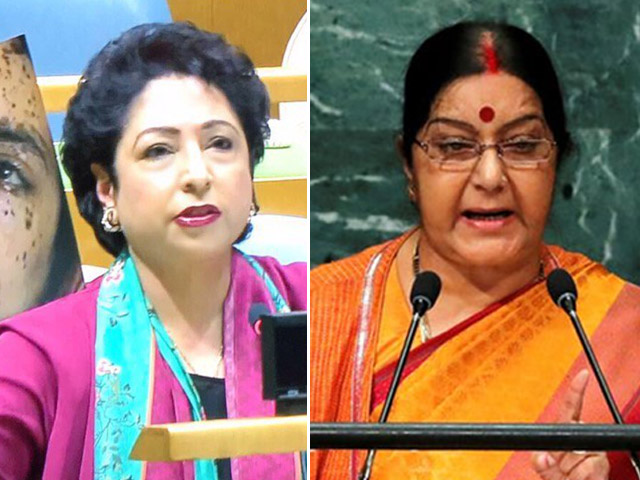 ---
The UNGA proved that Pakistan and India can never rise above name-calling
It has come to the point where all we hear is that Indians are evil, and all they hear is Pakistanis are evil.
---
This year's United Nations General Assembly (UNGA) did not bode well for the South Asian community. Maleeha Lodhi and Sushma Swaraj, two bright South Asian women who are fortunately educated and able, were unable to make a difference with their presence.

Ambassador Lodhi, Pakistan's Permanent Representative, stated that India is the "mother of terrorism" at the UNGA. Furthermore, she stated that Pakistan is open to starting a dialogue with India, and implementing all resolutions. However, she also went on to claim,

"India has considerable experience in the state sponsorship of terrorism in our region."

Although Ambassador Lodhi claims that Pakistan is ready for a resolution, when it comes to Jammu and Kashmir, her harsh remarks do not seem to convey that message.

On the other side, we have Swaraj, the Indian external affairs minister. She claimed that Pakistan is "the pre-eminent export factory for terror", while India was thriving. Her remarks proved that no one, on any side of the border is ready to start discussing the fate of Kashmir rationally. These are just two examples from this year's UNGA, but this is not something out of the ordinary.

Over the past 70 years, we have made no progress at the UNGA. Every year, it is another round of name-calling and finger pointing with phrases such as "the big evil", "root of all problems", and "exporter of problems". So much so, that our reaction to these phrases has now been internalised. In terms of diplomacy, we have remained rigid as well.

Moreover, witnessing women of such high calibre continuing this name-calling with the same rhetoric points to the notion that for the next 70 years, this phenomenon will remain. Warring with words is not the answer to our persisting problems and I wish our representatives would understand this, sooner than late.

Lodhi and Swaraj need to realise that Pakistan is a factory of unemployed graduates, and India is mother to millions of street beggars, who are mostly children. Pakistan and India combined, are parents to a population that could be the world's' most illiterate and backward population.

After 70 years, both these women are ignoring our countries' major problems – poverty, disease, unhygienic living conditions, child labour, bonded labour and more – problems that both countries are severely affected by.

I hope a day will come when we take responsibility of our own issues and offer to lend a hand to each other in tackling our overlapping humanitarian issues. If we implement universal basic human rights in our countries, from the north to the south, our population will remain stringent against exploitation from foreign insurgents. Instead of working towards this implementation, we take the easy way out and blame each other.

Where do we stand as a nation when our citizens are ready, on any given notice, to emigrate and settle in foreign lands? When our fellow citizens are deprived of even basic clothing? Where immigration is the only option left for our bright youth, unable to achieve anything at home?

Furthermore, our youth is unable to pursue opportunities at home, and thus they are never given the chance to become true leaders.



The fact of the matter is that most citizens of the region are so desperate that they are even willing to join refugee convoys in Europe – just to get away from the dire state of affairs. Ultimately, our citizens are not happy and this is a reason enough to divert all attention in assuring them that the relation between a state and its citizen is parallel to that of a mother and a child.

We have, on a whole, accepted our inferior status in the international system by virtue of our passports.

Both our nations and institutions are seemingly indifferent to the humanitarian loss and human rights violations that occur every day in India and Pakistan. They continue to preach honour and pride, yet they ignore the reality of our situations. The fuel for this rivalry is the future of numerous unborn children, educated youth and potential scientists or doctors who are wasted due to the lack of education and healthcare on both sides.

No rational country on this planet would fight for a territory, only to add a billion humans to its population, where the existing population is deprived of clean drinking water and proper sanitation.

It has come to the point where all we hear is that Indians are evil, and all they hear is Pakistanis are evil.

I beg to ask, what is new?

Both our security forces blame the other – no one questions what the reason behind the security problem is. Why do our forces not avert these incidents? Has our hatred grown so much that all we long for is the suffering of the other?

As a student in Europe, I worked with fellow students from India, Bangladesh, Nepal, and Sri Lanka, all of whom were bright young individuals with the same dream of settling in Europe. Some left their countries because of unemployment, some due to discrimination, others because of terrorism – the list goes on and on. We worked day and night, engineers and other professionals, in kebab and burger shops, facing endless humiliation and racism to ensure that our children are not born inferior. This is the reality of Indians and Pakistanis and for that matter most South Asians, beyond the barbwires and borders.

I hope our leaders and bright women realise the importance of preaching humanity, rather than the narrative of death and destruction. At the end of the day, it is still a human life that is lost – regardless of which side of the border they come from – but the way our countries keep fighting, death just becomes another number. If we start respecting every human death, we will eventually, pave the path to peace over the next 70 years.

We can only imagine a world where women supported other women, but sadly, that is not the way it works. For the future, I hope Ambassador Lodhi and Foreign Minister Swaraj speak out for both our populations. I hope they speak out in the name of honour for the sake of our people. The atrocities in Kashmir still remain as they were when I was born. I have grown up watching videos of suffering and listening to stories of the mayhem in Kashmir. I beg to remind you that we all have failed as humans. Now is the time to rise up. These women should realise that every word they say defines the lives of numerous people who do not have voices – people who continue to suffer until someone speaks up for them.