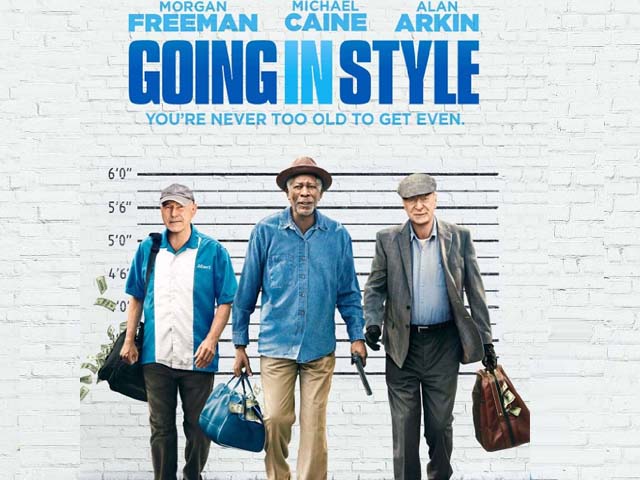 ---
Even with not one but three acting legends, 'Going in Style' is bland, unexceptional and unmemorable
It's a movie that coasts on the charisma of their stars without bothering to make an effort in any other department.
---
Some films try to bring out the best in their cast by giving their actors a solid script and a compelling story to work with. Other movies just want to coast on the charisma of their stars without bothering to make an effort in any other department. Going in Style falls firmly in the latter category.


The heist comedy – which is a loose remake of the 1979 Martin Brest film of the same name – has managed to assemble a cast that includes three of the best actors to have ever graced the big screen. However, the movie has saddled these icons with subpar material.




The story revolves around Willie (Morgan Freeman), Joe (Michael Caine), and Albert (Alan Arkin), three lifelong friends who have retired from their jobs at a steel factory. When their pension payments are suddenly discontinued, the octogenarians find out that their pension fund has been dissolved during the company's restructuring. Struggling with mortgage payments and medical issues, the men find themselves in financial trouble. They eventually hatch a scheme to rob a bank and take back what is rightfully theirs.




What's the worst that could happen? The trio, we are told, have nothing to lose. If they get away with it, they "retire with dignity". However, if they get caught, they end up in prison where they "get a bed, three meals a day and better health care than (they) get now". The stakes, the film assures us, are very low, and the movie never makes it clear why we, the viewers, should care which way things go.

It is simply a testament to the considerable charisma of the film's cast that we still end up somewhat invested in the action. Freeman, Caine, and especially Arkin remain a joy to watch, even when nothing around them ever makes the effort to rise above mediocrity. Zach Braff, who helms the film, contributes little more than tepid, bland direction. How the story unfolds is both predictable and never even in the vicinity of believable. Moreover, the script is mostly dull; there are a few witty comments here and there that are amusing, but nothing strikingly memorable.




Going in Style cursorily touches upon some important subjects regarding old age but never explores any of them, which is why if you try to look a little deeper, you'll find nothing substantial underneath its surface. There was so much the filmmakers could have done with the plot, yet instead Braff has chosen to play it safe. His reluctance to either embrace the absurdity of the plot or peek into dark corners of the premise has made his film unexciting and unexceptional.

On the whole, this caper comedy neither offers anything new or interesting, nor is it particularly funny or suspenseful. And while there is no denying that its all-star cast is practically incapable of delivering bad performances, their presence here just makes you wish you were watching the Oscar-winning legends in a better film.


All photos: IMDb
Facebook Conversations
COMMENTS
Comments are moderated and generally will be posted if they are on-topic and not abusive.
For more information, please see our Comments FAQ