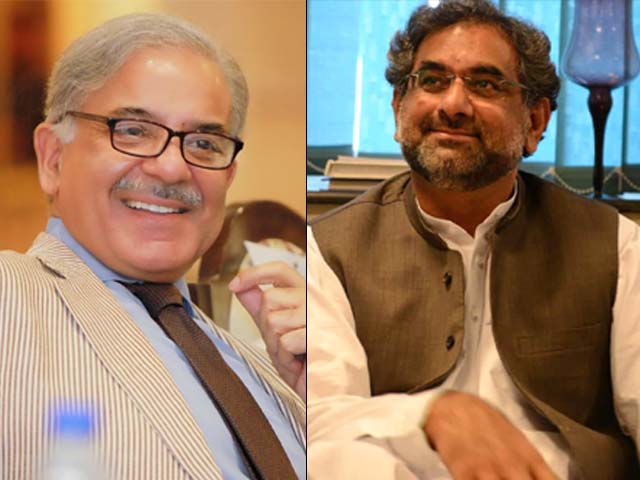 ---
PML-N is like a hydra; you cut one head off, three more – Shahid Khaqan, Shehbaz Sharif and Hamza Shehbaz – will emerge
For stability and progress, it makes sense to continue with PML-N, and Shehbaz seems like a logical long-term choice.
---
Pop goes the weasel. Nawaz Sharif is out. There is joy and jubilation in the opposition camps but gloom and despair in the Pakistan Muslim League-Nawaz (PML-N) camp.

The way forward is interesting to say the least. Nawaz didn't nominate one person for the prime ministerial slot, he nominated two – Shahid Khaqan Abbasi for the coming month and Shehbaz Sharif until the next elections.

The candidacy of these two gentlemen should not come as too much of a surprise. Abbasi is a long-time Sharif loyalist while Shehbaz is Nawaz's younger brother.

Pakistan Tehreek-e-Insaaf (PTI) had nominated Sheikh Rasheed, while the Pakistan Peoples Party (PPP) had nominated the National Assembly leader, Syed Khursheed Shah. Since PML-N holds a majority in the Parliament, there was very little chance of anyone apart from Abbasi being appointed as the interim prime minister (PM).

Amidst the candidacy and nomination process, Imran Khan was ready to pounce on an already wounded prey. He went on to threaten Abbasi and Shehbaz over their past alleged corruption, anything to stop them from stepping into the PM office, which he did not quite succeed at. One might argue that Imran, in all his zeal against the current political system, is actually damaging the democratic process. However, that in no way means that the charges against the interim, as well as the future PM, should be taken lightly.

Abbasi is currently facing a probe from the National Accountability Bureau (NAB) regarding corruption involving an LNG contract award worth Rs220 billion. Abbasi was previously the minster for petroleum and natural resources and is supposedly listed as the principal in the mentioned contract award. There is another case pending against him, which states that he is the owner of Air Blue, and thus can't serve as the PM.

But Abbasi has been appointed as the interim PM now, so the allegations put forth have become redundant.

Similarly, Shehbaz has been accused of being less than transparent in awarding development contracts in Punjab as well. The opposition also raised issues over his involvement in the Hudaibiya Paper Mills deal and money laundering. I have heard various accounts from people who have worked with Shehbaz regarding him being a workaholic, and a visit to Lahore proves their observations right. It is obvious his government has been working extremely hard in giving the city a facelift through multiple infrastructure projects. But unfortunately, that is where all the hard work stops.

Regrettably, there is no evidence of any rule of law in Rawalpindi, Sialkot Faisalabad or Multan. Introducing single track Metro Buses is nothing compared to the chaos other cities in Punjab are witness to. As for Lahore, all the government money seems to be channelled towards infrastructure projects, but what about schools, hospitals and controlling an exploding population?

For the time being though, I personally feel that it makes sense to continue with PML-N and its candidates. Any other party candidate would be too much for the country to handle in terms of stability and new policies. As it is, Abbasi's job is to keep the seat warm until Shehbaz is elected to office.

Shehbaz, on the other hand, seems like a logical long-term choice. He has accompanied Nawaz on his trips to China and its people and investors seem comfortable with him. They are pumping billions of dollars into Pakistan right now and dealing with a new face could scare them off, either halting the ongoing progress temporarily or taking them back to square one.

It may be a challenge to deal with domestic politics though. Shehbaz's ambitious vision and plans only encompasses Lahore and this new responsibility will force him to take into account the entire country, including the various military operations taking place across Pakistan. This will even include dealing with the military brass, something the Sharifs have been uncomfortable with. Perhaps if he expands his ambitious plans outside of Lahore and applies them to the national front, PML-N might just end on a positive note.

In fact, if Nawaz had a decent legal counsel, he could have powered through to 2018 and finished his term. His insistence on being innocent was his undoing. In an ironic twist, however, one should realise that he was fired from his job not because of corruption, but because he wasn't able to prove that he was "sadiq" and "ameen" (truthful and honest). That in itself is quite subjective.

Abbasi and Shehbaz are probably far from being "sadiq" and "ameen" as well, especially if they are being compared to Nawaz. They have nothing to be afraid of, since they know the charges hurled against them are nothing new and will fade with time.

From the day Nawaz took office, Imran has been after him. Be it dharnas and rallies, talk show appearances and effective media campaigning, he never really let Nawaz settle in comfortably. Kudos to him, he managed to do what he set out to do.

But political parties in Pakistan are a multi-headed hydra. You cut one head and three new ones will emerge (Abbasi, Shehbaz and Hamza Shehbaz as the new Punjab chief minister).

The only thing we can hope for is that future Pakistani politicians will be wary of their dealings and start fearing accountability.