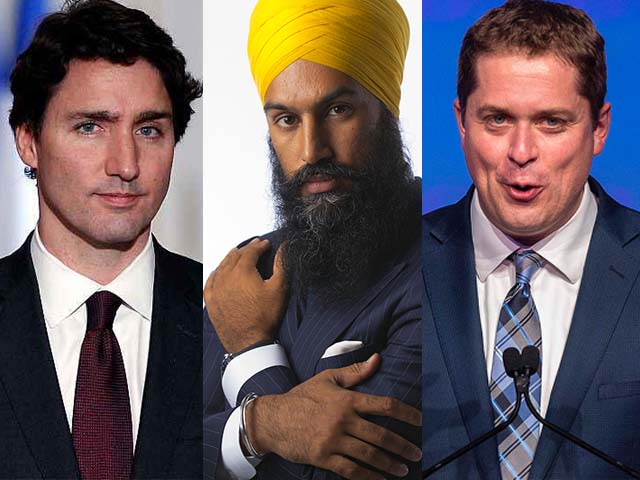 ---
Justin Trudeau vs Andrew Scheer: who will be Canada's next prime minister
Scheer is trying to rely on divisive politics, like Donald Trump, and gain the votes needed to take down Trudeau.
---
One of the first things that one notices after becoming a permanent Canadian resident is how organised the system of governance is. Therefore, when it comes to the elections, Canadians take a good, hard look at past performances at all levels of the government before casting their vote.

But before discussing the upcoming elections, it is imperative that one understands the nature of governance in Canada. Towns and cities have their own municipal governments that oversee everything, from maintaining local parks to providing utilities. Then there is the provincial government that is responsible for governing the education and healthcare being provided across the province. Lastly, there is the federal government which formulates the overarching policies such as immigration and defence.

The beauty of Canadian democracy is manifold and it encompasses the reasons as to why so many immigrants flock to Canada. First, it's an open system. It does not matter how long you have been in Canada, if you are a citizen, have views that can get you votes and a zeal to improve lives, you can contest in the elections at any level. Second, the government is accountable. You can question your government officials on issues and they have to provide satisfactory answers. All elected officials have their contact information online, hold frequent open office hours and always strive to protect the interests of their constituents.

With the 43rd Canadian general elections due to take place in October, Prime Minister Justin Trudeau is looking to get re-elected by championing the same agenda which brought him to power in 2015. Trudeau is the face of the Liberal Party and continues to espouse policies which are progressive, inclusive and immigrant-friendly. He has repeatedly marketed himself as someone who wants to celebrate the diversity of Canada's social fabric, and he will continue to put forth this image of himself as the elections near.

However, Trudeau's economic, social and foreign policies have been severely criticised by the other major candidate in this election, Andrew Scheer. Scheer is the leader of the Conservative Party and leans more to the right. He has strict views about immigration and has also stated that he opposes the carbon tax which has been implemented in Canada. During Trudeau's tenure, the Conservative Party has behaved in a hawkish manner with regards to Trudeau's foreign policy and feels that the government can function much more efficiently.


Canada should be a country where no ambition is too big and where no dream is out of reach. Join me over the coming weeks as I lay out my vision for a stronger and a more prosperous Canada. pic.twitter.com/8hMIufMtrD

— Andrew Scheer (@AndrewScheer) May 19, 2019


Scheer, at least on television, comes across as an affable man, although some of his statements regarding immigration are a bit worrisome, but that's the Conservatives' view in general. The Conservatives are betting that they can rely on divisive politics, like Donald Trump, and gain the votes needed to take down Trudeau. According to polls though, Scheer still hasn't garnered the kind of attention and traction his party were hoping for. This is most likely because of the limited media coverage and sleepy nature of Canadian politics in general. Nonetheless, I do believe that Scheer is an interesting candidate to prop up against Trudeau. Both are young, white, photogenic and are men the Canadian common man can identify with.

Although Trudeau and Scheer hold pole position, the third major party, the New Democratic Party (NDP), has put forth a rather interesting candidate. They are represented by Jagmeet Singh from Vancouver. He is Canadian born and raised and is the only non-white candidate competing for Canada's highest office. Like his party, Singh believes in the social betterment of the people through active government involvement and identifies himself as a progressive social democrat. Interestingly though, he has also become a bit of a style icon given his slick wardrobe and array of colourful turbans. But although the NDP has improved its presence over the past few years, it is unlikely that it will pose a serious challenge to the Liberals or the Conservatives.

In the 2015 elections, the NDP were able to secure only 44 seats in parliament compared to the 184 and 99 seats won by the Liberal Party and the Conservative Party respectively. While Singh may be able to spearhead an improved performance by the NDP, they still have a lot of ground to cover if they wish to get him elected.


Today we made it clear: the NDP's Team Brampton is fired up & ready to go. People here & across the 905 have been let down by Liberal & Conservative governments too many times before. We're ready to turn these communities orange and give people a government that's on their side🍊 pic.twitter.com/jPwWTgOa0W

— Jagmeet Singh (@theJagmeetSingh) July 22, 2019


Therefore, while other candidates do pepper the field, it appears that the elections will come down to a two-horse race between Trudeau and Scheer.

One must remember though that unlike politics and elections in other countries, the Canadian elections are quite sedate. In fact, time and again I have found Canadians being more interested in what's happening south of their border since Canadian politics does not compare to the shenanigans and controversies that define American politics; which borders on the ridiculous. Compared to their American counterparts, Canadian politicians seem quite pedestrian. The starkest difference between the politics of these two countries is that American politicians start campaigning to become the next president about two years before the next election. Even though the Canadian federal elections are barely three months away, election campaigning hasn't started in earnest yet. Debates haven't been scheduled, no mass rallies have been announced and none of the party workers are canvassing the neighbourhoods trying to solicit votes.

While it is always difficult to knock over the party in power, the scandal that Trudeau is currently embroiled in, which has led to many top party lieutenants leaving his side, could hurt the Liberal Party. Trudeau has been accused of helping a large engineering firm, SNC Lavalin, obtain contracts in controversial regions of the world just so that they would continue doing business in Trudeau's home province of Quebec.

The second big issue for Trudeau is the fact that in last year's provincial elections, he lost in Ontario so badly that his party lost their seat in parliament. This is a worrying sign given that Ontario is the most populous province of Canada, is the business hub of the country and the destination of choice for new immigrants. Historically, Ontario has been a stronghold for the Liberal Party but it is now governed by a variation of the Conservative Party, the Progressive Conservatives. This recent change in the status quo will throw a spanner in the works for Trudeau and could prove to be an important factor come October.

With the economy in Vancouver limited to real estate, Calgary still trying to hobble back to life after the oil crash, and Montreal essentially off limits for those that don't speak French, Toronto is the only area of opportunity for new immigrants. I believe that if the Liberals don't put up a good showing here and repair their broken support in Toronto, the vote might be split between the Liberals and NDP, thus giving a majority to the Conservatives in Ontario.

It's like Pakistan; the ruling party must win Lahore in order to win the whole country. The Conservative Party is looking to exploit any chink in the Liberal Party's armour, and if Trudeau isn't careful, Scheer could mount a serious challenge.
Facebook Conversations
COMMENTS
Comments are moderated and generally will be posted if they are on-topic and not abusive.
For more information, please see our Comments FAQ