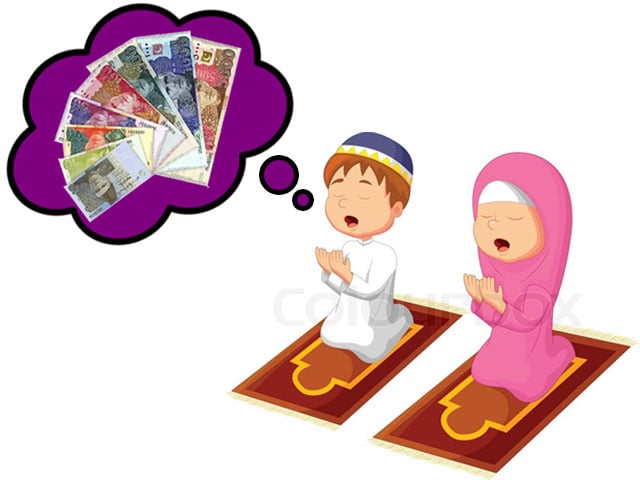 ---
The lifafa culture and the materialistic desire to 'earn' more on Eid
Such customs and attitudes of parents subliminally condition children to gauge people by monetary standards too soon.
---
Anybody who has grown up in Pakistan recognises that pretty lifafa (envelope) in pastel colours or in whites, embellished or plain, sometimes with just a name, at other times with loads of prayers written carefully. Inside, the coveted crisp notes and the smell of the currency printing press chemicals.

These notes give many a banker sleepless nights during the last two weeks of Ramazan, as clients are ready to both beg and intimidate bank officials for fresh notes. Fifty ya 100 walay (ones). Five hundred walay. 1,000 walay. Even 5,000 walay if the family is upper tier.

Getting eidi is the one time when we all enjoy feeling young because every one of us is younger than someone for the most part of our lives. When all those hands that used to give us eidi, the khala, nani and phupha are long gone, it starts to get lonely at the top.

While gifts are a part of Islamic culture and the exchange of gifts is encouraged in Prophetic traditions, eidi is a very specifically cultural manifestation of that in our region. It is that time of the year which children look forward to. As an expression of love and blessings from elders, it is a beautiful gesture.

But over time, something about eidi has changed. As purely money is involved, we see a certain materialism tainting this cultural tradition. The children of today are smarter than their yesteryear counterparts. They are not as interested in the wishes written on the lifafa. What they are interested in is the ceremonial adaab (salutation), and then running in a corner and quietly opening a bit of the envelope to peak in and see whether the currency is red, blue, or reddish-orange.

But then again, children are a reflection of what they observe their parents doing. Many parents, if not all, also take their child in the corner, ask what a certain relative gave, and return the money accordingly. The gesture has become more of a barter system.

While there is nothing wrong with enjoying the money we collect from elders, and it is in fact endearing to see children counting the money they get as eidi as an extended form of spending money, it is not in good spirit if that is all that the children are looking at.

The lifafa culture and this desire to 'earn' more has entered many a religious ceremonies. The Aameen ceremony (completion of the Holy Quran) and the Roza kushai (the first time a child fasts) have also become similar occasions where the focus has shifted from prayers and duas to money. The fault does not only lie with parents and children expecting eidi, as those at the giving end are too busy to go and buy gifts. Also, the eidi or lifafa usually cost less than the gift itself.

While money is a reality of life, such customs and attitudes of parents subliminally condition children to gauge people by monetary standards too soon. It is important to keep reminding the child that the one who could afford to give Rs100 only gave it with as much affection as someone who gave Rs1,000. There has to be more to Eid than that stash of money the child tucks away.

Instilling the right values on Eid may prove to be a challenge for parents. It is doable. But for that, attitudes of the parents would have to be up to the mark as well. Because when it comes to children, it is the parents that set the tone.