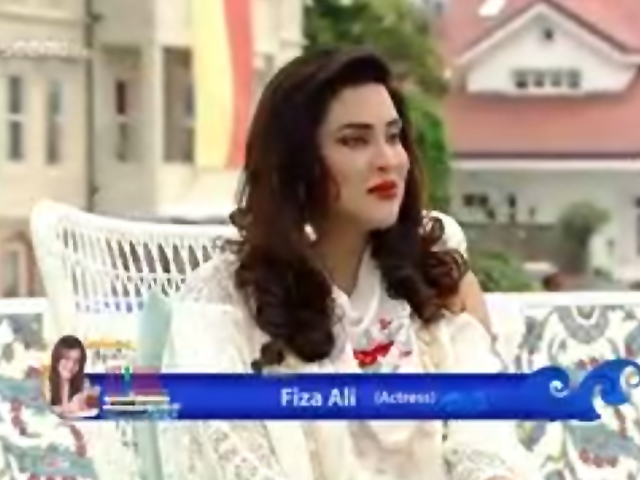 ---
Dear Ms Fiza Ali, how can you say Karachi has no culture?
During the morning show, Fiza Ali said, "Lahore has culture. Karachi has no culture. Fishermen have no culture".
---
They say the best way to discover a settlement's "culture" is on foot. Try walking around on a busy street of my city (and yes, I say the "my" with a sense of unapologetic pride and ownership).

Try sitting in a bustling chai dhaba here. Try taking a walk on one of its beaches on a crowded Sunday. Try experiencing the sights and sounds and smells of Karachi. Try and shun stereotypes and just enjoy the Karachi experience…. Karachi is the dream of a writer and a photographer and an anthropologist and of anyone who has an eye for detail and is interested in humans and the fabric of human culture.

And then one day as a Karachiite, I stumble upon a morning show, one of the generally better ones with the host talking to one guest on the show about his/her life and times. The show is shot on board a boat sailing on the Bosphorus. It's visually catchy. I watch it for about five minutes and am about to change the channel when, in answer to a question posed by the host, the guest, a TV actress called Fiza Ali says,

"Lahore has culture. Karachi has no culture. Fishermen have no culture".

Her comment was offensive for more than one reason. Seriously offensive. If by saying, "maacheron ka toh koi culture nahin hota" (fishermen have no culture) you are alluding to the original settlers in Karachi who belonged to this soil and were fishermen by profession, it is offensive that you use such demeaning words for a community. Descendants of the original Karachi still reside here, they have rich traditions and a unique way of life unlike any other community.



Secondly, the remark was comparative – juxtaposing two of Pakistan's biggest cities, Karachi and Lahore, which was bound to trigger unnecessary debates and flaring of arguments. With Pakistan facing so many other challenges, do we need public figures triggering such debates to create rifts between people belonging to different parts of the country? The two cities are both brilliantly rich in culture but very different and any comparison is, thus, unfair. One is a diverse multilingual megacity; the other is monolingual for the most part, and is rich in history and architecture. One is the soul if the other is the heart of Pakistan. Why, then, must we compare?

But more than anything else, it is offensive that she said that this city has no culture. Clearly, Ms Ali, you know very little about Karachi. Neighbourhoods in Karachi bustle with pluralism. What started out as a small coastal settlement is now the teeming hub of people from all over Pakistan.

If I start listing the communities and languages and dialects, one blog would not suffice. Artist Rumana Husain who produced two brilliant books based on Karachi's diverse population, exploring the culture of those belonging to various ethnicities and speaking different languages, mentions 64 communities in her first book 'Karachiwala', and says that experts feel that up to at least 76 languages are spoken in all of Pakistan, and all of these are spoken in Karachi, if not more. As Pakistan's largest multicultural agglomerate, the city of Karachi houses speakers of every possible language of Pakistan in every possible dialect. Rapid urbanisation has made Karachi the hub for not just the economy and industrial activity, but also a melting pot of culture – a culture that is rich, layered and ever evolving, for Karachi is not static; it is fluid in nature.

Television as a medium, and morning shows in particular, have viewership in the hundreds of thousands. What an important and immensely productive role these shows could play in sensitising the masses and raising awareness about important issues. This is not to say that all shows are always bad. Giving credit where due, every once in a while a show comes up that raises the bar a little and people are talking sense. But most of the times, there seem to be no limits to the kind of provocative and senseless conversation on these shows that can have a negative impact on viewers.

As for Ms Ali, may be its time she took a detailed tour of Karachi, and rethink the meaning of the word 'culture' before it is uttered so callously.