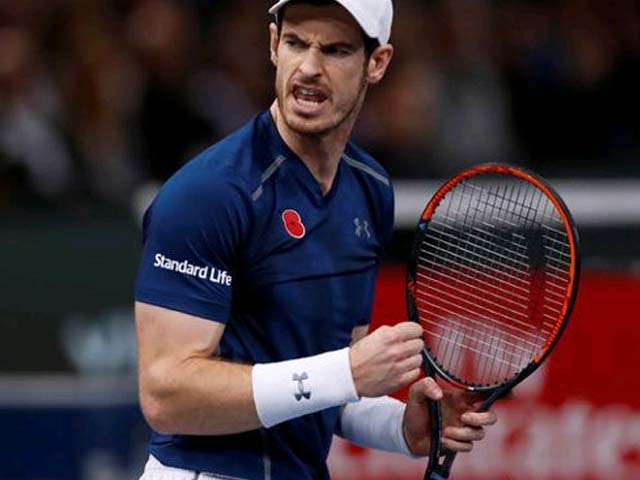 ---
Move over Federer, Nadal and Djokovic, it's Andy Murray's time now
After the Monte Carlo masters, he's made it to the finals of 11 out of 12 tournaments and won eight of them.
---
Twenty six years after stepping onto the tennis court for the first time, Andy Murray, achieved a feat that only 26 players have achieved in the past 40 years – the top spot in the tennis world, the number one ranking. Reaching the finals of the Paris Masters had guaranteed the top spot to the Scot. After his semis win over Milos Raonic, his first coach/mom immediately tweeted a photograph of the 29-year-old as a youngster along with the message,
You've come a long way baby 1️⃣❤️ pic.twitter.com/VEIVl6NsxA

— judy murray (@JudyMurray) November 5, 2016


While reflecting on his victory, he said:

"I feel like getting to number one wasn't about this week, or about last week. It's been many years of work to get here."


Born in Glasgow and raised in Dunblane, Scotland, Andy started playing tennis at the age of three. At the age of 12, he won the prestigious Orange Bowl Championship. At 15, he was asked to train with the Rangers Football Club at their School of Excellence, but he declined, opting to focus on his tennis career instead. That surely proved to be a great decision. Murray was born with a bipartite patella, in which the kneecap remains as two separate bones instead of fusing together in early childhood, but was not diagnosed until the age of 16. He is seen to hold his knee due to the pain caused by the condition and has pulled out of events because of it.

Two thousand and sixteen has been a great year for Murray; he won more titles this year than his titles in 2015 and 2014 combined. The number one ranking is well deserved. After the Monte Carlo masters, he has made it to the finals of 11 out of 12 tournaments and won eight of them. This year might as well be the tipping point for Andy Murray after decades of hard work. The world of the tipping point is a place where the unexpected becomes expected, where radical change is more than a possibility, it is contrary to all our expectations, a certainty. Last November, he helped Great Britain win the Davis Cup for the first time, celebrated his second Wimbledon title in July, and successfully defended his Olympic title in August.




In the first half of this decade we all witnessed Andy's struggle. He lost finals he should have won. For instance, he's yet to win the Australian Open but he has made it to the finals five times. While Murray clearly stood out from the rest, he simply struggled when dealing with the big three, Federer, Nadal and Djokovic. Novak Djokovic and Murray have met 34 times with Djokovic leading 24–10. Murray and Roger Federer have met 25 times with Federer leading 14–11. Murray has played against Rafael Nadal on 24 occasions since 2007, with Nadal leading 17–7. The 29-year-old's new position reflects both his own remarkable consistency over the past 12 months and the personal and physical problems that have shackled Djokovic, but it is also a testament to a desire for self-improvement only occasionally found in sportsmen of his age.




Ranked 17th in the world a decade ago, he was gloriously log-jammed at four in those four seasons from 2008 to 2011, the unprecedented trio of Djokovic, Roger Federer and Rafael Nadal seeming to block any further ascent.

He dropped to sixth place in 2014 after his back surgery and then appeared isolated for the past year as 12-time Grand Slam champion Djokovic went through the peak of his reign.

It's like he was knocking at the door all this time but everyone was so preoccupied with Federer, Nadal and Djokovic that no one bothered opening the door for him. He stayed out there and eventually broke the door himself. Whether you are a Roger fan or a Novak fan, the truth is that Andy Murray is the new king of the Tennis world and he has earned it. How long will he stay at the top? God knows.




Once the 2017 season starts, Djokovic will be under a lot of pressure as he has to defend around 4,000 ranking points while Murray has to defend just around 1,000. Murray will feel the pressure (that comes with his ranking as number one) in the latter half of 2017 when he will be defending a major chunk of his points. But that's a bit too far; Andy would probably aim to do well in London at the O2 Arena, where Djokovic has enjoyed substantial success in the past. But that's a bit too far as well. For now, Murray will just be thankful to have reached the pinnacle of the sport.

The little kid in Dunblane who once dreamt of being the world's number one is now the world's number one. And I think that thought alone would be overwhelming for Andy, his family and friends; their decades of hard work and sacrifice finally paying off.
Facebook Conversations
COMMENTS
Comments are moderated and generally will be posted if they are on-topic and not abusive.
For more information, please see our Comments FAQ