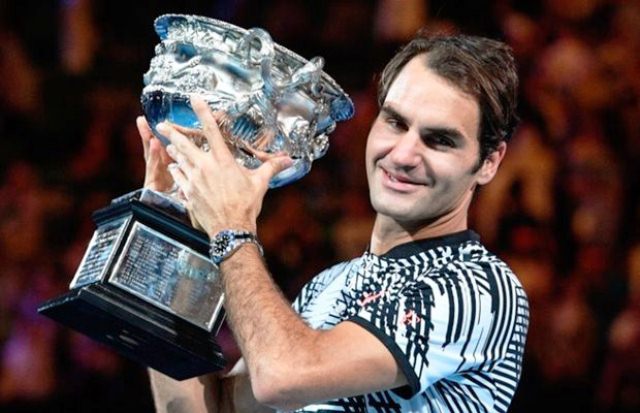 ---
Australian Open 2017: The legendary victory of a sport called tennis
We are lucky to have seen two athletes who aren't just champions on the court but also champions off the court.
---
I was one of those kids who would sit in class and wait for the home-time bell to ring, not because I didn't like studying, but because my day would start when that bell would ring. Straight after school I would rush home for lunch and then cycle all the way to the squash courts, where I would play a few games with some friends. And then would go to the badminton courts to play there.

Occasionally, I would go to the golf course and practice my Tee shot while waiting for my dad. Usually, I would spend the evening galloping and cantering on horses or I would just sit back and enjoy some Polo matches.

I passed the tennis courts daily. It was the summer of 2007, when one day whilst passing them my dad asked me if I would like to try a new sport. The following day, I was on the tennis court with an old Rossignal racket. Soon, I would leave all the other sports, and since then I have spent countless hours on the court and loved every single one of them.

Two thousand and seven was also the year when Roger Federer reached all four Grand Slam singles finals, winning three of them. He won the Australian Open over Fernando González and did so without dropping a set. This made him the first man in the 21st century to accomplish the feat.




At Wimbledon, Federer entered the tournament not only as the four-time defending champion, but also riding a 48-match winning streak on grass. He defeated Rafael Nadal for a second consecutive year in the final, this time in a thrilling five-set encounter that many analysts hailed as the greatest Wimbledon final since 1980.

Federer entered the US Open as the three-time defending champion and faced a relatively less known teenager, Novak Djokovic, in the final. Victory in New York moved him ahead of Laver and Borg for third on the all-time list of major championship victories. Throughout the tournament, the American press labelled him Darth Federer for his all-black attire and the tournament played The Imperial March from Star Wars when he was announced onto the court for each of his matches.




Ten years later it was raining quite hard here in Lahore, I was running to my marketing class when a friend walking at a distance enquired,

"Is this going to be a Roger versus Rafa final, Ali?"

"Wouldn't that be amazing?" I replied.

It was the final set when I rushed to the lab above the super store, where I watched the final games of the semi-final with a couple of friends. Andy Murray and Djokovic lost their matches in the early rounds of the Australian Open 2017, leaving the draw open to everyone. It wasn't a surprise to see the most experienced players taking advantage of that opportunity. Federer and Nadal both made it to the semis and after very tight five set matches both got through to the final.

Federer and Nadal played their first match in March 2004 at the third round of the Miami Masters. Nadal, only 17-years-old and ranked number 34 at the time surprised many by beating the then number one, in straight sets. Their second meeting was one year later, again in Miami, but this time in a best-of-five-set final. Federer recovered from a two-set deficit to win in five sets. They played again two months later in the semi-finals of the French Open, which was their first match on clay. Nadal defeated Federer in four sets en route to his first Grand Slam title.




The rivalry was renewed in the 2017 Australian Open final, their first meeting in a Grand Slam final since 2011. Federer came into the tournament seeded 17th, and Nadal seeded 9th, and Nadal had won every match between the two in a major tournament since the Wimbledon final in 2007. Federer came back from a break down in the fifth set to take the match, becoming the first man in history to win 18 Grand Slam singles titles. Federer's victory made him the first man in history to win at least five titles at three different Grand Slam tournaments, and denied Nadal the latter's second opportunity to become the first man in the Open era to win each Grand Slam in men's singles at least twice.

I started playing tennis because of Roger Federer, some of my friends started inspired by Nadal. And we often debated about who was better. What a useless debate, in their own place they have done an amazing service to tennis and have transformed it to a showroom of power, delicacy and persistence.

If you watched tennis in the 2000s and witnessed this great rivalry develop, you are truly blessed. Hardly anyone had though that they would reach the finals given how successful Murray and Djokovic have been lately. This might as well be the last time that these two legends played each other in a grand slam final. It would be a delight to see them again though. But whether that happens or not, I think we are lucky to have lived in this beautiful era of two athletes who aren't just champions on the court but also champions off the court.