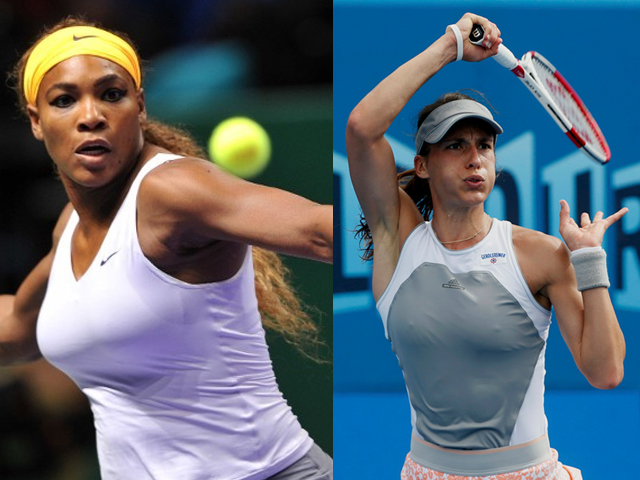 ---
Serena Williams vs Madison Brengle: Who will take the Australian Open title?
Every match is a new match; what's on paper stays on paper and the paper goes in the trash can.
---
On Wednesday, when Serena Williams stepped on to the court in her second round match against Madison Brengle, few could have predicted the outcome. Their only meeting prior to this match took place in Madrid back in 2015, when Williams managed a convincing 6-0 6-1 win over her opponent. Williams ranked number two in the world, lost to Brengle, ranked 72 in three sets, leaving the Auckland crowd in a shock.


Williams, the world number two and winner of 22 grand slam singles titles, lost her second–round match to fellow American Brengle 6-4, 6-7 (3-7), 6-4. It was Williams's second match after she lost the US Open semi-final last year. It was a tough loss for her, who later said,

"She obviously did a much better job than I did. I really abhorred the conditions. I don't think I've ever hit 88 errors in my career; I could Google that and that's probably accurate. So there's no need to look back on such a crappy game!"

She went on to say,

"I couldn't get used to the wind; my opponent was playing in the same conditions, and maybe the wind was more suited for her game, but it was really annoying me for whatever reason."

The windy conditions in Auckland disturbed Williams as she faced problems with her ball toss and swings.




Brengle played the match of her life against the slightly rusty Williams. On paper, the competition looked one sided – it was Williams, winner of 71 Women's Tennis association (WTA) titles and 22 grand slams against Brengle, who is yet to win any. Brengle ended 2016 on a low point, losing in the first rounds of back-to-back tournaments at Beijing, Linz and Luxembourg. Brengle had a tough ride in the beginning of her career, when over the course of 24 consecutive majors, she failed to make it out of the pre-tournament qualifier; the streak ended when she earned a wildcard for the 2014 US Open main draw, which she capitalised on for her first major match win.




But every match is a new match; what's on paper stays on paper and the paper goes in the trash can. It's simple, on any given day, the player that plays well wins. How many titles you have under your name is irrelevant. For Williams, it is a real eye-opener just ahead of the Australian Open, starting in less than two weeks in Melbourne. Williams last won the Australian Open in 2015 and will begin her quest to become the most decorated grand slam singles champion in the Open era later this month.

The next two preparatory tournaments for Australian Open will start in Hobart and Sydney from Monday. After the off-season, a string of tournaments begins and players find it hard to follow a regular training regimen during the season. Williams hopes that the conditions in Melbourne are different from that of Auckland.

In two weeks' time, top players from around the world will gather in Melbourne and battle it out for the first grand slam of the year. Williams will hope to bounce back, and Brengle will hope to carry her good form into the Australian Open. But big names in sports have the ability to bring their top game forward at big moments. Only time will reveal how well Williams performs in Melbourne.

[poll id="721"]