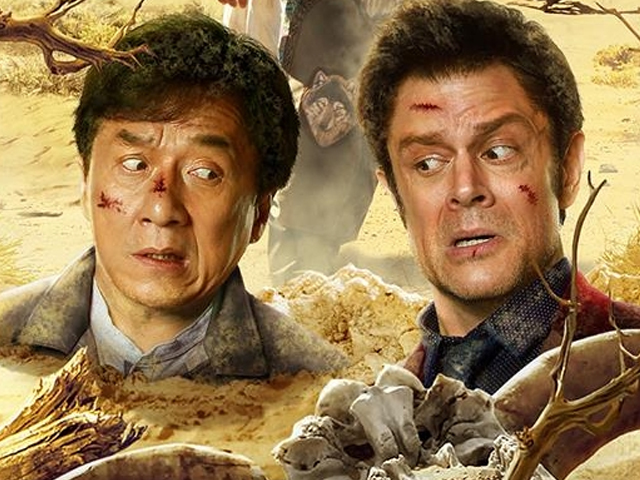 ---
Skiptrace isn't a 'good' movie by any metric
Skiptrace does exactly what you'd expect it to do, offering goofy gags instead of brains for some escapist fun.
---
The success of action comedies like Rush Hour (1998) and Shanghai Noon (2000) helped Jackie Chan gain international recognition. For his latest cinematic endeavour, the star from Hong Kong has teamed up, yet again, with an American actor for another action comedy, Skiptrace.


Joining him for the buddy adventure this time is Johnny Knoxville, the Jackass crewmember who may not have the star power of Chris Tucker or Owen Wilson, but still manages to deliver the requisite comic relief in a movie that is considerably more enjoyable than it has any right to be.




The story revolves around Hong Kong detective Benny Chan's (Jackie Chan) pursuit of a notorious crime boss known as the Matador, whose identity is unknown, but Benny believes to be businessman Victor Wong (Winston Chao). After his partner Yung (Eric Tsang) dies while the duo are on the Matador's trail, Benny becomes obsessed with exacting revenge for his fellow officer's death.




Nine years later, when Yung's daughter Samantha (Bingbing Fan), whom he promised to look after, gets in trouble with Wong's crime syndicate, Benny must find a way to ensure her safety and unravel the case of the Matador. This involves tracking down an American conman, Connor (Johnny Knoxville), who has unwittingly witnessed a murder in Wong's casino.




The film turns into a buddy road comedy as Benny tries to take a very reluctant Connor back from Russia to Hong Kong. Silly shenanigans predictably ensue. The story is paper thin and overstretched, but then again you don't go for an action comedy if you want a realistic, intricate plot and stirring emotions. Skiptrace does exactly what you'd expect it to do, offering goofy gags instead of brains for some escapist fun. The laughs come from amusingly random antics – as random as Jackie Chan spontaneously bursting into an Adele song! There's some sort of a cultural festival everywhere they go, and the countries they traverse provide stunning backdrops.




The leads are charming and make their characters likable. Chan brings energy to the proceedings; he may not be as spirited as he was in his youth, but he also doesn't let his age – he is now 62 – get in the way of elaborate action sequences. Knoxville assists him with zeal, and proves to be a capable sidekick. The lovely Bingbing, however, isn't given a chance to make much of an impact, even though her damsel-in-distress character is the main female role in the movie.




Ultimately, despite its generic storyline and overall ridiculousness, Skiptrace remains surprisingly watchable, mostly because of its affable leads and the steady supply of humour. This isn't a 'good' movie, not by any metric. It's overlong, predictable, clichéd, and all kinds of preposterous. But the over-the-top action and amusing high jinks will try their damndest to entertain you if you're willing to turn off your brain and just enjoy the silly ride.


Facebook Conversations
COMMENTS
Comments are moderated and generally will be posted if they are on-topic and not abusive.
For more information, please see our Comments FAQ