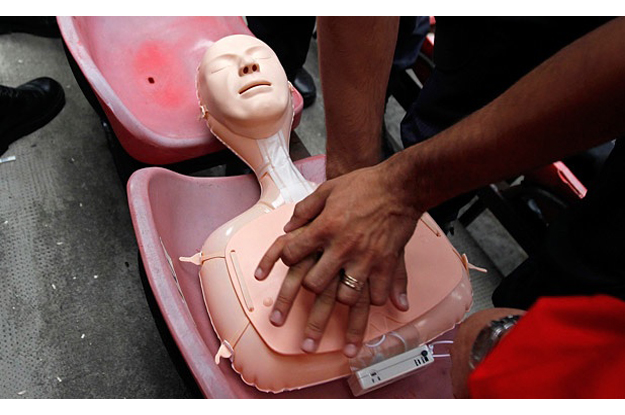 ---
LAHORE:



Speakers at a two-day training workshop on cardiopulmonary resuscitation (CPR) techniques for media personnel on Friday said it was the responsibility of the media to disseminate basic emergency safety and care techniques. They said that it was increasingly clear that more lives could be saved if more people knew how to give CPR.




The workshop was held at the University of Health Sciences (UHS) Institute of Learning Emergency Medicine (ILEM).

The instructors gave an overview of techniques used for medical emergencies.

Dr Khurram Shahzad and Asif Mahmood, the instructors, said that CRP was a lifesaving technique used in many emergencies.

They said that the ILEM wanted to bridge the gap between health services by enabling more citizens to perform lifesaving techniques.

"An emergency response system cannot improve without active support and help from citizens," they said.  They said media outlets should air public service messages and programmes about CPR. They said the masses should be educated about the usefulness of these techniques.  "A life might be saved if CPR is performed within the first 10 minutes," they said.

On campus training for staff

Separately, a three-day workshop, arranged as part of indigenous on-campus training (IOT) for administrative and non-teaching staff, ended at the UHS.

The five IOT workshops between November 17 and 26 were planned by the UHS Department of Medical Education in collaboration with the Higher Education Commission (HEC) under the Modern University Governance Programme.

Dr Amina Ahmad was the focal person and Umaira Ahsan was the coordinator of the staff training.

More than 80 staff members of the UHS and its affiliated institutions participated in the training.

Facilitators of the workshop included Ihsanul Haq, Asad Zaheer, Sidra Saleem and Sajid Ali Nadeem.

HEC Learning Innovation and Sports Division member Shaheen Khan was the chief guest at the closing session.

She said that the IOT was a unique opportunity for non-teaching staff and employees to refresh their knowledge and enhance their capacity and productivity.

UHS Medical Education Director Prof IA Naveed said that such exercises would increase the effectiveness and lessen the communication gap between stakeholders in and outside the universities. He said the training was aimed at improving efficiency of non-academic staff and promoting good governance on campus.

Certificates were distributed among participants and facilitators at the end of the workshop.

Published in The Express Tribune, November 28th, 2015.